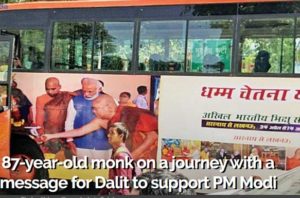 An 87-year-old monk is on a journey through the Bodh viharas of Uttar Pradesh with a message for the Dalit followers of Buddhism to support Prime Minister Narendra Modi.
Dhamma Viriyo, the Akhil Bharatiya Sangha Nayak of the Bharatiya Bhikku Maha Sangha, is telling the people that while BSP supremo Mayawati refused to give him time, Modi went out of his way to honour him at Mhow, the birth place of Dalit icon BR Ambedkar. Traveling in a bus, which has Modi's images on it, Viriyo is his devoted emissary describing the Prime Minister as the messiah for the poor.
 Accompanied by around 50 Bhikkus (Buddhist monastics), he holds between ten to 60 meetings in a district, reaching out to nearly 5000-7000 people each day. At the BJP headquarters, detailed reports of the Dhamma Chetna Yatra are received on a daily basis.
BJP leaders deny the party's involvement in the programme, being held under the banner of the Akhil Bhikku Sangha. However, eight meetings were held between party leaders and Viriyo before the yatra was flagged off in April at Varanasi, Modi's Lok Sabha constituency, by home minister Rajnath Singh, according to sources.
"BJP workers welcome anyone who is working for manav kalyan (wellbeing of people). We have a lot of respect for Dr Viriyo," said BJP general secretary Arun Singh.
During his yatra, which ends in October, Viriyo is likely to cross around 1400-1500 Bodh Viharas, which fall in the midst of Dalit-dominated areas. According to sources, there are nearly 40-50 lakh followers of Buddhism, most of whom are Dalits and some are OBCs like Mauryas, in the state. The yatra is expected to cover Purvanchal, the OBC-dominated politically crucial region in UP.
The BJP is trying to wean away the Dalit vote from Mayawati and targeting the non-Yadav OBC vote in UP. Several Dalits and other backward caste people in the state have adopted Buddhism, freeing themselves from the clutches of caste-based discrimination like untouchability. Dalit icons like Ambedkar and Kanshi Ram, Mayawati's mentor, have shown the way. While Ambedkar converted to Buddhism, Kanshi Ram died just a week before he was to convert to the religion from Hinduism. Mauryan emperor Ashoka had converted to Buddhism after the Kalinga war.
The home minister, while flagging off the yatra, promised a statue of Buddha taller than the ones in Bamiyan in Afghanistan if BJP came to power in UP. Modi has invoked Buddhism in foreign policy, particularly in East Asia, and indicated his regard for it as a religion propagating peace.