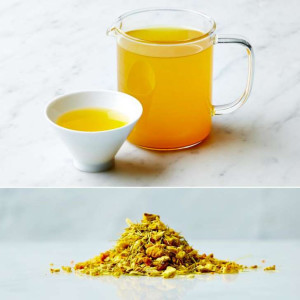 While turmeric is responsible for giving curry dishes that bold yellow hue, the spice does more than just add flavor to Indian dishes – it is also a powerful healing aid.
The next time your back or head is pounding, Joy Houston, the culinary director for Sonima Wellness Center in San Diego, CA, wants you to head to your spice rack instead of your medicine cabinet. Curcumin, the active ingredient in turmeric, is a natural anti-inflammatory that has been proven to ease muscle soreness after a tough workout. According to Joy, in some cases, turmeric works and may outperform the over-the-counter meds, like ibuprofen, we turn to when our bodies are sore, achy, or not working at their top potential – without any risk of side effects. Here are more of the scientifically proven benefits turmeric can bring to your life:
Related:Prevent Colds With This Quick Immunity-Boosting Turmeric Tonic
Arthritis relief: Beyond the occasional ache, some arthritis sufferers have experienced joint-pain relief after incorporating turmeric into their diets.
Improved digestion: In one small Thai study, 87 percent of people who ingested turmeric for seven days experienced complete or partial relief from their indigestion woes.
Weight-loss support: In an animal study performed at Tufts University, researchers found that the curcumin found in turmeric appears to "reduce weight gain in mice and suppress the growth of fat tissue." While there haven't been human studies performed yet, it can't hurt to add some extra turmeric to your diet if you're looking to shed a few pounds.
Ready to start shaking this wonder spice regularly? Try these turmeric-spiced recipes out in your kitchen, or warm up with some turmeric tea.