By  Shyamal Sinha
His Holiness the Dalai Lama arrives at the venue of Chandigarh University to address on 'Secular Ethics in Modern Education in the context of Guru Nanak', 15 October 2019. Photo/Tenzin Phende/CTA
Punjab: "Despite the sky-rocketing material development, inner peace is still lacking in people", said His Holiness the Dalai Lama at Chandigarh University.
His Holiness the Dalai Lama addressed the 550th birth anniversary of Shri Guru Nanak's celebration at the university where he spoke on 'Secular Ethics in Modern Education'
His Holiness reminded wanting a happy life is the most innate want of human beings which brings them together and creates a sense of community. And without this sense of oneness, he affirms that individual existence in the world is futile.
His Holiness asserted that beneath the different statuses and professions created by humans lies the virtues of the man nurtured and molded by a mother's compassion and affection.
His Holiness called out to embrace this virtue of love and compassion which he claimed is the basic human nature.
His Holiness the Dalai Lama greeting the crowd gathered at Chandigarh University, 15 October 2019. Photo/Tenzin Phende/CTA
His Holiness condemned the kind of education system that is only inclusive about material development while neglecting the basic human values. Meanwhile, he urged the practice of non-violence (Ahimsa) in action and Karuna (compassion) in daily life to tackle negative emotions.
"I have realized that India's thousand-year-old tradition of secular ethics is very much needed in today's world" said His Holiness the Dalai Lama in order to bring forth peace of mind and combat destructive emotions. His Holiness called himself the product of ancient India's traditions because of the knowledge and wisdom he received while growing up which is entirely inspired by the ancient Nalanda tradition.
He emphasized combining ancient Indian knowledge and modern education to bring about inner peace.
His Holness delivering a talk on secular ethics in modern education. Photo/Tenzin Phende/CTA
On the 550th birth anniversary of Shri Guru Nanak Dev Ji His Holiness the Dalai Lama said that many great spiritual leaders including Guru Nanak depict compassion, ahimsa, and religious harmony. He further advised to not just celebrate the memory of the great India Spiritual leaders but rather earnestly follow their advice and implement the teachings in daily life.
"I have spent a major span of my life in this country, I am the longest guest on this soil. I feel India is a great nation and India can make a significant contribution to the well being of 7 billion human beings id they promote their ancient tradition." His Holiness said.
His Holiness concluded by remarking that people in Punjab are found to be religious minded and hardworking at the same time which he noted was a commendable thing.
The event was attended by Chancellor Satnam Singh Sandhu and Vice-Chancellor Dr. R.S Bawa, dignitaries, staff, faculty members and students of Chandigarh University.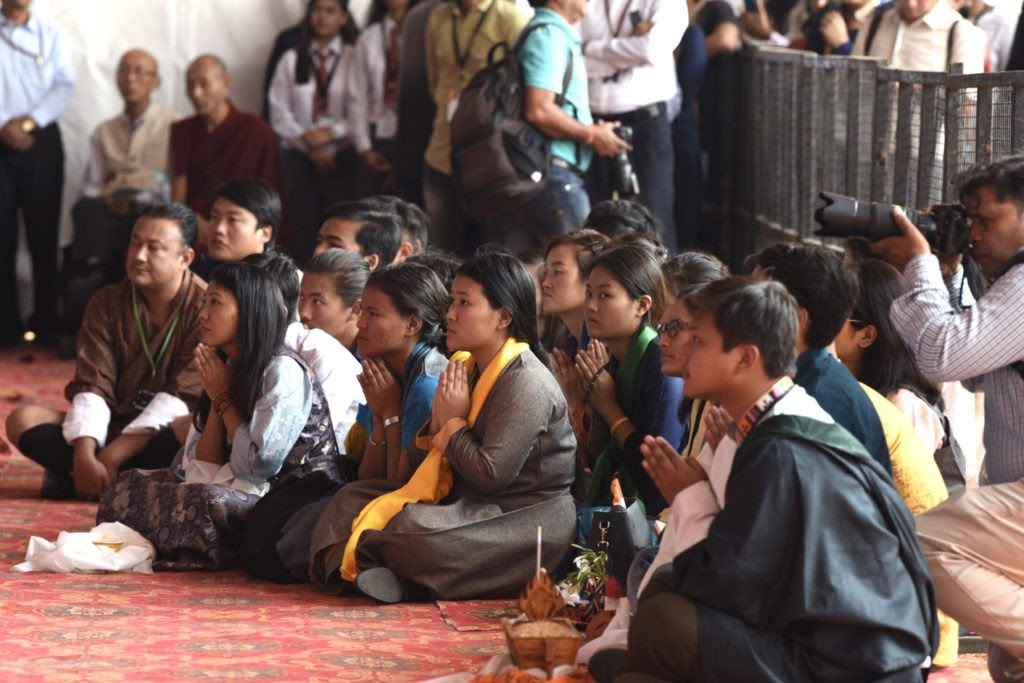 Tibetan students of Chandigarh listening to the address of His Holiness the Dalai Lama at Chandigarh University, 15 October 2019. Photo/Tenzin Phende/CTA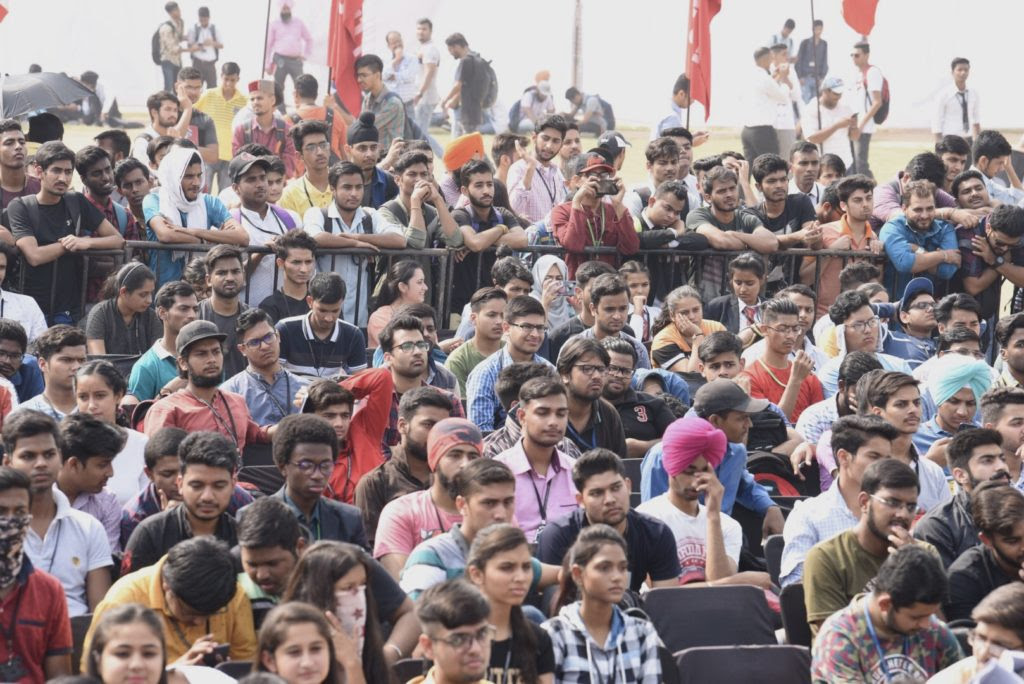 The crowd gathered at the address of His Holiness the Dalai Lama at Chandigarh University, 15 October 2019. Photo/Tenzin Phende/CTA
His Holiness the Dalai Lama being awarded the Global Spiritual Leader by Chancellor Satnam Singh Sandhu of Chandigarh University. Photo/Tenzin Phende/CTA
His Holiness the Dalai Lama with the NCC members of Chandigarh University. Photo/Tenzin Phende/CTA
source — cta