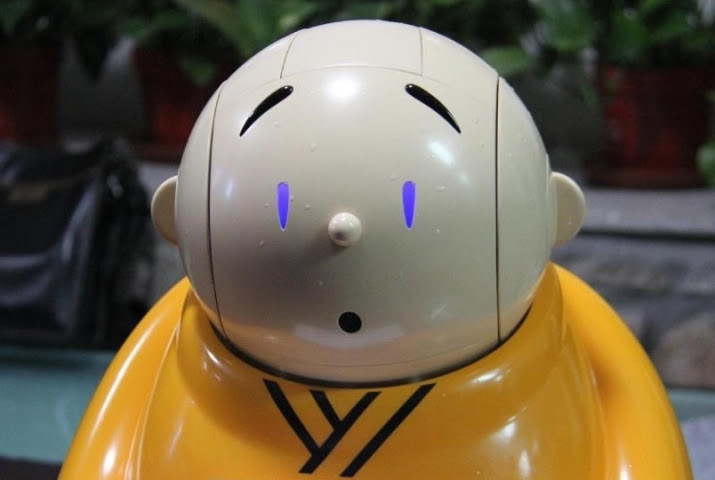 By  -Shyamal Sinha,New Delhi
 Buddhist temples are turning to technological innovation to spread their teachings. Longquan (Dragon Spring) Temple on the outskirts of Beijing, which has a history of embracing new technologies, has gone one step further by introducing a distinctly digital new member of its monastic community.
His yellow robe and shiny, bald pate might make him indistinguishable from any other monk, were it not for that fact that Xian'er stands a rotund two feet tall and is largely made of plastic. Unveiled in October last year, Xian'er has speech recognition built in, allowing him to engage in simple conversations with people and receive instructions, as well as chant sutras and play Buddhist music. The temple offered a demonstration of the robot's prowess with a simple Q+A session:
Q: "Why are you named Xian'er?" A: "My master gave me the name."
Q: "Who is your master?" A: "My master is my master."
Q: "What should I do in a traffic jam?" A: It's a great opportunity to recite some Buddhist scriptures."
Q: "How should I deal with my constantly nagging mum?" A: "Old people are like this . . . just give in to her."
Q: "I can't carry on with life, what should I do?" A: Don't think that you're the only one in the world who's having it so bad."
Q: "Can I take you home?" A: "Are you kidding me? You can't do that!" (South China Morning Post)
Longquan Temple's objective is to find innovative ways to engage with new and younger audiences. It has already started leveraging social media to promote Buddhism; the monastery's Master Xuecheng was the first monk in mainland China to start a blog. After recruiting programmers from several prestigious universities, the monks of Longquan have developed a digital infrastructure that includes an electronic book-lending system and mobile platforms compatible with Android and iOS devices. The temple has also produced comics, animated films, and music videos to reach out to young people. According to Master Xianfan, director of Longquan Temple's animation center, Buddhism should be combined with modern technology in the hope that people can learn and better understand its teachings.
Xian'er has already garnered an audience in China as the protagonist of his own animated cartoon series, Trouble, You Seek for Yourself, created by the monks and volunteers of Longquan Comic and Animation Group, in which the hero dispenses nuggets of Buddhist wisdom in an accessible manner. Xian'er's appeal is such that a number of people have expressed interest in acquiring their own robot monk, however Master Xianfan is adamant that there is only one Xian'er. "After all, this is not a commercial endeavor," he explains. "We made Xian'er to preach Buddhist doctrines in a modern way." (People's Daily Online)
Since his unveiling, Xian'er has travelled across China to attend numerous events, including the Guangzhou International Animation Festival, the Xiamen International Buddhist Show, and a robotics conference in Beijing. Buoyed by the popularity of Xian'er, the team at Longquan Temple is already paving the way for an updated robot monk with a greater capacity for human interaction. "Xian'er is the first generation of robot monk," said Master Xianfan. "We are planning the development of second generation of robot monk, which will be more intelligent." (China Daily)Todays world totally depend upon the upcoming technolgies considers as the best brain .