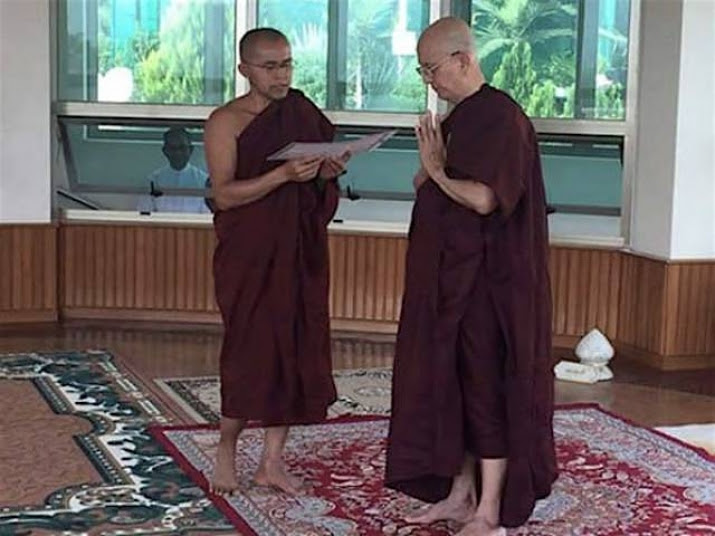 By Shyamal Sinha,NewDelhi
Lord Buddhas teaching fully applicable here,Former military general Thein Sein, who held office as the president of Myanmar from 2011–16, has temporarily ordained as a Buddhist monk, taking on the monastic name of U Thandi Dhamma. The move comes just days after a historic transition of political power in the Southeast Asian country to the former opposition National League for Democracy (NLD) party headed by Aung San Suu Kyi.
Last week, politician and scholar Htin Kyaw, 69, was sworn in as Myanmar's first civilian president since the military seized power in a coup in 1962, following a landslide election victory for the NLD in November last year. Htin Kyaw is widely expected to act as a proxy for Nobel laureate Suu Kyi, who is barred by the junta-drafted constitution from taking up the presidency herself because her sons are British citizens.
The Myanmar-language Myanma Alinn newspaper reported that Thein Sein, 70, had entered a monastery near the town of Pyin Oo Lwin, close to Myanmar's second-largest city Mandalay. "Those close to U Thein Sein said he will practice meditation during a temporary monkhood of about five days," the state-run newspaper said, adding that he had promised Buddhist elders to ordain as a monk after stepping down as president. (Channel News Asia)
Myanmar's ministry of information confirmed in a statement on Monday that Thein Sein would spend five days at Dhamma Dipati monastery outside Pyin Oo Lwin. "Recently, the country's most respected monk, Sitagu [Sayadaw], urged ex-president Thein Sein to enter into the Buddhist monkhood when he attended the World Buddhist Conference," the statement said. "Thein Sein told Sitagu that he was busy with the duties of a president and promised that he would be ordained as soon as he finished his term as president." (The Guardian)
Venerable Dr. Ashin Nyanissara, better known as Sitagu Sayadaw, is a respected monk and a leading Dharma teacher in Myanmar, renowned as a charismatic leader and for practicing socially engaged Buddhism with a strong emphasis on humanitarian work.
Myanmar's
Thein Sein was installed as president for a five-year term in 2011, heading a nominally civilian government after the military ended half a century of rule, having previously served as prime minister from 2007–11. Widely viewed as a moderate reformist in the post-junta era, his government oversaw five years of reforms as the nation slowly opened up to the world after decades of repressive and isolating military rule. Thein Sein is expected to continue to lead his army-backed Union Solidarity and Development Party, now in the opposition.
Myanmar is a predominantly Buddhist country. According data for 2010 from the Washington, DC-based Pew Research Center, just over 80 per cent of the population identify as Buddhists, most of whom follow the Theravada tradition. Christians make up 7.8 per cent of the population, folk religions account for 5.8 per cent, and Muslims 4 per cent.