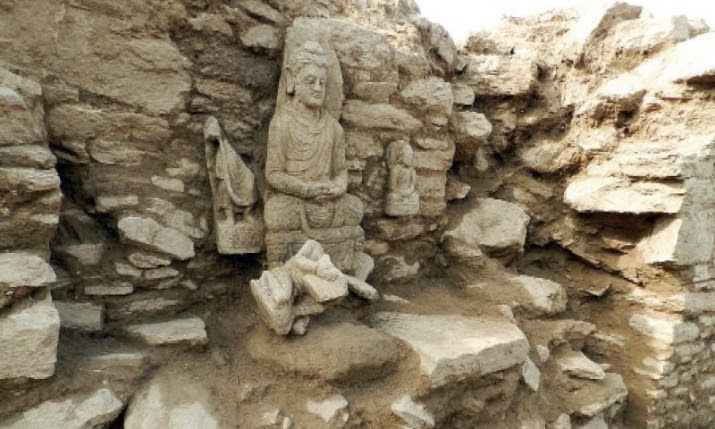 By Shyamal Sinha,New Delhi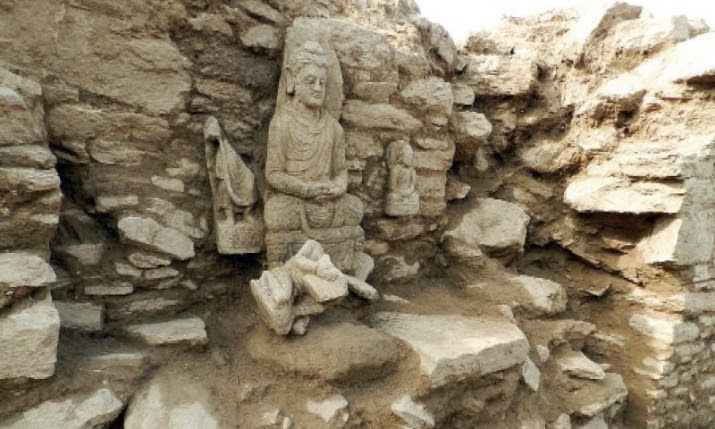 A sculpture found in a niche at Bazira. From
dawn.com
Swat is thought to be the probable birthplace of Vajrayana Buddhism. There are many archaeological sites in the district and Buddhist relics are common testimony to their skills as sculptors and architects.
Large layers associated with both the Indo-Greek city and the pre-Greek Mauryan settlement, together with a large number of everyday objects, have been discovered at the archaeological site of Bazira, around 1.5 kilometers from the city of Barikot in the southern end of the Swat Valley in Pakistan. One of Pakistan's most important archaeological sites, Bazira rivals Taxila (in Rawalpindi District in Punjab Province) in significance.
In 326 BCE, the area was besieged by Alexander the Great (356–323 BCE) during his invasion of Central Asia and India. The Greco-Bactrian king Demetrius (r. c. 205–171 BCE) later invaded areas of modern Pakistan and Afghanistan, creating a Hellenistic kingdom of Indo-Greeks that was in fact a number of various dynastic polities. Collectively, the Indo-Greeks left an important mark on the culture and art of early Buddhism, with some even suggesting that Buddhist monks and Greek artists and residents might have encountered each other and debated or absorbed each other's ideas. The Indo-Greeks disappeared as a political entity around 10 CE. Bazira was founded as a small town and developed into a city during the rule of the Kushan empire (30–375 CE).
Dr. Luca Maria Olivieri, head of the visiting Italian Archaeological Mission (which has been excavating Bazira since 1984), told the Pakistan news website Dawn: "I foresee that in future Barikot will become one of the largest and long-lasting excavation projects in Pakistan (30 years so far) if not in the entire sub-continent. It already represents the only Indo-Greek city excavated at that scale, and one of the few examples of a Kushan urban settlement scientifically excavated in South Asia."
The team that discovered the city layers comprised both Italian and Pakistani archaeologists, including Elisa Iori of Bologna University, Cristiano Moscatelli of Naples University, and Amanullah Afridi and Syed Niaz Ali Shah of the KP Directorate of Archaeology And Museums.
A view of the Bazira site. From
dawn.com
Olivieri also told Dawn that a large late-Kushan temple with four pillars had recently been discovered on the northern part of the excavated area (3rd century CE). "This is the third coeval public cultic space found in the late city, and it is confirming the existence of Buddhist architecture, which has nothing to do with the mainstream stupa-cum-viharas layout of the contemporary Buddhist complexes. Vice-versa, these new architecture have more in common with Central Asian coeval [contemporary] examples and antecedents," he said.
A Gandharan double-dome vihara built during Kushan rule in the 2nd century CE, considered one of the most important finds in Pakistan's Buddhist history, was found just five kilometers from Bazira. Dr. Olivieri told Dawn on 10 July, "The site is featured by the landmark monument of the Great Shrine, the oldest example of double-dome Gandharan architecture. Chronology of the site is supported by radiocarbon dating one wooden beam of the shrine (palosa wood or acacia modesta) back to the end of first century or the middle of second century CE. The shrine with its cella, corridor and double dome is astonishingly well preserved for the standards of Gandharan architecture."
According to Olivieri, the vihara is the only double-dome structure of the ancient Buddhist era left in South Asia. Dawn reported that this site was first visited by Hungarian-British archaeologist Sir Aurel Stein in 1926 and then hastily excavated by Burger and Wright in 1938. Smugglers, treasure hunters, and vandals looted it for more than a century before it became a protected site. The monastery is now part of a 12-kilometer tourist trail which crosses two valleys and passes several rock painting and carving sites.It is said that Swat was once filled with fourteen hundred imposing and beautiful stupas and monasteries, which housed as many as 6,000 gold images of the Buddhist pantheon for worship and education.