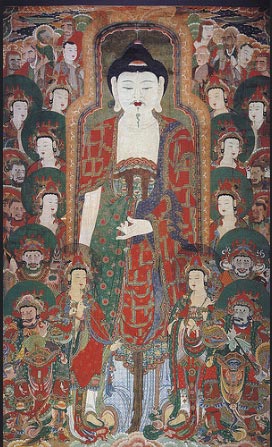 By Shyamal Sinha,New Delhi
Shakyamuni Buddha's birthday, observed in Korea on 14th May this year, the National Museum of Korea in Seoul and the Ho-am Art Museum in Yongin are holding exhibitions of Buddhist art, both of which will run until
6 November
.
The centerpiece of the National Museum of Korea's exhibition, Buddhist Hanging Scroll at Bukjangsa Temple: The Buddha Listens to Prayers, is an unusual giant scroll painting depicting Shakyamuni teaching on the mountain Yeongchwisan.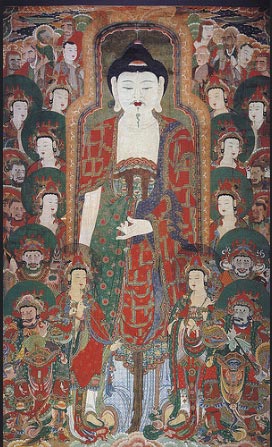 At 43 feet high and 26 feet wide, the painting, believed to have been completed in 1688 and designated National Treasure No. 1,278, is one of the largest of its kind in Korea and the largest painting ever displayed at the museum—the scroll is actually three feet longer than the height of the museum wall.
National Museum of Korea curator Yoo Kyung-hee noted that the hanging painting is significant because it depicts the Buddha standing. "Other Buddhist hanging paintings depict the Buddha sitting down. It is usual to have Buddha sitting down as they pray," Yoo said. "But for this painting, it's said that the monk painters wanted to portray this Buddha like a messiah." (Korea JoongAng Daily)
According to the chief monk of Bukjangsa Temple, in Sangju, North Gyeongsang Province, where the giant painting originates, the image is said to "listen to prayers for rain." (Korea JoongAng Daily)
"This painting was not for displaying inside the Buddhist sanctum, but for hanging outside during outdoor ceremonies," Yoo observed. Indeed, there are records of the hanging painting being used during rain-calling ceremonies. (The Korea Times)
The assembled collection also features various other paintings of Buddhas that are said to listen to prayers—for curing diseases, for going to paradise after death, for conceiving a child, and so on. Among them is a seven-piece set of hanging scrolls of arhats, which has been dated to the Goryeo kingdom (918–1392) and is being displayed in its entirety for the first time. These paintings of the Buddha's disciples would have served as the object of prayers to preserve the peace and safety of the country. Also on show is a painting acquired by the museum last year which depicts the bodhisattva Avalokiteshvara, who embodies the compassion of all Buddhas and was often the focus of prayer for people seeking salvation.
The Ho-am Art Museum's exhibition, Three Jewels: Buddhist Art of Korea, brings together some 40 exhibits, including ancient Korean paintings, sculptures, documents, and artifacts related to Buddhism, divided into three thematic sections.
The first section offers visitors a tour of the "World of Buddha," featuring both Shakyamuni and the Buddha Amitabha/Amitayus. Here, visitors can view The Eight Scenes of Buddha's Life, a series of large paintings dated to the Joseon kingdom (1392–1897) that depict the life of Shakyamuni. The second section enables visitors to learn about Buddhism through a diverse selection of scriptures containing Shakyamuni's teachings, while the third section features a variety of ritual objects used in Buddhist ceremonies.
The anniversary of the Buddha's birth is a national holiday in Korea, observed on the eighth day of the fourth month of the lunar calendar. The day is known as 석가탄신일 (Seokga tansinil), "the Buddha's birthday," or 부처님 오신 날 (Bucheonim osin nal), "the day when Buddha arrived."