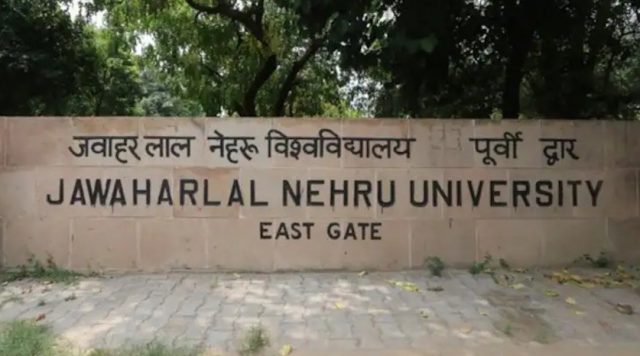 By Choekyi Lhamo
DHARAMSHALA, May 2: The fee hike imposed on foreign nationals (FN) including Tibetan students at the prestigious Jawaharlal Nehru University in New Delhi since 2019 saw a new development on Monday as the CTA Education minister (Sherig Kalon) Tharlam Dolma met with the recently appointed JNU Vice-Chancellor Prof. Santishree D Pandit to discuss the plight of young Tibetan students.
"There has been mounting concern among Tibetan aspirants regarding the fee hike since many have been unable to pay the necessary amount. JNU VC said that she would look into the matter as we told her how these Tibetans, mostly third or fourth generation, are coming from CBSE affiliated schools and cannot afford the same amount foreign nationals are subjected to," Secretary Jigme Namgyal, who accompanied Sherig Kalon on the visit, told Phayul. However, he also noted that this issue cannot immediately be resolved but hoped that the JNU administration finds a mechanism to work through the current fee structure to accommodate young Tibetans.
The exorbitant hike in tuition fees was raised in 2019 from $200 per year to $2400 for Humanities (INR 1, 82,400) and $3400 for Sciences (INR 2, 58,400) per year excluding food and lodging charges. Tibetan aspirants have since struggled to enrol themselves in the one of the foremost educational institutions in India due to the financial difficulties faced by families from lower-income backgrounds.
"Personally, I have tried to look for various scholarships in order to meet the required amount. I also noticed some withdrawing from the prospect of enrolment after I told them about the tuition fees," a student currently enrolled at the university, who wanted to remain anonymous told Phayul. The rising concern, many students say, is the debilitating number of Tibetans in the JNU campus which is known for its unique discursive academic space in India.
PhD candidate Kalsang Nyima from JNU in an op-ed published in Tibetan Review last year said that the new fee structure has created a "tall wall" against the aspirants and urged the CTA leaders to resolve the issue immediately. "The JNU campus is in fact a microcosm of India at large. It reflects all the social problems and a functioning and participatory democracy to find solutions, which makes it the best training ground for "ma 'ong bod kyi son rtsa" (seed of future Tibet), who would have to hold up the precious democratic exile community," he further argued.
The exorbitant fee hike was first implemented in 2019, the same year a total of 42 Tibetan students passed the entrance through foreign quota but only 10 students were able to pay the increased fee. Three students dropped out from their respective programs in the following semester as they could not pay the hiked fee.