By  Shyamal Sinha
Highly revered lamas in the Gelug tradition of Tibetan Buddhism, Khensur Jhado Tulku Rinpoche, visited the Russian Federation between 30 June and 21 July to give teachings and transmissions in Moscow, St. Petersburg, Kalmykia, and Tuva.
Jhado Tulku Rinpoche was born in 1954 near the Tibetan capital Lhasa, and at the age of three he was recognized and enthroned as the 6th incarnation of the abbot of Jhado Monastery. In 1959, he escape from Tibet to India, where he studied at Sera Je Monastery in southern India and later at Gyoto Tantric Monastery in Dharamsala. In 1991, he attained the highest level of education in the Gelug tradition, geshe lharampa, equivalent to doctorate degree. From 1992–96, Jhado Tulku Rinpoche served as a teacher at Namgyal Monastery in Dharamsala, the personal monastery of His Holiness the Dalai Lama. A year later he became abbot of the monastery, a position he held until 2004. He now travels all over the world to transmit the teaching of Gelug tradition and is highly respected by Russian Buddhists.
Rinpoche's teaching program in Moscow (30 June–2 July) was held at the Open World Center and included Vajrasattva and Avalokiteshvara empowerments, and a commentary on a text of the Tibetan Buddhist master Je Tsongkhapa (1357–1419).
His program in St. Petersburg (5–9 July) was held at Gunzechoinei Datsan, a large Buddhist temple, and included 21 Tara and Hayagriva empowerments and a commentary on the texts of Je Tsongkhapa and the Tibetan teacher Konchok Tenpai Dronme (1762–1823).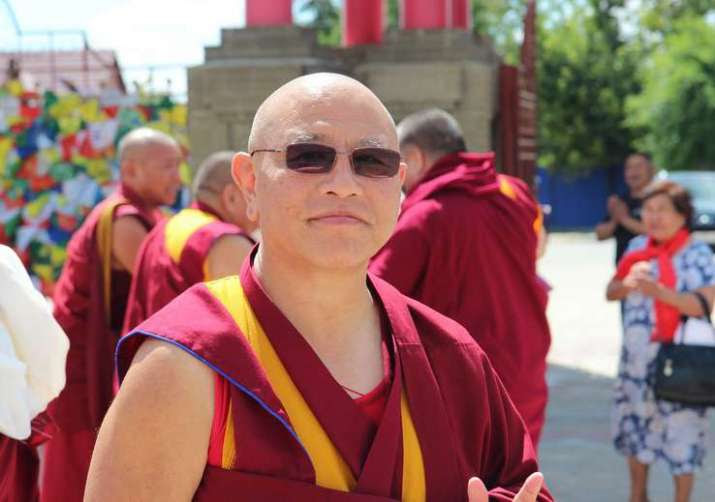 In Kalmykia, Rinpoche gave teachings at Europe's largest Buddhist temple, the Golden Abode of Shakyamuni Buddha. From 12–14 July, he granted the empowerment of the 21 forms of the female protector Palden Lhamo and gave a commentary on a text of the Indian Buddhist philosopher Nagarjuna (c. 150–c. 250).
His program in Tuva (18–21 July) included empowerments of Green Tara, White Tara, 13 Forms of Yamantaka, Palden Lhamo, and Three Protectors (Kalarupa, Mahakala, Vaishravana), teachings about taking refuge and karma, and a commentary on a text of Je Tsongkhapa.
On 16 July, a special ceremony was held that made Rinpoche's visit to the region a truly historical event. Jhado Tulku Rinpoche consecrated a new Buddhist monument at a sacred spot in Kalmykia, blessing a Kalachakra (Wheel of Time) stupa built around the "Lonely Tree" located near Khar-Buluk settlement in Tselinny District. It is believed that the Buddhist monk Purdash-Bagshi Jungruev planted a number of seeds brought from Tibet in 1903 and only this tree has survived the harsh climate, to become known as the Lonely Tree—a sacred place of pilgrimage for Kalmyks and Buddhists in the region.
Construction of the stupa was initiated in 2015 with the blessing of Jhado Tulku Rinpoche and Telo Tulku Rinpoche, and the renowned Tibetan lama Kundeling Rinpoche consecrated the land in the same year. It is believed that Kalachakra stupas have special power to remove obstacles and dispel negative forces.
Jhado Tulku Rinpoche's visit to Russia was possible thanks to the invitation of Geshe Ngawang Tugje and Telo Tulku Rinpoche, shadjin lama (head lama) of the Kalmyk Republic and the Dalai Lama's honorary representative for Russia, Mongolia, and the members of the Commonwealth of Independent States. The program for Rinpoche's teaching tour was organized by two leading Buddhist institutions in Moscow—the Four Noble Truths Center and the Center of Tibetan Culture and Information. The Four Noble Truths Center was established with the blessing of Jhado Rinpoche during his Moscow teaching program in 2015, and its resident teacher is Geshe Ngawang Tugje. The Center of Tibetan Culture and Information was established in Moscow in 1993 with the blessing of His Holiness the Dalai Lama. The chairman of the center's board is Karma Tenzing B. (Ngawang).