By  Shyamal Sinha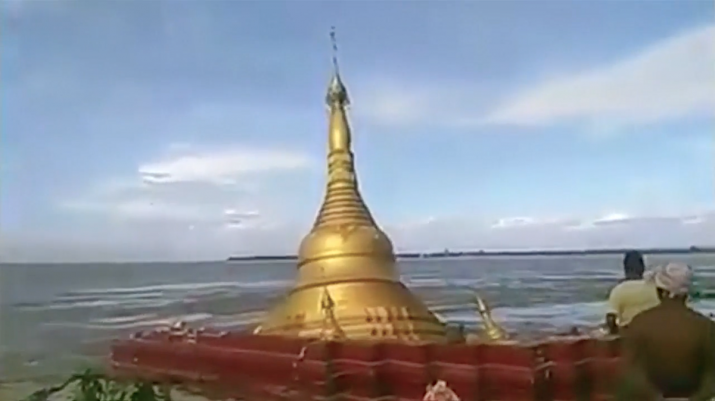 Lacs of people flee their homes in the wake of a deluge of monsoon rains that has led to heavy flooding across large areas of Myanmar, . According to government data, at least two people have died and more than 100,000 have been displaced by flooding in July across central and southern Myanmar.
Built in 2009 on the bank of the Irrawaddy River, near the township of Pakokku in central Myanmar's Magway Region, the slow but inexorable destruction of Thiri Yadana Pyilone Chantha pagoda was reportedly filmed by the temple's abbot, U Pyinnya Linkkara, on 20 July.
Shocked visitors to Thiri Yadana Pyilone Chantha Pagoda wailed as they watched the structure slowy slide into the water. Local officials said there had been reports of continuous heavy rain in the area, causing the river water level to rise. They said the water may have weakened the base of the pagoda which was on the river bank.
"This pagoda was built in 2009, when it was far away from the river," said the Buddhist monk. "Year by year, the river has eroded the land and now the pagoda has fallen into the river." (The Indian Express)
Water levels have risen steadily since unusually strong monsoon rains began in early July, driving people in exposed areas to higher land or to seek shelter in Buddhist monasteries. Most are in Magway Region, where the pagoda collapsed and more than 60,000 have fled their homes. On Saturday, images of the Buddha's footprint at another pagoda in Magway were submerged by floodwaters, although no permanent damage was immediately reported.
"The situation is under control, but what happens now will depend on the weather," said Ko Ko Naing, director general of the Myanmar's Ministry of Social Welfare, Relief and Resettlement. "We are prepared to support the flood-hit areas because flooding happens every year." He added that the government had provided food and other assistance to 116,817 displaced people by Monday, along with longer-term shelter in areas where flood waters are not expected to subside immediately. (Reuters)
Myanmar is especially disaster-prone, and is ranked as the "most at risk" country in Asia by the UN Risk Model, vulnerable to cyclones, flooding, extreme temperatures, earthquakes, and landslides. The Department of Meteorology and Hydrology has warned that more rains are due in the coming week, urging people to take necessary precautions. "Heavy rain is coming in central Myanmar and coastal areas in the next few days. Central Myanmar will get rain as clouds come from the east," said department director U Kyaw Lwin Oo. (Myanmar Times)