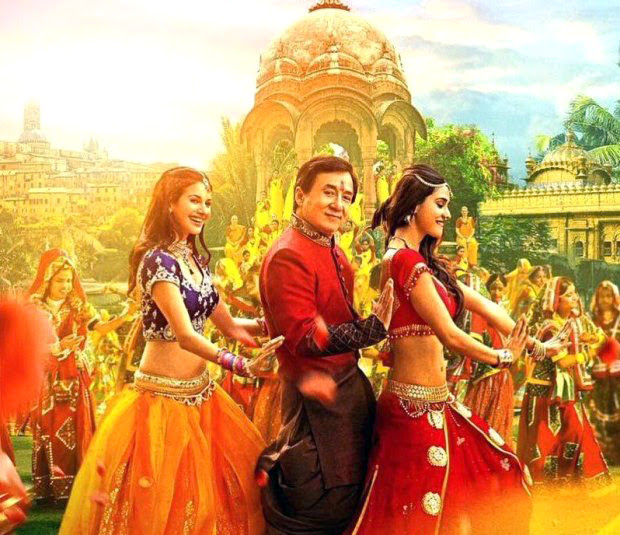 By Shyamal Sinha ,New Delhi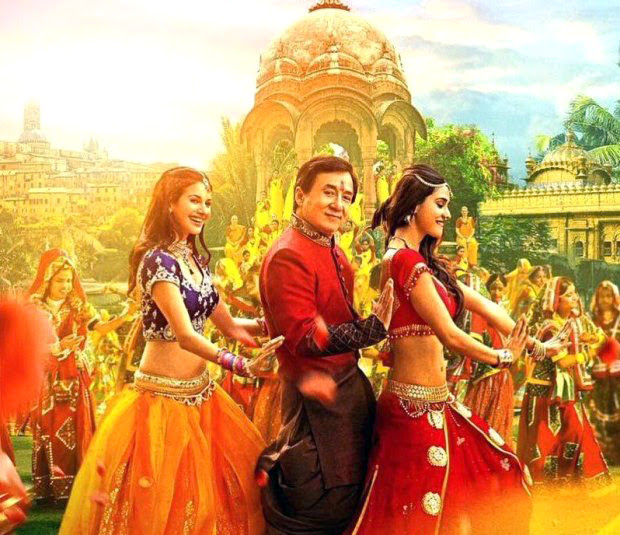 In the 20th century, Indian cinema, along with the Hollywood and Chinese film industries, became a global enterprise.] As of 2013, in terms of annual film output, India ranks first, followed by Nollywood,[ Hollywood and China.[
Earlier we had given glimpses of Kung Fu Yoga when the shooting took place in the picturesque lanes and around the monuments of Rajasthan. Now, the latest poster of the Indo-Chinese film reflects the desi flavor of the film and here's the same.
Disha Patani, who plays one of the leading ladies in the film, took to the social media to share her excitement about the release of the film and posted this picture with a caption, "Can't wait 4 D track choreographed by @TheFarahKhan & my lovely cast @EyeOfJackieChan @AmyraDastur93 #aarif_964 @SonuSood #stanleytong."
The film, though extensively shot in China, has few locations from India too which play a prominent role. While Sonu Sood plays the role of Randall, Amyra and Disha play the role of Jackie's assistant Kyra and professor Ashmita respectively. The film is said to have elements of Bollywood which includes music and dance choreographed by Farah Khan.
Directed by Stanley Tong, Kung Fu Yoga focuses on the journey of retrieving the lost treasure from the Magadha era and is slated to release on January 28 next yea
Farah Khan, who has choreographed Jackie Chan for the upcoming Sino-Indian film "Kung Fu Yoga", says the legendary actor is a fabulous dancer.
"It was fabulous (choreographing for Chan). He is a fabulous dancer and he picked up the Bollywood moves so easily and he loved doing it," Farah told IANS.
Asked if he showed any interest in starring in a Bollywood film, she quipped: "I don't know if we can afford him. He charges hell of a lot of money. The entire budget would just go to him."
Farah, who is currently judging the ninth season of "Indian Idol" aired on Sony Entertainment Television channel, has even directed hits like "Om Shanti Om", "Main Hoon Na" and "Happy New Year".
So would Farah like to direct Chan?
"I would love to…He is a joy to work with," said Farah, who will be seen judging along with composer Anu Malik and singer Sonu Nigam in "Indian Idol".
"Kung Fu Yoga" is part of the three-film agreement signed between the two countries during Chinese President Xi Jinping's visit to India.
Directed by Stanley Tong, the action comedy film has been shot in Dubai, Iceland, Beijing and India.
Some of the indo chinese film got good public appreciations in both the countries.
Dr. Kotnis Ki Amar Kahani
The 1946 film Dr. Kotnis Ki Amar Kahani based on a story by Khwaja Ahmad Abbas, had V Shantaram, who is also the director of the film, essaying the role of protagonist Dr Dwarkanath Kotnis – an Indian doctor who worked in China during the Japanese invasion in World War II. While in China, providing medical assistance to the troops fighting against the Japanese, Kotnis courts a Chinese girl called Ching Lan, played by Jayashree.
In the film Howrah Bridge (1958), the famous song Mera Naam Chin Chin Chu, sung by Geeta Dutt, has Helen mouthing the lines, "Babuji main Chin se aai, Chini jaisa dil layi."
The 1964 film Haqeeqat is said to be the only film that featured the India-China border war.
Chandni Chowk to China (2009)
The film, panned by both critics and the audience, had Akshay Kumar playing Sidhu, a worker at a roadside food stall in Chandni Chowk. When two Chinese men tell him that he is a reincarnation of war hero Liu Shen and wish to take him to China, Sidhu, egged on by charlatan Chopstick (Ranvir Shorey), believes he will be treated as a hero in the neighbouring country. What he doesn't know is that his job is to assassinate the smuggler Hojo (Gordon Liu). The film also starred Deepika Padukone in a double role – as an Indian-Chinese spokesmodel and Chinese femme fatale Meow Meow. Chopstick, Meow Meow… could this flick have ashamed itself any further? Actor Roger Yuan played Deepika's father and Akshay's trainer in the film. The only credit that can be given to CC2C is that it genuinely made an attempt to show the Chinese martial art Kung-Fu in Bollywood style.
Both India and China have a rich history and culture, but not a shared one.