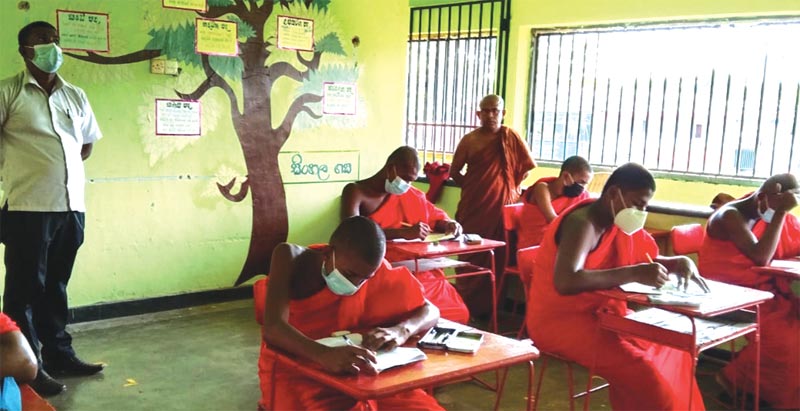 The High Commission of India in Colombo has launched a quiz competition in Sri Lanka focusing on the life of The Buddha and various sites/places associated with Buddhism, in collaboration with the Ministry of Education and the State Ministry of Dhamma School, Piriven and Bhikku Education of Sri Lanka.
The quiz competition in Sri Lanka has been launched in about 800 Pirivenas (monastic schools) islandwide for youth and students in the age group of 14-22 years. The quiz is being held in three rounds, of which the first round at the Pirivena level was held on 22 December, the second round was held at the provincial level on 27 December and the third round at the national level will be held on 29 December.
The Grand Prize for three winners selected after Round 3 would include a  five-days tour of the Buddhist circuit of India along with one companion each. The first and second rounds of the quiz, which were coordinated by the State Ministry of Dhamma School, Piriven and Bhikku Education, witnessed enthusiastic participation.
India is blessed to be the land from where the invaluable gift of the Buddha's teachings spread to the rest of the world. Today, Buddhist heritage forms an important civilisation bond between India and many countries.
Of all these countries, Sri Lanka has a very important and special place, being one of the first countries to have received the gift of Buddhism from India two millenia ago. This quiz competition would help in further promoting our shared cultural heritage of Buddhism and deepen our people-to-people bonds.
It may be recalled that the Government of India has taken a number of steps to deepen linkages between the two countries in the sphere of Buddhism. These include, a special grant of $ 15 million for promotion of Buddhist ties for which the modalities for utilisation are being finalised; welcoming the inaugural flight to the sacred city of Kushinagar from Sri Lanka on the auspicious 'Wap Poya' day in October; exposition of the sacred Kapilvastu Buddha relics from the Rajaguru Sri Subhuthi Maha Vihara of Waskaduwa, in India in October.