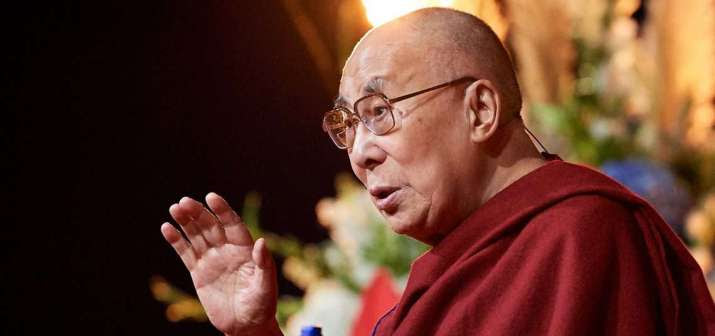 From 
dalailama.com
The 14th Dalai Lama is the current Dalai Lama. Dalai Lamas are important monks of the Gelug school, the newest school of Tibetan Buddhism, which was formally headed by the Ganden Tripas.
He stated, "The outbreak of this terrible coronavirus has shown that what happens to one person can soon affect every other being. But it also reminds us that a compassionate or constructive act – whether working in hospitals or just observing social distancing – has the potential to help many." He also said that since the news emerged of COVID-19 in Wuhan, he has been praying for China and the world. He also emphasized that "prayer is not enough," and that the courage of healthcare workers must be combined with empirical science to avert the COVID-19 crisis.
In a public statement marking the 50th anniversary of Earth Day on 22 April, His Holiness the Dalai Lama called on people around the world to recognize the vital need for "a genuine sense of universal responsibility: the wish to actively help others overcome their problems" during the unique challenges posed by the novel coronavirus pandemic—in particular for those living in vulnerable communities. (His Holiness the 14th Dalai Lama of Tibet)
"Our planet is facing one of the greatest challenges to the health and well-being of its people. And yet, in the midst of this struggle, we are reminded of the value of compassion and mutual support. The current global pandemic threatens us all, without distinctions of race, culture, or gender, and our response must be as one humanity, providing for the most essential needs of all," His Holiness stated.
"Whether we like it or not, we have been born on this Earth as part of one great family. Rich or poor, educated or uneducated, belonging to one nation or another, ultimately each of us is just a human being like everyone else. Furthermore, we all have the same right to pursue happiness and avoid suffering. When we recognize that all beings are equal in this respect, we automatically feel empathy and closeness toward others. Out of this comes a genuine sense of universal responsibility: the wish to actively help others overcome their problems." (His Holiness the 14th Dalai Lama of Tibet)
The Dalai Lama, who in February marked the 80th anniversary of his enthronement as the spiritual leader of Tibet, emphasized the importance of ensuring that frontline medical workers and care providers throughout the world are provided with fundamental necessities, such as clean water and effective means of sanitation and hygiene, as they work to limit the spread of the virus known as SARS‑CoV‑2. He noted that sustainable and properly equipped healthcare facilities are essential to effectively addressing the current crisis, as well as being a strong defense against future potential public health emergencies.
The Nobel Peace Prize laureate recalled developing an appreciation for the importance of environmental conservation after fleeing the Chinese invasion of Tibet in 1959: "Whenever we saw a stream of water," he said. "There was no worry about whether it was safe to drink. Sadly, the mere availability of clean drinking water is a major problem throughout the world today." (His Holiness the 14th Dalai Lama of Tibet)
"Our Mother Earth is teaching us a lesson in universal responsibility. This blue planet is a delightful habitat; its life is our life; its future, our future. Indeed, the Earth acts like a mother to us all; as her children, we are dependent on her. In the face of the global problems we are going through, it is important that we must all work together," His Holiness said. "As we face this crisis together, it is imperative that we act in a spirit of solidarity and cooperation in order to provide for the pressing needs, particularly of our less fortunate brothers and sisters around the world. I hope and pray that in the days ahead, each of us will do all we can to create a happier and healthier world." (His Holiness the 14th Dalai Lama of Tibet)
We are followers of Buddha." He said that "All problems must be solved through dialogue, through talk.