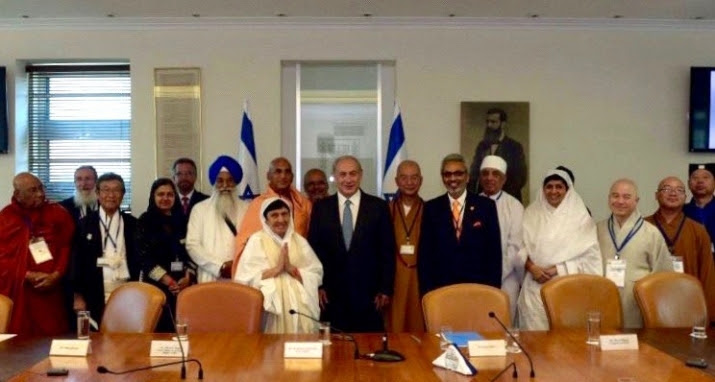 By Shyamal Sinha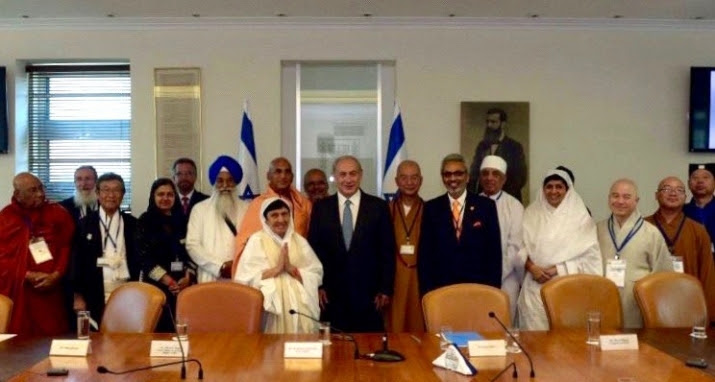 Israeli President Reuven Rivlin and Prime Minister Benjamin Netanyahu on Monday met with leaders of Asian spiritual traditions in Jerusalem. From jpost.com
Xuecheng, named Fu Ruilin, was born as the eldest of three sons on October 3 (the nineteenth day of the eighth month of the lunar calendar), 1966, to a family of strong Buddhist culture in Luofeng village of Laidian Town, Xianyou County, FujianProvince. His grandmother was a Buddhist practitioner and later became a nun. His mother was a devoted Buddhist in addition. His father worked as an accountant and office clerk in the village, also known to be a benevolent man.
 Chinese Buddhist monk Ven. Xuecheng joined a delegation of religious leaders in Jerusalem on Monday for the first day of a four-day interfaith conference aimed at deepening ties between Israel and Asia. The forum will examine a range of issues, such as the role of religion in modern society, the rights of individuals and what constitutes a just society, and safeguarding the planet and the environment.
More than 20 leaders of major Asian spiritual traditions are attending the summit, including representatives of Buddhism, Hinduism, Jainism, Shintoism, Sikhism, Taoism, and Zoroastrianism from China, India, Japan, Myanmar, South Korea, Taiwan, and elsewhere. Over the four-day event, co-organized by Israel's Ministry of Foreign Affairs (MFA), the American Jewish Committee, and the World Council of Religious Leaders (WCRL), the Asian representatives will meet Arab and Israeli Christian, Druze, Jewish, and Muslim leaders.
Israeli President Reuven Rivlin and Prime Minister Benjamin Netanyahu welcomed the delegates to the summit. "Welcome to Jerusalem, the holy city to the religions of the sons of Abraham," said Rivlin. "Your arrival is a very special event, for many years the interaction between our religions hardly even existed. This is no longer the situation, as your visit today shows." (TheJewishPress.com)
"As the world becomes smaller, problems that were once local and limited are now everyone's problem. Sometimes these problems have a human face. We must face these problems together and we can face these problems together," said Rivlin "Our traditions have much in common: we all share a deep concern for human life and dignity. We all believe that this planet does not belong to us, but that we belong to it, and we must take good care of it." (The Jerusalem Post)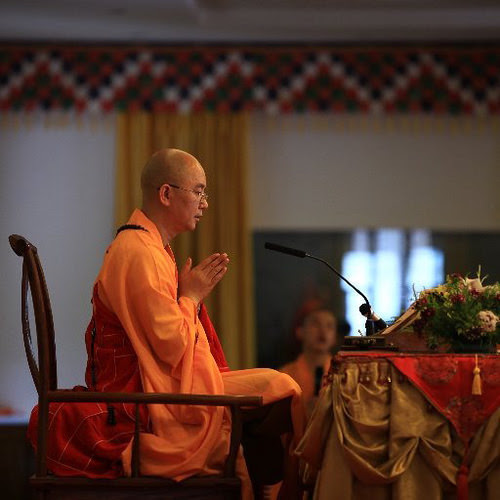 Ven. Xuecheng joined a delegation of religious leaders from Asia for a four-day
interfaith conference aimed at deepening ties between Israel and Asia. From
twitter.com/xuecheng
Expressing gratitude on behalf of all Buddhists for being able to participate in the conference, Ven. Xuecheng observed that there are five major religions in China: Buddhism, Christianity, Confucianism, Islam, and Taoism, noting that "all five emphasize peace, compassion and freedom." In order to have a peaceful world, he said, "We must make mutual respect and understanding a goal." (The Jerusalem Post)
Other notable guests at the summit include Swami Avdeshanand Giri, the spiritual leader of millions of Indian Hindus; WCRL secretary-general Bawa Jain; Ven. Misan Sunim of the Jogye Order of Korean Buddhism; Swami Paramatmananda, general secretary and convener of Hindu Dharma Acharya Sabha; and Rev. Tanenori Terai, a Shinto representative from Japan.
"It is time to expand the Israel-Asia dialogue from only diplomatic and economic spheres to religion, spirituality, and faith. This is a first meeting in history between the religious leaders of Judaism and those of the eastern faiths," said summit coordinator Simona Halperin. She added that during the summit the religious leaders would tour holy sites and discuss current events, including global warming, the environment, the status of religion in contemporary society, and the role of religion in peacemaking. (TheJewishPress.com)
Ven. Xuecheng expressed hope that the summit would lead to lasting friendships between the religious leaders in Israel. "Only if we make true friends we can really set the goal of mutual respect and understanding," he said. "The Chinese religions are working very hard to call out other religions to help in the construction of a peaceful world."
The representatives of Asian religions will meet Christian, Druze, Jewish, and
Muslim leaders over the course of the summit. From jewishpress.com
A distinguished scholar, Ven. Xuecheng serves as the abbot of Guanghua Temple, in Putian in his home province of Fujian, Famen Temple in Fufeng, Shaanxi Province, and Beijing Longquan Monastery. He was elected secretary-general of the Buddhist Association of China in 2007, and became president in 2015 (born 1966, he is the youngest monastic ever to hold the office). Ven. Xuecheng is a member of the National Committee of the Chinese People's Political Consultative Conference and is also a popular blogger.Xuecheng believes that Buddhist education should guide the fourfold assembly of disciples to free themselves from primitive, unilateral, backward, short-sighted and outdated thinking, and take a path that leads toward society and the whole world. On one hand, Buddhists should focus on self-cultivation: inspiring others with Dharma, gaining the support of others by virtue, benefiting oneself and others, enlightening oneself and others and engaging oneself with true practice and the true promotion of the Teachings. On the other hand, they must understand the development of Buddhism in this new era, not just focus on the current situation and must learn how to use modern technologies like computers and the Internet. They must make use of methods that are suitable to the lifestyle of people in modern times so as to disseminate the Dharma.