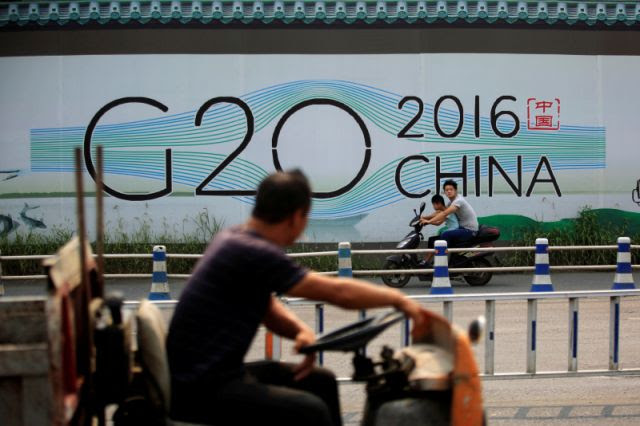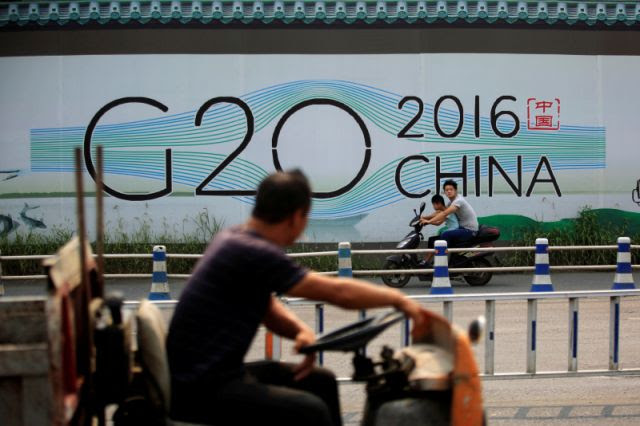 G20 Hangzhou summit 2016
""For Beijing, the G20 offers the chance, for the first time in history, to sit at the table as an equal partner with all major powers in the world in talking about the global economy,
Beijing has underscored the need for putting China-Japan ties back on track, and called on Japan to 'play a constructive role' during the upcoming G20 summit in China's Hangzhou city. Chinese Premier Li Keqiang told a visiting Japanese envoy that both countries must cooperate in the interest of all.The 2016 G20 Hangzhou summit will be the eleventh G20 meeting."A scenic and metropolitan capital in the southeast, Qiantang is forever prosperous". With a history going back 2,200 years, Hangzhou is one of China's seven ancient capitals. Today it serves as Zhejiang Province's economic, cultural, technological and educational center.
Hangzhou has legendary beauty. Marco Polo praised it as the "most noble and magnificent city in the world". Boasting the two World Heritage Sites of the West Lake and the Great Canal, natural scenery and majestic buildings are well merged in harmony. Rapid development and ongoing improvement of people's life enrich and complement one another.
Hangzhou has a robust economy driven by passions of entrepreneurship. Its total economic output ranks fourth among China's provincial capital cities. For years Hangzhou tops the chart of China's Best Investment Destinations. It is proudly the host city for the International Cartoon & Animation Festival, the West Lake International Expo and the World Leisure Expo.
A beautiful land breeds fair people and phenomena.
Li's call comes amid spats between Asia's two biggest economies over several issues, including the territorial conflict in the East China Sea and wartime history.
Li told the head of Japan's National Security Council, Shotaro Yachi, that Beijing and Tokyo must set aside differences and reduce negative elements in the bilateral ties, state news agency Xinhua reported.
According to Li, relations between China and Japan are in a delicate state, despite signs of improvement.
Yachi also met Yang Jiechi, China's State Councilor who outranks the foreign minister, on Thursday (25 August). He too called for cooperation to ensure the success of the G20 summit.
Li said he hoped Japan would have a proper understanding of China and take advantage of China's development.
Yang and Yachi signed a four-point agreement in 2014 on the sidelines of an Apec meeting in Beijing to improve Japan-China relations.
China G20 summit
China, which will be hosting the G20 summit on 4 and 5 September, is pulling out all the stops to ensure its success. Earlier in August, it emerged that its host city of Hangzhou has embarked on a mission to teach basic English to its residents to help visitors to the summit, including top leaders from across the world, find their way around the neighbourhood.Hangzhou, covering 16,596 square kilometers including an urban area of 4,876 square kilometers, is home to more than 9 million residents.
"The city is surrounded on three sides by hills, which makes it difficult to expand," Chen said.
It also announced the closure of nearly 250 factories in the nearby provinces to get rid of smog. Besides, the government reportedly gave expensive travel vouchers to some residents to travel to other tourist destinations in a move to reduce congestion.Hangzhou is one of China's fastest developing cities, posting an economic growth rate of 10.8 percent in the first half of this year, which is well above the 6.7 percent registered by the country as a whole.Beside an equally scenic body of water in Hangzhou – the famed West Lake – it's now China's turn to decide who will enjoy the better spots and who will be kept some way away.