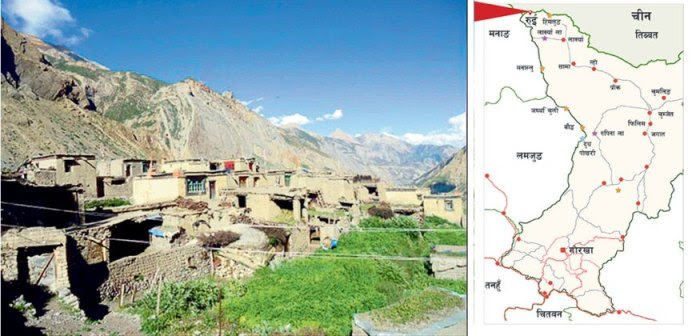 By  Shyamal Sinha
China has occupied a village in Gorkha district of Nepal bordering Tibet and claimed it as part of Tibet Autonomous Region (TAR).The term TIBET here means the whole of Tibet known as Cholka-Sum (U-Tsang, Kham and Amdo). It includes the present-day Chinese administrative areas of the so-called Tibet Autonomous Region, Qinghai Province, two Tibetan Autonomous Prefectures and one Tibetan Autonomous County in Sichuan Province, one Tibetan Autonomous Prefecture and one Tibetan Autonomous County in Gansu Province and one Tibetan Autonomous Prefecture in Yunnan Province.
Khabarbub reported that the aggressive stance of Nepal's PM KP Sharma Oli toward India has overlooked the events in its own territory. Nepal has been in conflict with India over the encroachments of regions such as Kalapani, Lipulekh, and Limpiyadhura in May as it issued a new map including these disputed areas as part of Nepal.
Nepal continues to include Rui in its map but China has reportedly removed the boundary pillars following the occupation of the area. The village consists of about 72 houses which are currently under siege. According to the Land Revenue Office (Gorkha), it has a record of revenue collected from the residents of the village of Rui, and the records are still secure in file number 1 in the Land Revenue Office.
Nepalese historian Ramesh Dhungal told a Nepal-based newspaper that the northern part of the Gorkha district has been lost due to the negligence of the Nepalese authorities. "India's border is accessible. People walk around it. Therefore, border issues with India are visible to all, but the situation of Nepal at the northern border with Tibet is extremely bad," he said.
The President of Chumubari Rural Municipality ward no. 1, Bir Bahadur Lama, told a Nepalese news outlet that Nepal has given up on the village even though people of Rui had deposited their land revenues to the government and now they have become Tibetans following the encroachment by China. Dhungal said that pillar no. 35 was destroyed between Sando and Rui village but during the restoration work on the pillar, the village came under Chinese occupation due to the negligence of the authorities.
Tibet, on the lofty Tibetan Plateau on the northern side of the Himalayas, is an autonomous region of China. It's nicknamed the "Roof of the World" for its towering peaks. It shares Mt. Everest with Nepal. Its capital, Lhasa, is site of hilltop Potala Palace, once the Dalai Lama's winter home, and Jokhang Temple, Tibet's spiritual heart, revered for its golden statue of the young Buddha.