Buddhist landmarks in Tibet, including the iconic Potala Palace, have been closed to the public since Monday. Photo by Craig Lewis
Tibet is a land filled with natural beauty, remote Buddhist monasteries and a hospitable culture. It truly is a unique travel experience that you will not find anywhere else on the planet.
All Buddhist monasteries and other popular sites and tourist attractions in Tibet have been closed to the public since Monday in the wake of the Wuhan corona virus (2019-nCov) outbreak, media outlets report. Although the Tibet Autonomous Region so far remains infection-free,
Tibet, including the regions found in Qinghai, Gansu, Sichuan and Yunnan provinces, covers an area of 2,255,000 square kilometers (870,000 square miles). It is larger than Alaska and California combined or more than 6 times the size of Germany. Tibet is traditionally divided into 3 main regions: U-Tsang, Kham and Amdo.
cases have been confirmed in Western regions of China, including traditionally Tibetan areas.
confirmed coronavirus infections in mainland China had reached 6,055, according to official data from the Chinese health authorities, with an official death toll of 132 people. The total number of infections in mainland China now exceeds that of the 2002–03 SARS epidemic, which infected 5,328 people and killed 349 people, according to World Health Organization data. Global coronavirus infections are now reported to total 6,145, with no deaths so far reported outside of China, compared with 8,273 SARS infections and 775 deaths worldwide in 2002–03.
The site closures in Tibet include the iconic Potala Palace, the official residence of Tibet's spiritual leader the Dalai Lama in the former capital Lhasa; the Jokhang temple in the center of Lhasa; and Norbulingka Palace, the traditional summer residence of the Dalai Lama. The central government has also ordered all travel agencies to suspend sales of domestic and international tours as part of efforts to contain the spread of the contagion.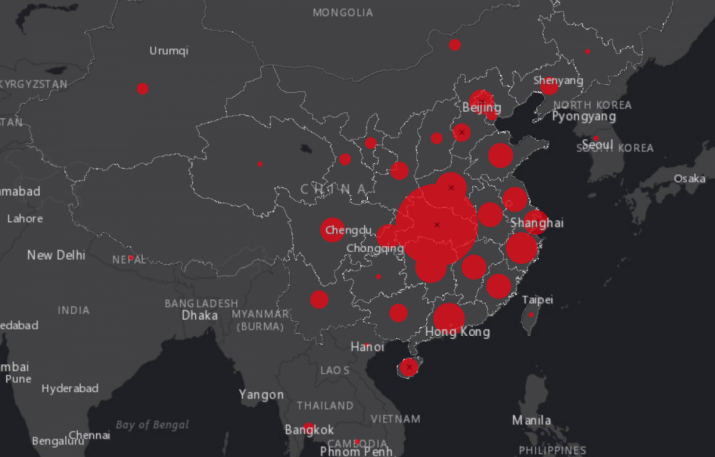 Coronavirus infections in China have been steadily growing. From John Hopkins CSSE
No cases of the virus have so far been reported in the Tibet Autonomous Region, however infections have been confirmed in Chinese provinces that also include traditionally Tibetan regions, with 24 cases in Gansu Province, six in Qinghai, 108 in Sichuan, 13 in Xinjiang, and 44 in Yunnan, according to data from John Hopkins University. The infections include three cases reported in Garze County in western Sichuan Province, in the traditional Tibetan region of Kham.
A resident of Lhasa resident was quoted by the Radio Free Asia news website as saying that streets in the Himalayan city were almost empty: "Most teashops and restaurants are all closed down, and there are many people on duty to prevent any gathering of crowds all over Lhasa, in an effort to prevent the spread of the infection." (Radio Free Asia)
"Beginning from 27 January, any travelers arriving in Lhasa are required to remain in hotels for 14 days, and had to undergo a thorough physical checkup," another source in Lhasa was quoted as saying. (Radio Free Asia)
The central government has been drawing up measures in a bid to limit the spread of the epidemic. From 
aljazeera.com