By Shyamal Sinha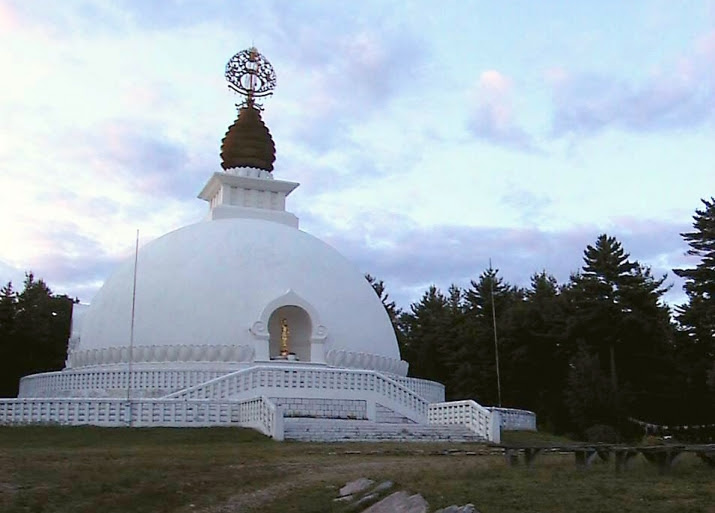 A group of monks, nuns, and lay Buddhists from the New England Peace Pagoda in the town of Leverett is walking across the state of Massachusetts in support of immigrants and refugees seeking asylum in the US. This is the 16th annual "Walk for a New Spring" that began in Leverett on 12 March and will end in Washington, DC, on 8 April. This year the walk is dedicated to "Sanctuary Cities, Sanctuary World."
"We have had some snowstorms earlier this month as well as rain and freezing weather," walk organizer Tim Bullock said. "We felt this was very important." He explained that monks have been part of the Walk for a New Spring since the 9/11 terrorist attacks. The walk began "in response to 9/11" and serves as a non-violent "renunciation of war," said Bullock. (Daily News, Eagle-Tribune)
"It's common for us to walk," said Brother Towbee, who lives at the New England Peace Pagoda. Completed in 1985, the pagoda is the first Nipponzan- Myōhōji-Daisanga (also known as Nipponzan Myōhōji or Japan Buddha Sangha) pagoda built in the United States. Nipponzan Myōhōji is a Japanese new religious movement that was founded in 1917 by Nichidatsu Fujii that is based on Nichiren Buddhism. It is one of the most pacifist Buddhist organizations in Japan and dedicated to the elimination of weapons and world violence.
According to the Eagle-Tribune, this year the walk is in support of a bill called the Safe Communities Act of Massachusetts, authored by Democrat state senator James Eldridge. If the bill were passed it would allow state and local law enforcement agencies to refuse to cooperate with federal immigration authorities in deporting illegal immigrants.
In a Facebook status update, the New England Peace Pagoda asked communities and their legislators to support the bill in order to "ensure no state support for a Muslim registry, ensures basic due process rights for people detained in state and local facilities for civil immigration violations, use police resources to fight crime, not separate families, prohibit agreements with DHS that deputize local officers."
"For three weeks we will walk in Massachusetts and for one week in Washington, DC, to show active solidarity with immigrants, to honor the many people, faith communities and other communities, and political leaders who are coming together across all lines to commit to sanctuary for our immigrant brothers and sisters," a press release from New England Peace Pagoda stated. (The Recorder)
On 27 March, the walkers arrived at EL Taller Café in Lawrence, and then headed to the North Parish Unitarian Universalist Church. They will travel to Newburyport, Ipswich, Beverly, and Salem, before stopping in Boston where they will hold a rally. From Boston, they will march to Washington, DC, where congressman James McGovern, (D-Worcester) will welcome them at a reception in the Rayburn House Office Building.
With talking, drumming and chanting, the group's intention is to open the way for creating change regarding issues facing the world today including climate change, poverty, the militarization of the planet and space, nuclear proliferation, and the prison industry, Matsuda said.