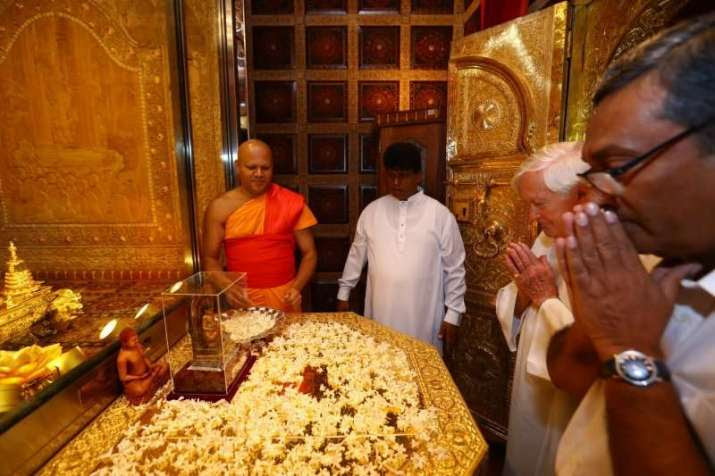 The statue returned to the Temple of the Sacred Tooth Relic. From 
facebook.com
Rev. Kenneth Bell, with his daughter Fiona, accompanied the return of an important Buddha statue to Sri Dalada Maligwa (Temple of the Sacred Tooth Relic), in Kandy, Sri Lanka, on 17 December. The grandson of British archeologist and explorer Harry Charles Purvis Bell—better known as HCP Bell (1851–1937)—returned the statue to Sri Lanka after it had been in the family's possession for a century.
"It is a far better thing that I do than I have ever done before," said Rev. Bell, quoting Charles Dickens from A Tale of Two Cities. (The Sunday Times)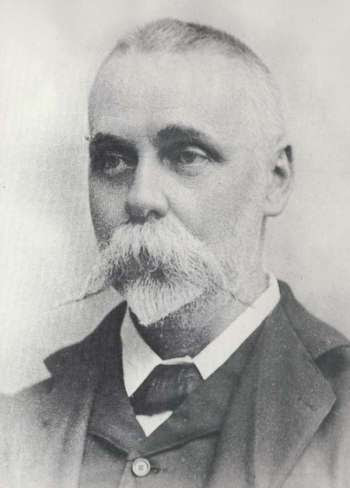 Harry Charles Purvis Bell c. 1890. From 
wikipedia.org
The Buddha statue, a 14-centimeter-tall wooden sculpture, was taken from an archeological site in 1919 by HCP Bell, who achieved renown as as the "father of archaeology" in Sri Lanka. Bell served as the first commissioner of archeology of Sri Lanka (then called Ceylon) from 1890–1912, and continued his work into retirement, passing away in Sri Lanka in 1937. The robe and head ornamentation on the Buddha suggest that the statue is likely to date to the Kandyan Period (15th–19th century).
During his time in Sri Lanka, according to family lore, Bell was gifted the small wooden sculpture by a monk at the Temple of the Sacred Tooth Relic. "They handed this little statue over, which he then gave to my grandmother as an engagement present," Rev. Kenneth Bell's daughter, Fiona, told the BBC.
After nearly 100 years in the family's possession, the Bell family decided it was time to return the sculpture to its historical owners. Members of the family traveled to Sri Lanka from their homes in Hampshire, England, in December to take part in a ceremony marking its return.
"We believe it is time for the little Buddha to come back home," said Rev. Bell, who turns 90 on 8 April. Saying he felt that he may not be able to travel much thereafter, Rev. Bell added: "This is an act of peace and unity between our religions of Buddhism and Christianity, preached by two great men—Buddha and Christ." (The Sunday Times)
At the ceremony in Kandy, Rev. Bell delivered a message to those attending before Buddhist monks accompanied him and the statue to where it would rest on display. Describing the event, he said: "We entered into the most holy place and the little Buddha was taken from me and put down, in a way to bless it, in coming back. . . I think it's just the completeness of something which I felt is the right thing to do. That it should go back to the temple and be honored in the place where it originated." (BBC News)
Rev. Kenneth Bell. From 
facebook.com
The Buddha statue. From 
facebook.com
Rev. Bell's daughter, Fiona, described the ceremony as "incredibly moving," adding: "It really stressed for me how important it was for us to give back some of the things that we took. You know all those years ago when we were colonizing parts of the world and so on." (BBC News)
An inscription on the statue reads, "Gifted to HCP Bell in 1919 and returned in 2019 to the temple of tooth by his grandson Kenneth Bell. Silver stand donated by the Ondaatjie Family."
Theravada Buddhists make up the majority of Sri Lankans, according to a 2011 national census, representing some 70.2 per cent of the population. Hindus account for 12.6 per cent, Muslims 9.7 per cent, and Christians 7.4 per cent. The first Europeans to visit Sri Lanka were the Portuguese, who landed in 1505 and later founded a fort in the port city of Colombo. Significant portions of the island were ruled later by the Dutch and then the British before the island gained complete independence in 1948.