Mossgreen is 100% Australian-owned and specialises in selling Single-Owner Collections comprising Fine Art, Australian Indigenous Art, Antiques and Collectables.
Collections often fetch much higher prices when kept together as a whole and Mossgreen has handled many of the most significant single-owner collections sold in Australia in recent years.
An Asian art specialist at an Australian auction house stumbled across a surprising discovery recently while inspecting a Buddhist wooden sculpture from 14th century China. Tucked away inside a cavity in the artifact was a crumpled piece of parchment that turned out to be a rare Ming dynasty (1368–1644) banknote—one of the earliest examples of printed currency in China.
The wooden bust, notable for its finely carved facial features, is believed to be of an arhat* (in Chinese aluohan [阿羅漢], often shortened to simply luohan [羅漢]). The auctioneers believe the sculpture predates the banknote and have listed the artifact as dating to the Jin or Yuan dynasties (13th–14th century). Specialists at the auction house believe a patron may have placed the banknote inside the sculpture while commissioning repairs an estimated 40–50 years after it was made.
"It was a thrilling moment," said Ray Tregaskis, the head of Asian Art at Sydney-based Mossgreen auction house and art gallery, who discovered the banknote. "While it was not unusual for consecration items such as semi-precious stones or scrolls to be left within the base or on the back of a sculpture, the discovery of this rare Ming dynasty banknote is an exciting one and importantly, it verifies the date of the sculpture." (Pursuitist)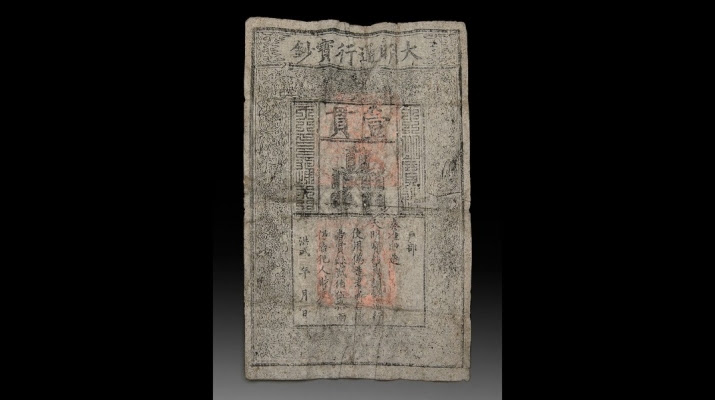 The banknote is stamped with three official red seals and is dated 1370, during the reign of the Hongwu Emperor (r.1368–98). It also bears the inscriptions "Da Ming Tong Xing Bao Chao" and "Yi Guan." As well as being "authorized the Department of Finance," the bill bears an official warning to would-be fraudsters: "This banknote has the same function as coins. Those who use counterfeit banknotes will be beheaded; the whistle-blower will be rewarded 250 Liang silvers plus all the properties of the criminal. The third year of the Hongwu period." (Pursuitist)
"It's typical to find materials such as mantra rolls, relics, grains, incense, and semi-precious stones that have been placed inside gilt bronze sculptures by a monk or lama," said Mossgreen Asian art specialist Luke Guan. "But we've never heard of anyone finding money inside a wooden sculpture before." (CNN)
According to Guan, the bust was likely part of a series of sculptures—anywhere from 16 to 500—usually kept inside Buddhist temples. Both the wooden bust and the banknote are due to be auctioned later this year as part of a large collection of Asian art belonging to Australian businessman Raphy Star, who is reported to have acquired the sculpture from an antiques dealer in the 1990s.
Specialists at the auction house believe a patron may have placed the banknote inside the sculpture while commissioning repairs. From cnn.com
"It is a fantastic piece of history which has a lot of mystery surrounding it," said Mossgreen spokeswoman Nicole Kenning. "The vendor had no idea that the banknote was there. It is very exciting—our head of Asian art has been here for 40 years and has never discovered anything quite like it before." (Express)
The sculpture and banknote will be exhibited in Melbourne from 21–23 October, in London from 3–6 November, and in Hong Kong from 24–27 November, before going to auction in Sydney in December.
* A perfected person who has gained insight into the true nature of existence and has achieved nirvana.