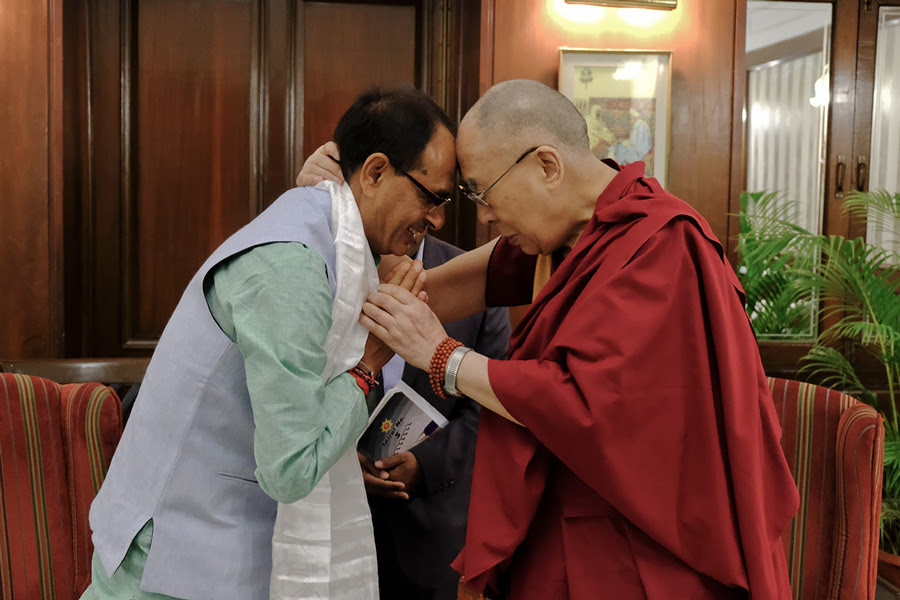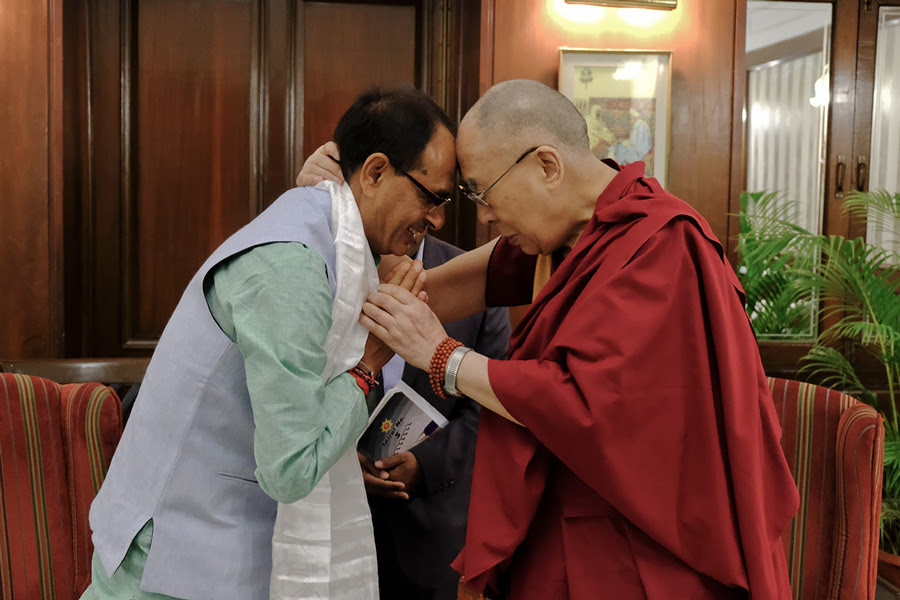 Dharamshala: Today the world needs education of love, compassion and friendship and not materialism, the Tibetan spiritual leader, His Holiness the Dalai Lama told a gathering of MLAs, ministers of BJP government and bureaucrats at Vidhan Sabha, Bhopal on Sunday.
MP Vidhan Sabha speaker Sitasharan Sharma, Finance minister Jayant Malaiya and Cooperative minister Vishwas Sarang were present on the dais with the Tibetan spiritual leader as he spoke on the topic: Art of Happiness.
Addressing a jam-packed auditorium of Indian leaders, Buddhist scholars and students, His Holiness the Dalai Lama said, "Modern education is oriented around a materialistic way of life. We should ask ourselves if it is really an adequate basis for a happy society."
He advised the Madhya Pradesh government to educate universal values and ethics in kindergarten, schools, colleges and institutes that groom future leaders.
His Holiness criticised the caste system in India and said, "It is a social evil. Cutting across the religious lines, the spiritual leaders of India should come out with one voice to get rid of the social evil that started long back."
"All religions preach love and compassion. No religion says that God is full of anger. The God is full of love. We are children of such a compassionate father or God. Basis of all religions is harmony, mutual respect," he said, advocating religious harmony amidst the spur of religious tensions in the world.
"India is known for its religious harmony. All religions, including those that trace their origins abroad, have co-existed in India over the past 2,000 years. Even the small group of Parsis living in Mumbai have also grown and given us people like Tata and field marshal Sam Manekshaw. India should tell the world that it stands for compassion and respect for all religions," the Tibetan leader said.
His Holiness further praised the state government's Happiness department and lauded Chief Minister Shviraj Singh Chouhan for conceiving the idea. Madhya Pradesh is the first state in India to set up Happiness Department that will work to ensure happiness in the lives of the common people.
"We have been following Buddhist philosophy for living a peaceful and happier life and His Holiness the Dalai Lama is one of the promoters of peace, despite having so many ups and downs in life and struggling silently for the peaceful Tibetan society. His initiatives to live happily in a kinder society are inspiring to a great extent," said Manoj Shrivastava, principal secretary of culture department and core organiser of the event.
Before addressing Indian leaders at the Vidhan Sabha, His Holiness attended the state's ambitious Narmada Seva Yatra, which is yet another initiative led by the Chief Minister.
His Holiness commended the the efforts of the state's Chief Minister, who was present at the event and appealed people's participation for positive change.
"The environment has been changing across the world. Our approach should be holistic. CM Shivraj Singh Chouhan has been making efforts for conservation of river Narmada. People should actively participate in such campaigns to make them successful. Our ancestors were living here on the earth. Our future generation will live here. We need to save water, carry out plantations," His Holiness told the gathering at Turnal village of Dewas district in Madhya Pradesh.
While lauding the river conservation campaign launched by CM Singh Chouhan, His Holiness shed light on important aspects for India's prosperity. For India to prosper, he said it needs to develop its villages first. "India's prosperity depends on the development of villages instead of developing big cities. "India is predominantly an agriculture-based economy and rural India must be transformed for the country's development. The focus should be on developing basic facilities like health and education in rural areas. All the basic requirements of the people should be made available in the villages. India will transform only through the rural transformation."
The 81-year-old noble laureate also underlined the need for more women leadership in creating a more peaceful society that the world aspires to achieve. "Women are more sensitive and full of compassion. Their enhanced participation will make the world a better place as they can ensure promoting deeper human values," he said.
Chief Minister Shivraj Singh Chouhan, in his address, offered his respect and admiration for the Tibetan leader and said that His Holiness' touch generated spiritual peace and fresh energy in him.