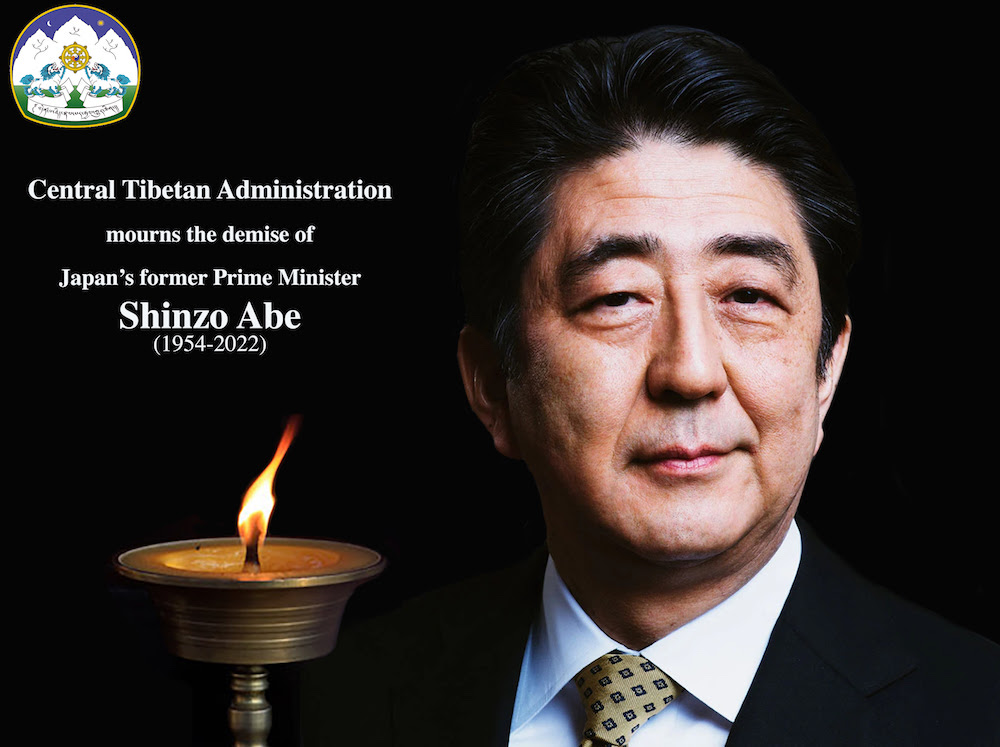 The Central Tibetan Administration, known also as the exile Tibetan government held a mass prayer for the demise of Japanese PM Shinzo Abe (Photo/CTA)
By  Shyamal Sinha
Former Japanese Prime Minister Shinzo Abe, a nationalist who served in the post longer than anyone else before stepping down in 2020, was shot and killed on Friday at a campaign rally.
Security tackled the suspected gunman at the scene of an attack, and he was arrested by police. The shooting shocked many in Japan, which is one of the world's safest nations and has some of the strictest gun control laws anywhere.
"It is barbaric and malicious and it cannot be tolerated," current Japanese Prime Minister Fumio Kishida told the media.
Police say Tetsuya Yamagami, 41, fired two shots at Abe as he was making a political speech in the city of Nara. The first shot missed, but the second hit Abe's chest and neck, and despite attempts to revive him he died several hours later.
Yamagami was unemployed and a former member of Japan's Maritime Self-Defense Force for three years, police say, and attacked Abe because he believed he was associated with a group Yamagami hated. Multiple handmade guns were later found at Yamagami's home.
Abe, 67, served as prime minister in 2006 and 2007, and again from 2012 to 2020, when he suddenly resigned citing health issues. Despite leaving office, he remained influential within the ruling Liberal Democratic Party (LDP) and continued to be a force on Japan's political landscape.
Following the assassination of the former Japanese PM Shinzo Abe, the exiled Tibetan leaders have expressed grief over his death on Friday. Hours after the news of Abe's assassination surfaced, the exiled leader His Holiness the Dalai wrote to Abe's wife to express his condolences, "I am deeply saddened to hear that my friend, Mr. Abe Shinzo has passed away following a gunshot attack this morning. . . As you know, your late husband was a steadfast friend of the Tibetan people. I very much appreciated his friendship and support of our efforts to preserve our rich Buddhist cultural heritage and identity."
His Holiness the Dalai Lama gives a Tibetan khatak to the then MP Shinzo Abe in Tokyo on Nov. 13, 2012 (Photo/Reuters)The head of the Central Tibetan Administration, President Penpa Tsering took to twitter to express his shock over the death of the Japanese leader, "Today the world has lost a great leader to a senseless act of violence. With the passing of Shinzo Abe, the Tibetan people have lost a long-time friend and supporter of the Tibet cause. We grieve alongside his bereaved family and the people of Japan." Japan's longest-serving PM Abe remained critical for a few hours after he was shot during a public event, but ultimately succumbed to his injuries.
The officials and staff of the Dharamshala-based Tibetan government-in-exile held a mass prayer on Monday to mourn the death of the longest serving Japanese PM. At the prayer ceremony, the Sikyong reiterated the loss of such a powerful leader. "With profound gratitude and obeisance, the Tibetan administration and the Tibetans will eternally remember his notable contribution and support to the Tibetan cause, particularly his active involvement in establishing All Party Japanese Parliamentary Support Group of Tibet, comprising one of the largest Tibet supporters," he added.
The Dalai Lama and Abe last met in November 2012 when he was a member of the Japanese Parliament. "We lawmakers here are in complete agreement that we want to help the suffering Tibetan people and help create a Tibet in which people do not have to kill themselves in a quest for freedom," Abe had said during the Dalai Lama's visit to Tokyo in 2012.
Under Abe, the Tibetan issue received a highlighted support from Tokyo with the formation of the All Party Japanese Parliamentary Support Group of Tibet, the largest pro-Tibet legislative body in the world. He was also a vocal supporter of the Dalai Lama and the Tibetan issue despite objections from China.
When he left office, most Japanese were dissatisfied with his handling of the coronavirus pandemic, feeling he moved too slowly to impose a state of emergency mostly out of concerns about the economy.
In recent months, Abe had been a more outspoken critic of China. Earlier this year, he called on the United States to drop its long-standing practice of "strategic ambiguity" and give Taiwan assurances that it could count on American help in the event of an attack by China.
He also angered China by saying "a Taiwan contingency is a Japan contingency," and noting that it would be impossible for Japan not to be sucked into a conflict over the self-governed island that Beijing considers a part of China.