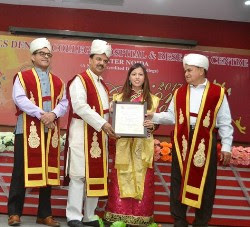 By Tenzin Dharpo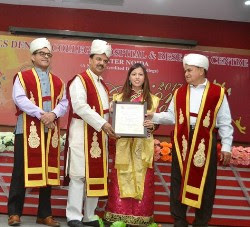 DHARAMSHALA, MAY 3: For anyone who has achieved success, the fight out in the open is sometimes the lesser toil compared to the one inside. Tenzin Saldon, a Tibetan girl who was recently awarded the 'Best Academic Award' by ITS Dental and Research institute, Noida, says simple things such as contemplation and just letting your hair down besides an unrelenting urge to pursue her goal are composites to her success story.
Tenzin Saldon earned the unprecedented honor of being the top dentistry student from her entire batch at the ITS Dental and Research Institute in Noida in the Indian state of Uttar Pradesh. She was felicitated by the Sri Mahesh Sharma, Union Minister for culture and tourism, government of India.
Speaking to Phayul, she said, "I am happy and this recognition is encouraging but there is more grounds to cover and more expectations now that I have managed this far." While she sounded all mustered for a fight, her next words were equally disarmed and refreshing. "But it's not all work and no play, it is important to have a balanced social life along with whatever goal you're striving for. The two aren't mutually exclusive but rather compliments each other," the girl from Manali said.
An alumnus of TCV Patlikuhl and TCV Dharamshala, she received partial scholarship from CTA under the 'Tibetan Supplementary Professional Scholarship', the TCV scholarship as well as financial support from her supportive parents for the expensive four-year course.
Looking back, set backs have always been a reality in her journey; she could not attend a full aid scholarship to study in Nova Southeastern University in Florida, United States for her undergraduate studies due to a visa issue and a few times, she had felt like "giving up and running back home". Four years and at the top of her batch now, she recalls, "At that time, I knew that I had to keep going and work hard and that it will pay off."
Being the only Tibetan student in her college, she felt drawn to her identity especially when she was mistaken for being an Indian from Northeast. "So I had to explain to them about Tibet, Tibetan refugees living in India, about Tibetan history, culture, religion and tradition. So being the only Tibetan in my college allowed me to learn more about Tibet and think more about my identity," she explains.
Change and personal evolution, she says, were what kept her abreast with her Indian contemporaries although the transition wasn't an easy one, having to come out of the cocoon of the comfort zone many of the Tibetans still hesitate to break out of. She said, "Shyness and being quite are traits that are appreciated in the Tibetan community but here, it pulls you back. So it was a struggle initially to be more vocal, more open and more inclusive in whatever that was happening around me. But it grows on you."
Her choice of profession like dentistry is an unlikely combination for her desire to pursue a career in medicine and her love for crafts and art. "People think dentistry is only about science. But it's more than that. It's a combination of arts and science. I enjoy the manual dexterity skills and the science behind it." One of her happiest moments has been when she made her first dentures for a 55 year old man. "Seeing him smile and with confidence was extremely fulfilling," Saldon beams.