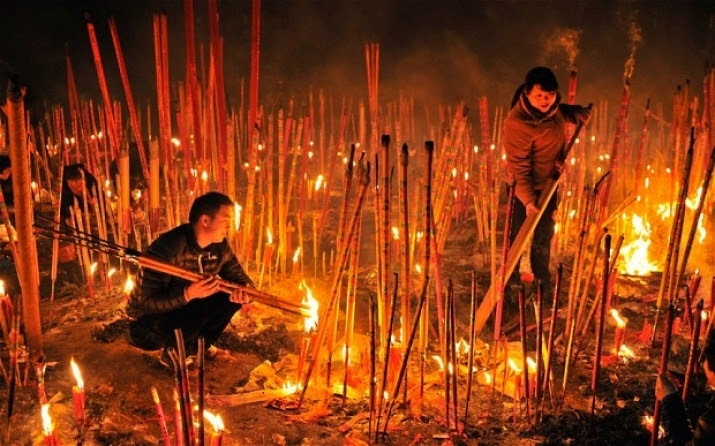 By Shyamal Sinha,New Delhi
The potential damage to the environment and to the health of devotees from staggering levels of dangerous particles in the air is leading some temples and festivals to seek alternative – if less spectacular – practices, despite resistance from worshippers.
Temples in Taiwan are cleaning up their act and going against tradition for the sake of preserving the environment. Aiming to cut pollution and waste, and to reduce the health dangers to temple-goers posed by some traditional practices of devotion, progressive temples are turning to modern methods of religious expression that don't carry such a heavy environmental toll.
Buddhism and Daoism are the two most dominant religions in Taiwan, representing 35 per cent and 33 per cent of the population, respectively, according to government data for 2006. And with millions of devotees attending regular ceremonies and festivals at temples and pilgrimage sites across the island, accompanied by smoldering sticks of incense, firecrackers, and the burning of paper symbols of devotion, environmental groups see a cause for concern.
"People come to temples to pray for good health, but the way they are worshipping is not healthy," cautioned Yeh Guang-perng, founder of Clean Air for Taiwan. "They might not get sick right away, but long-term exposure would be harmful to their health." (South China Morning Post)
Hazards associated with traditional practices include carcinogenic chemicals such as benzene and methylbenzene, which are released from burning incense and paper money. Monitoring a nine-day pilgrimage to honor the sea deity Mazu, Taiwan's Environment Protection Administration (EPA) found that firecrackers produced levels of PM2.5 fine particle pollution that exceeded the safe level recommended by the World Health Organization by more than 60 times.
As awareness of the risks grows, changes in practices are becoming more widespread. The famous Nan Yao Temple in the city of Changhua is one of the largest and oldest Daoist temples on the island, yet despite its venerable history it has recognized the benefits of taking a more contemporary approach to respecting the environment by replacing the tradition of letting off thousands of firecrackers during festivals with recordings of the thunderous barrage, and by encouraging practitioners to clap their hands instead. Similarly, the popular Hsing Tian Kong Temple in the capital Taipei has banned the burning of incense, requesting instead that devotees simply bring their hands together to pray.
Yet despite warnings from environmental groups, some temple-goers remain attached to the comfort and familiarity of traditional customs. "The traditional belief is that the more firecrackers and incense used, the more sincere the faithful will appear and the more good fortune will be bestowed on them," said Nan Yao Temple director Chiu Jainn-fuh. (South China Morning Post)
So far Taipei's Hsing Tian Kong and the Buddhist Dharma Drum Mountain in New Taipei City are the only temples in Taiwan that are known to have banned the burning of incense and paper money outright, yet Chen Shyan-heng, head of the EPA's air quality protection and noise control department, remains resolute that change is in the air. "We hope that with the scientific proof from [our] on-site data, we can persuade the public to change." (South China Morning Post)"We need to cut down on the religious offerings that pollute the environment and hurt our health in a world with growing pollution,