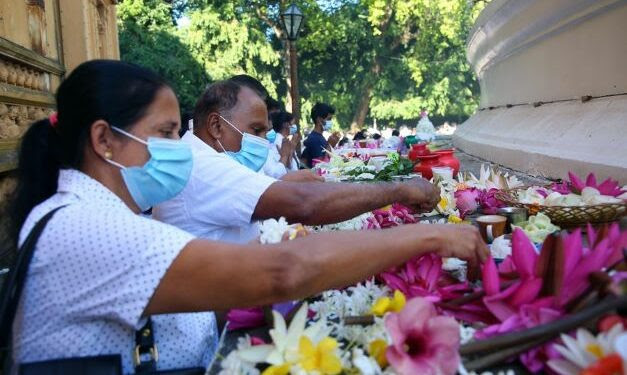 By   —  Shyamal Sinha
Every full moon day is known as a Poya in the Sinhala language; this is when a practicing Sri Lankan Buddhist visits a temple for religious observances. There are 13 or 14 Poyas per year.The term poya is derived from the Pali and Sanskrit word uposatha (from upa + vas "to fast"), primarily signifying "fast day"
The Buddhist festival Duruthu Poya was celebrated on January 17, the first full moon in January. It marked the first visit of the Buddha to Sri Lanka.
This is a key religious and historic date in the calendar for Sri Lankan Buddhists as it marks Gautama Buddha's first visit to Sri Lanka in the ninth month after attaining Enlightenment.
The Buddha first visited Mahiyanganaya in the Uva Province of Sri Lanka about 2,500 years ago. According to the ancient texts of Sri Lanka, the Mahavansa and Dipavansa, the Buddha visited to bring an end to fighting between the two main tribes on the island.
Kelaniya temple: Kids wet their floral offerings at a fountain in Kelaniya temple. Photo: Ajith Perera/ Xinhua
During his visit, the Buddha delivered sermons to the tribes. After listening to the sermons, the tribes gave up fighting with each other and started to respect each other.
Impressed by the sermons, the local God Sumana Saman invited the Buddha to leave his sacred footprint on the peak of the Samanala Mountain. Duruthu poya marks the beginning of the three-month pilgrimage season to Samanala Mountain to worship the footprint of the Buddha.
A Buddhist monk makes his floral offering at Kelaniya temple. Photo: Ajith Perera/Xinhua
The impression of the footprint is sacred to other religions also. In the Hindu tradition, it is thought to be the footprint of Shiva and some Christians think it is the footprint of Adam, which is why the mountain is also called 'Adam's Peak'.
The poya is also celebrated with a spectacular procession (Perahera) at the Raja Maha Vihara, a Buddhist temple in Kelaniya, about seven miles from Colombo. Taking place on the pre-full moon poya day and attracting thousands of spectators, the Perahera involves dancers and animals and can take over two hours to pass by. In some years, there are two full moons in January. In such years (2018 was the most recent example), the second full moon Poya is known as Adhi (Sinhalese: half) Duruthu Poya.