A joint team of researchers from Beijing University of Chinese Medicine and Western Sydney University are working together on a clinical study in Sydney to assess how the ancient meditative Chinese martial art of tai chi can improve the lives of people living with heart disease.
"We're looking at how tai chi can help them with stress, anxiety, depression, and lowering high blood pressure," said Emily Yang, a PhD candidate at Western Sydney University, and originally from Beijing, who is guiding the trial's participants and measuring their progress through blood tests, monitoring their heart rates, and conducting interviews. (The Daily Telegraph)
The team is recording the progress of 40 people from Sydney, all of whom are more than 40 years old and have been diagnosed with coronary heart disease or hypertension. The participants are required to regularly attend tai chi practice sessions for six months at the Buddhist Compassion Relief Tzu Chi Foundation (BCRTCF) temple in the Sydney suburb of Eastwood. The study is also being guided by staff from Western Sydney University's National Institute of Complementary Medicine.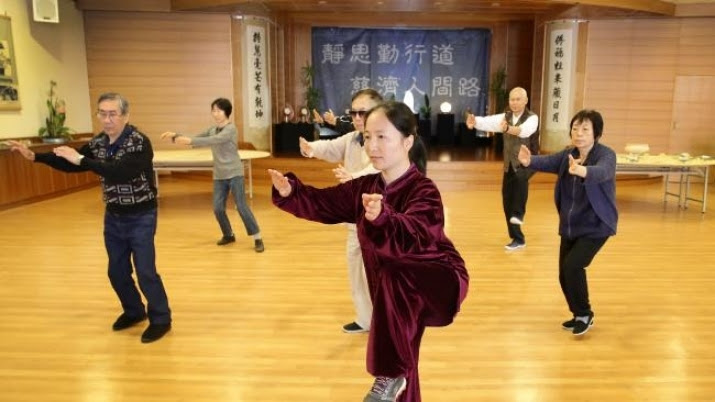 Tai chi is an ancient internal Chinese martial art that is practiced today for both defense training and for its health benefits, with an emphasis on slow, meditative movement accompanied by deep breathing. There are many different styles of Tai chi, both modern and traditional, each of which subtly emphasizes different principles and methods. The study of tai chi centers on three principal aspects: health, which focuses on relieving the physical effects of stress on the body and mind; meditation practice, which aims to cultivate focus and calm; and as a system of self defense.
According to a report in Australia's Daily Telegraph, the ongoing clinical trail of tai chi had its beginnings at Beijing University of Chinese Medicine, where 80 participants completed the course with positive results. "They may tell us their digestive qualities have improved, they have a better mind, and their sleep quality has improved," said Yang. (The Daily Telegraph)
"Some say tai chi has become part of their lives," she continued. "After people have retired, there are not so many social activities for them, so they are glad to talk to others and feel happy to come here. They feel more energetic during the day." (The Daily Telegraph)
Among the participants of the trials in Sydney, eight members of the group of 40 have already finished the program, while others continue to be monitored. Yang expects the trial to be completed by the end of this year, after which the results will be published in medical journals.
Facilitating the study in Sydney, the Buddhist Compassion Relief Tzu Chi Foundation is an international humanitarian and non-government organization based in Taiwan and operating in 47 countries, with an estimated 10 million members worldwide. Founded in 1966 by Master Cheng Yen (b. 1937), a Taiwanese Buddhist nun, the foundation encompasses a number of sub-organizations, including the Tzu Chi International Medical Association and the Tzu Chi Collegiate Youth Association. The foundation's first Australian presence was established in Brisbane in 1991. By 1999, the Buddhist Compassion Relief Tzu-Chi Foundation Australia had become a national body, with the aim of promoting and carrying out the global organization's four principal objectives—charity, education, humanistic values, and medical service.
it's a spiritual experience. Such an experience is so satisfying that it is beyond words. Being part of the world, being in harmony with the world and nature, thus is the paradox of tai chi, health and beyond.