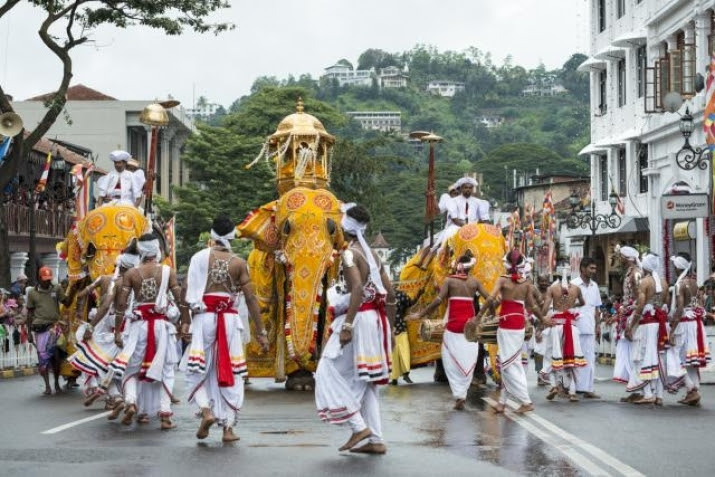 By -Shyamal Sinha,New Delhi
After his death, Buddha was cremated and the ashes divided among his disciples. Originally his ashes were to go only to the Sakya clan, to which Buddha belonged; however, seven royal families demanded the body relics. To avoid fighting, a monk divided the relics into ten portions, eight from the body relics, one from the ashes of Buddha's cremation pyre and one from the bucket used to divide the relics.]After The Buddha's Parinibbāna, his relics were enshrined and worshipped in stupas by the royals of eight countries.
Marking the celebration of Vesak, the government of Pakistan has loaned sacred bone relics of the Buddha to Sri Lanka, now on public display in a series of expositions at temples across the island nation. Sri Lankan president Maithripala Sirisena and prime minster Ranil Wickramasinghe inaugurated the expositions at a ceremony on 21 May at Temple Trees, the prime minister's official residence in Colombo, in the presence of monks, Buddhist scholars, government officials, and dignitaries from Pakistan.
Vesak, also known as Buddha Purnima or, more informally, Buddha's Birthday, which commemorates the birth, enlightenment (nirvana), and passing from this world (Mahaparinirvana) of Shakyamuni Buddha, is a public holiday in many countries in Asia and is observed by millions of Buddhists all over the world. In 1999, the United Nations resolved to observe Vesak annually at its headquarters and offices worldwide.
On loan from Pakistan to Sri Lanka are two bone relics of the Buddha, encased in a golden casket, and a stupa-form stone reliquary, all of which are from a collection at Pakistan's Taxila Museum. The sacred items were originally discovered near the Dharmarajika stupa, the largest Buddhist complex at Taxila and believed to have been established by the Mauryan emperor Ashoka in the 3rd century BCE. The reliquary is 7.5 inches high and adorned with shallow carved lines and a handle in the shape of a miniature casket.
Under a bilateral cooperation agreement in the field of culture, Irfan Siddiqui, advisor to Pakistan's prime minister on national history and literary heritage, presented the relics to Sri Lanka's minister for sustainable development Gamini Jayawickrama Perera at Taxila Museum on 19 May.
In an address at the handover, Siddiqui said, "Today we are here to renew our deep-rooted cultural relations by sending an exhibition of the holy relics of Lord Buddha to Sri Lanka coinciding with the upcoming Vesakh [sic] festival." He observed that the exhibition was the outcome of Pakistani prime minister Nawaz Sharif's visit to Sri Lanka from 4–6 January, during which he offered to send Buddhist relics to Sri Lanka on a regular basis. (Pakistan Today)
Pakistan's high commissioner to Sri Lanka, Maj. Gen. Syed Shakeel Hussain, noted that Pakistan and Sri Lanka had a long history of mutual support in difficult times and that the exhibition of sacred relics from Pakistan would strengthen cultural ties between the two nations. The Sri Lankan minister thanked the government of Pakistan, noting that millions of Sri Lankan Buddhists were eagerly waiting to view the relics.
After going on public display in Colombo from 21–24 May, the relics were scheduled to be taken to Gampaha (25–26 May), Kurunegala (27–28 May), Kalutara (29 May–1 June), Ratnapura (2–3 June), Galle (4–5 June), Matara (6–7 June), Hambantota (8–9 June), Moneragala (10–11 June), Badulla (12–13 June), Ampara (14–15 June), Polonnaruwa (16–17 June), Anuradhapura (18–19 June), and Kandy (20–21 June). The relics are to return to Colombo on 22 June.
Sri Lankan parliamentary speaker Karu Jayasuriya said the relics would be returned to Pakistan on26 June with the gift of a special golden casket.It is said all the Buddha's relics will one day gather at the Bodhi tree where he attained enlightenment and will then form his body sitting cross legged and performing the twin miracle.