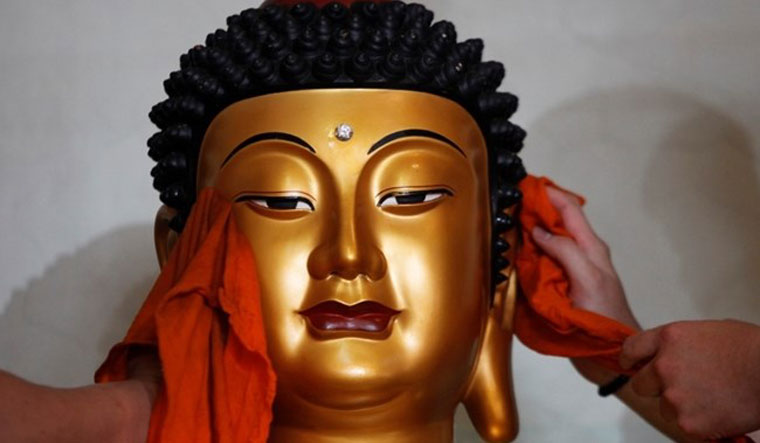 The lotus has bloomed in Nepal. The leading Buddhist world body, the International Buddhist Confederation (IBC), has begun construction of a world-class facility in Lumbini for pilgrims and tourists from all over the world, reaffirming India's position as the land of the Buddha. The centre is being designed in the shape of a lotus as legend has it that when baby Buddha took the first seven steps, a lotus bloomed at each step.
As Buddhist pilgrims walk the path of peace, it is India's presence in Lumbini through this centre that will complete their journey.
This comes at a time when communist China, which has a Buddhist population, is facing challenges of claiming the Buddhist legacy. On the other hand, the Indian centre in Lumbini is an affirmation and commitment of spiritual heritage of India which defines what Buddhism means to the world.
Abhijit Halder, director general of IBC, said on Saturday that Prime Minister Narendra Modi and his Nepalese counterpart Sher Bahadur Deuba had participated in the "Shilanyas" ceremony for the construction of the India International Centre for Buddhist Culture and Heritage earlier this year. He said efforts have come to fruition with the IBC beginning the construction work after Lumbini Development Trust signed an agreement with it. "We have begun work on it. The design of the lotus is significant as it symbolises the journey to enlightenment. We are trying to replicate it," he said.
For Buddhist followers and practitioners worldwide, holy sites like Bodh Gaya, where Buddha attained enlightenment are symbols of a united Buddhist voice spreading the message of inclusiveness and peace to resolve conflicts.
On Saturday, many leaders, thinkers, practising Buddhists, monks and nuns gathered in the national capital to mark the tenth anniversary of IBC. The representation of the countries itself spoke of New Delhi's crucial role in stringing together nations that are spiritually linked to its Buddhist heritage— Mongolia, Sri Lanka, Nepal, Uzbekistan, Taiwan, South Korea, Bhutan, Russia, France, Belarus, and Thailand among others.
The Ven Ji Woo, president of Jogye Order of Korean Buddhism in South Korea said restoration of the Buddhist holy sites and internationalising Buddhism was a significant step. The spiritual ties of India- Russia were highlighted by the 24th Pandito Khambo Lama Damba Ayusheev, head of the Buddhist Tradition Sangha of Russia who said the roots of this diplomatic and political relationship is in Buddha's teachings. "This tie will be alive as long as this world exists and will keep faith and compassion in the hearts of our peoples," he said in the message. The Taiwan representative spoke of the need to bring peace in the hearts and minds of people.
Notably, while Russia is engaged in its military invasion of Ukraine, South Korea is busy fending off attempts of domination and aggression by North Korea, which has close relations with China. Taiwan has witnessed Chinese aggression in last few months keeping the Indo- Pacific region on its toes.
The IBC's message was simple—creating a welfare society to alleviate suffering and spread the message of peace through Buddha's teachings. "Buddha's teachings are deeply engrained in the psyche of Indians," said Halder. And India is clearly taking the lead as was demonstrated in Modi's message played out at the gathering on Saturday: "India has given Buddha and not war to the world."