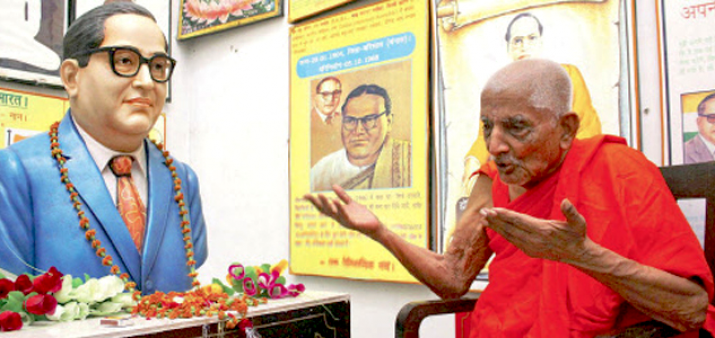 By Shyamal Sinha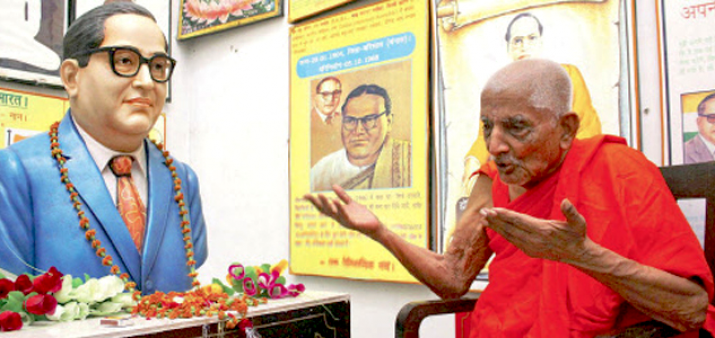 Dr Bhimrao Ramji Ambedkar, considered by many as the Father of the Indian Constitution, remains a much-revered figure of modern India.
One of the highlights of his life was the decision to embrace Buddhism, two months before his unfortunate demise, along with lakhs of his followers in a simple, traditional ceremony at Deekshabhoomi, Nagpur, on October 14, 1956. It is a seminal moment in Dalit history.
Buddhist monk Bhadanta Galgedar Pragyanand, the youngest of seven monastics who conducted the Buddhist refuge ceremony for renowned Indian social activist and reformer Dr. B. R. Ambedkar in 1956, has passed away at King George's Medical University (KGMU) in the northern Indian city of Lucknow. The Sri Lanka-born renunciate died on Thursday last week, just days before his 89th birthday.
Dr. Bhimrao Ramji Ambedkar (1891–1956), a celebrated scholar, activist, and social reformer popularly known as "Babasaheb," was a vociferous campaigner against social discrimination who inspired the modern Buddhist movement in India. Having studied Buddhism for much of his life, Dr. Ambedkar accepted the Three Jewels and Five Precepts by formally converting to Buddhism shortly before his own death. Of the group of seven Buddhist monks who presided over the historic ceremony that would become a landmark in Indian Buddhist history, Venerable Bhadanta, born on 18 December 1928, was the last surviving member.
"He was brought in on 26 November after complaints of fever and chest pain, but had multiple age-related medical conditions," said Prof. S. N. Sankhwar, chief medical superintendent at KGMU. "In the course of treatment, he was diagnosed of infection in lungs which had complicated because of his existing diseases particularly diabetes and blood pressure. The ailment led to his death due to cardio-respiratory failure." (The Times of India)
Ven. Bhadanta had relatives in Sri Lanka who were unable to travel to India, The Times of India reported, although they were in regular contact with monks in Lucknow. Followers and well-wishers who came to Buddh Vihar to pay their respects to the monk included Uttar Pradesh minister Swami Prasad Maurya.
Originally from Sri Lanka, Ven. Bhadanta, who came to India at the age of 13, was the most senior monk at Buddh Vihar, a temple in Lucknow, where he was cared for by his disciples. Dr. Ambedkar is reported to have visited twice Buddh Vihar during his lifetime—in 1948 and 1951. Ven. Bhadanta was only 20 when the two first met him.
"I came under guruji's wing in October 1999 and it was from him that I imbibed the unending energy and will to work," said disciple Bhikshu Dharam Priya "He had published 62 books on Buddhist teachings and had authored some of them." (The Times of India)
"Guruji spoke little, but talking about Ambedkar would always energize him," his disciples recounted. "He would tell us about the ceremony in Nagpur on 14 October 1956, where Babasaheb's wife Savita Ambedkar was also present." (The Times of India)
The seven monks who participated in ceremony for Dr. Ambedkar's formal conversion to Buddhism also included Bhadant Chandramani Mahathero, Bhante Pragya Tiss, M. Sangh Ratan Mahathera, Bhikshi Dhamm Rakshit, H. Saddha Tiss, and H. Thamma Nand Mahathera.
"The atmosphere was euphoric," Ven. Bhadanta said earlier this year, recalling the historic occasion on 14 October 1956 that he attended as a young monk. "Nearly [500,000] people had gathered to witness the spiritual conversion of 'Babasaheb' Bhimrao Ambedkar at Deekshabhoomi in Nagpur in October 1956. By this time, he had already retired from politics." (The Tribune)
After completing his own conversion, along with his wife, Dr. Ambedkar then proceeded to convert some 500,000 of his Dalit supporters who had gathered there that day.
Dr. Ambedkar was an Indian jurist, economist, and politician, and a prolific scholar and social reformer. He was one of the most educated Indians of his time, holding doctorates from the University of London and Columbia University. He became independent India's first law minister and was posthumously awarded the Bharat Ratna, India's highest civilian award.
As well as inspiring the modern Buddhist movement in India, Dr. Ambedkar campaigned against social discrimination towards women and India's "untouchable" Dalit caste. He was the principal architect of India's first constitution and in 1955 founded the Buddhist Society of India. Three days before his death on 6 December 1956, Dr. Ambedkar completed the transcript for his final book, The Buddha and His Dhamma, an English-language treatise on Buddhism and the Buddha's life, which was published posthumously.
Of India's population of more than 1.3 billion people, Buddhists account for some 0.7 per cent, according to data from the 2011 Census of India, of whom more than 73 per cent live in the western state of Maharashtra