By Shyamal Sinha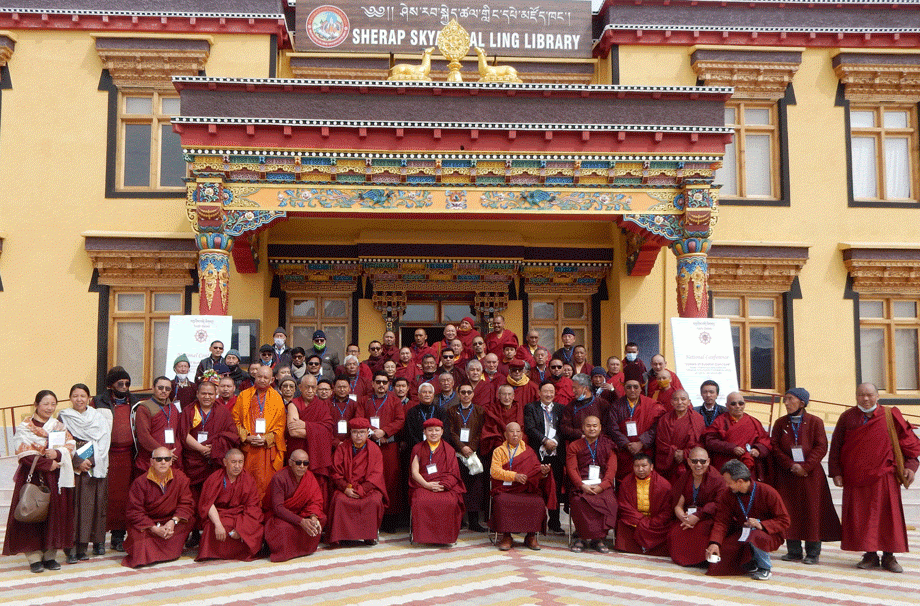 A two days long Buddhist conclave themed, 'Ladakh UT Buddhist Council' was inaugurated on March 13 at Sherab Skyadtsal ling Learning and Library Centre, Thiksey monastery.
Thikse Gompa
 or 
Thikse Monastery
 (also transliterated from Ladakhi as 
Tiksey
, 
Thiksey
 or 
Thiksay
) is a 
gompa
 (Tibetan-style monastery) affiliated with the 
Gelug
 sect of 
Tibetan Buddhism
. It is located on top of a hill in 
Thiksey
 approximately 19 kilometres (12 mi) east of 
Leh
 in 
Ladakh
, India. It is noted for its resemblance to the 
Potala Palace
 in 
Lhasa
, 
Tibet
 and is the largest gompa in central Ladakh, notably containing a separate set of buildings for female renunciates that has been the source of significant recent building and reorganisation.
The Buddhist conclave was organised by the Indian Himalayan Council of Nalanda Buddhist Tradition in collaboration with International Buddhist Confederation, Ladakh Buddhist Association, Ladakh Gonpa Association and  Ministry of Culture, Govt. Of India, New Delhi.
His Eminence Togdan Rinpoche stressed the importance of standing together as a Buddhist before following any school of thoughts and sects. He suggested forming of a committee to work for the promotion and development of Nalanda tradition in Himalayan region.
Keynote speaker of the inaugural day, Secretary, Indian Himalayan Council of Nalanda Buddhist Tradition, Maling Gombu said, "We need to evolve with time for the development of the Buddhism. The issues have to be resolved unitedly without any differences and the time has come to get a positive change."
Talking about the future crisis which can be faced, he stressed having a plan and course of action.  He highlighted several issues concerning Buddhism and stressed the need to form a National Sangha Community to solve an unseen future crisis.
Talking about the issues of not having recognition of monastic education in India, Maling Gombu sighted an example of Nepal where monastic education is recognised. He said that it is high time that we should strive towards getting monastic education recognised so that it will further boost the development of Buddhism.
He said that the meeting and discussions on various issues by Lama Rinpoche on one platform in regular intervals will send across a strong message of unity and strength.
Congratulating Ladakh for the Union Territory status, Ven. Dr. Dhammapiya, Secretary-General, International Buddhist Confederation said that the main objective of organising Buddhist conclave is to bridge Buddhist people residing in different parts of India. He highlighted the various practice and sects in Buddhism which needs to be set aside to get identified as Buddhist first.
"The core responsibility is to identify the real root and nurture it rather than focussing on branches of Buddhism. The point is to understand Buddha Dhamma and practise it in our daily life to be called as a Buddhist", he added.
Reiterating the words of His Holiness Dalai Lama to be 21st century Buddhist, Ven. Dhammapiya stressed practising it in daily life.
Talking about the various issues such as decreasing population of Buddhist, the crisis and issues he said, " It is us who have to take the responsibility in understanding our problems and to get it solved. No one from the outside will  solve the crisis, we must protect our own tradition and culture."
International  Buddhist Confederation (IBC) is a global umbrella Buddhist body headquartered in New Delhi. The IBC was conceived in August 2011, at an International Workshop in New Delhi, where 28 delegates from 11 countries unanimously agreed to form a new international Buddhist umbrella body that could serve as a common platform for Buddhist worldwide.
Addressing the gathering, His Eminence Thuksey Rinpoche also stressed the importance of recognising monastic education.
His Eminence said, " The idea of following and practising Buddhism by only monks and nuns needs to be changed. The responsibilities lie on each and every one. It is  important to inculcate the habit of practising Buddhism from a family and at a very young age."
Thupstan Chhewang, President, Ladakh Buddhist Association said that on one hand the practice of Buddhism is growing in European countries but on the other hand Buddhist community residing in the Himalayan region is facing a threat of losing its identity.  He said that such a Buddhist conclave is the need of the hour to address the issues.
He stressed standing unitedly to face all the challenges and prosper Buddhism in its true sense.
MP Ladakh, Jamyang Tsering Namgyal also expressed happiness of organising Buddhist conclave in Ladakh which he said will prove beneficial to the Buddhist population residing in Ladakh. Highlighting the small population of Buddhists in India, he stressed the need for a policy to strengthen Buddhists in the country.
He said, "We as a Ladakhi failed to promote and strengthen Buddhist tradition culture and learning in true sense. We have also failed to promote our own language."
Dr. Jamyang Gyalson and Tsultim Gyatson spoke on Indian Himalayan Buddhist Communities, culture, preservation, and identity- challenges and way forwarding the 21st century.  A discussion was held on history, culture, preservation and identity in Ladakh, challenges and way forward in the 21st century.
source  –  Reach Ladakh Bulletin