By  Shyamal Sinha
Mt. Koya has been a sacred place that welcomes pilgrims and visitors of all races and religions from all over the world. It is regarded as a hub of spirituality, peace, and refuge. Since 2004, UNESCO has deemed Mt. Koya a World Heritage site where beautiful nature sites, Japanese tradition, Shintoism, and Buddhism come together as one.
A 46-year-old Japanese monk working at a temple on Mount Koya, a World Heritage Site in Japan's Wakayama Prefecture, is suing his employers for damages and unpaid wages, claiming that he was forced to work non-stop, catering to visiting tourists, and that his heavy workload lead to depression.
The monk filed the lawsuit in April against the organization that operates the temple. According to his lawyer, Noritake Shirakura, he is seeking 8.6 million yen (US$78,000) in compensation.
"If you work as a monk, too often you work without work-hour management," Shirakura said. "You provide labour, but you are told it's part of religious training. And if it's training, you must endure even it causes you significant hardship." He added: "Through this case, we will argue that such a notion is outdated." (The Telegraph)
The monk started working at temple in 2008 and developed depression in December 2015, leading him to be absent from work from March 2016. A local labour bureau has acknowledged his complaint, confirming that the monk once worked for a full month without a day off.
According to the complaint, the monk's daily schedule included making preparations for guests and tourists before 5am, after which he sometimes worked for 17 hours performing various temple functions, including attending visitors sometimes well into the evening.
The case is an uncommon example of a public labour dispute in the Japanese spiritual sector. In 2017, another Buddhist temple in Kyoto made headlines after being ordered to compensate two monks a combined US$60,000 for years of unpaid overtime. The temple admitted it had not been keeping track of working hours.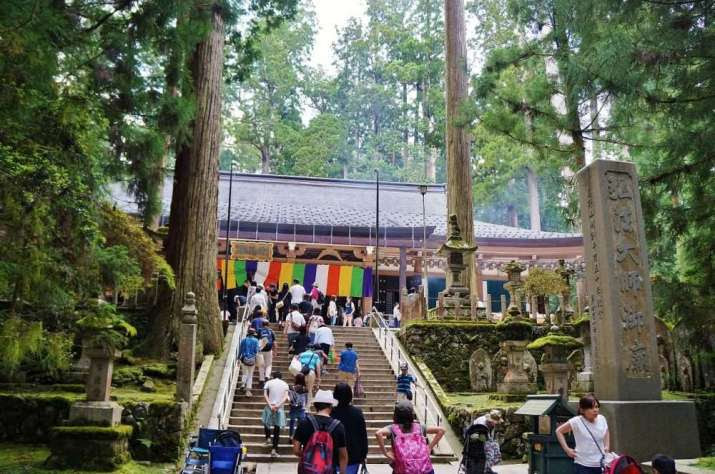 The name of the monk and that of the temple being sued were not immediately available. According to Shirakura, the monk wanted to preserve his anonymity to ensure that he could eventually return to his work, or find another position in a small community of Buddhist monks.
The complaint argues that the monk was forced to perform paid labour that went far beyond his spiritual duties. On one occasion in 2015, when the Koyasan area celebrated its 1,200th anniversary, the monk was forced to work for 64 consecutive days to cope with the wave of tourists who visited the site.
Mount Koya (高野山) is the epicentre of Shingon Buddhism in Japan, where it was introduced in 805 by Kobo Daishi, also known as Kukai, one of Japan's most notable religious leaders. Mount Koya has 117 temples, 52 of which are equipped with shukubo, lodgings built for monks and worshippers.
According to The Japan Times, the annual number of shukubo guests surged after the mountain was declared a World Heritage Site in 2004, doubling from 200,000 annual visitors to 440,000 in the record year 2015. In addition, the number of foreign guests has almost tripled since 2013.
Overwork is a major problem in Japan, and death by overwork is a recognised phenomenon known as karoshi. Last year, the Japanese government released a report stating that there were 191 cases of karoshi in the 12 months to March 2017, and that more than 7 per cent of Japanese employees logged over 20 hours of overtime per week. The case above seems to suggest that even Buddhist monks are facing taxing work hours. Mt. Koya can be easily accessed via the Nankai Koya Line.From Nankai Namba Station:. Take the Super Express Train Koya and buy the Koyasan World Heritage Ticket. This will cost 2,860 yen for two days and includes free bus travel around Mt. Koya.