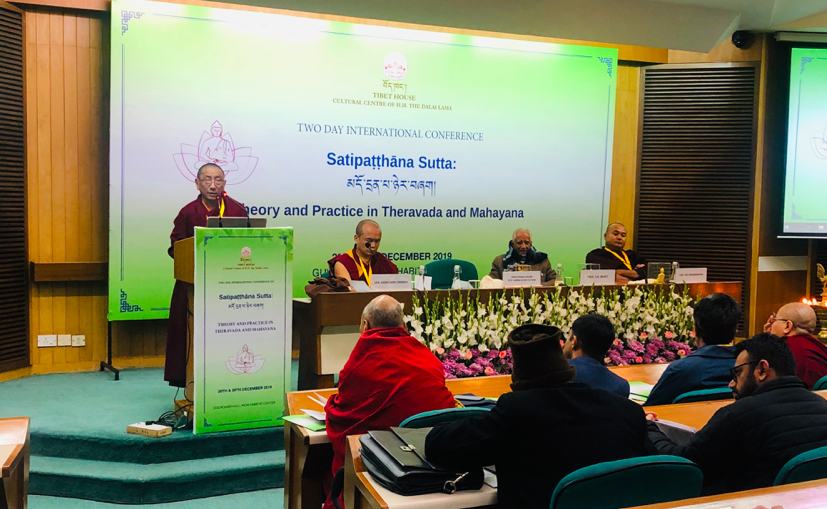 By  Shyamal Sinha
Kalon Ven Karma Gelek Yuthok addressing the conference.
New Delhi: Kalon Ven. Karma Gelek Yuthok of Religion and Culture department of CTA participated in the two day International Conference held in Delhi on Satipatthana Sutta,  Theory and Practice in Theravada and Mahayana.
The Satipatthana Sutta is a section of Buddhism's Pali Canon that discusses mindfulness. It translates as the "Discourse on the Foundations of Mindfulness" or "The Establishing of Mindfulness Discourse." This sutta, or discourse of the Buddha, along with the Mahasatipatthana Sutta (an expanded version of the sutta), are two of the most popular sections of the canon that discuss meditation.
Other guests include Prof. S.R. Bhatt, Former Chairman of the Indian Council of Philosophical Research, Ven. Dr. Dhammapiya, Secretary general of International Buddhist Confederation and speakers of the conference.
  Kalon Karma Gelek Yuthok congratulated Tibet house for successfully organising the conference by having Buddhist scholars from various traditions attending the event. He commended Geshe Dorji Damdul and staff of Tibetan House for their effort towards the preservation and promotion of Tibetan Buddhism since its inception.
In his key-note speech, Kalon gave an overview of Satipattana Sutta and the essence of its practice in Tibetan Buddhism. He said, "it is extremely important that worldwide Buddhists get together, to know each other and share their knowledge, experience, and history". Following the speech, Kalon awarded certificates to the 18th batch of Tibetan Language studies.
After the inaugural function, speakers from various traditions of Buddhism presented their papers on the theme-Placement of mindfulness of body and feeling, an overview of four mindfulness.
The two-day conference was attended by around 100 participants from various parts of Delhi and is organised by the Tibet House from 28 -29 December at Gulmohar, India Habitat Centre, Delhi. The conference aims to throw light on the practice of different phases of mindfulness delineated in this Sutra resulting in a sharing of views and essential practices of the various Buddhist traditions.
Kalon with the guests and the speakers.