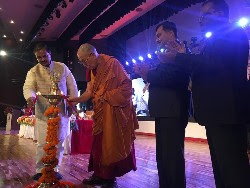 By Tenzin Monlam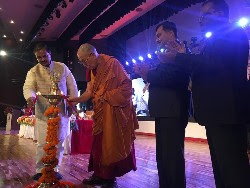 DHARAMSHALA, MARCH 17: It is time for India to take active initiative in the promotion of religious harmony, especially in those regions where religion is causing difficulties, said the Tibetan spiritual leader His Holiness the Dalai Lama at the inauguration of a three-day international Buddhist conference in Rajgir today.
"For over 1000 years religious harmony has existed in India on the concept of Ahimsa. Today the entire world has become interdependent due to global economy and technology. So under such circumstances, we Indian must now share our traditional value to the world in order to benefit the humanity," he said while reiterating his belief of being a son of India.
Organized by the Indian Ministry of Culture, the Tibetan spiritual leader stated that religious harmony is very essential since killing in the name of religion still occurs in today's world.
"All major religions may differ in philosophy but they all carry the message of love and it is unthinkable to see to the source of compassion becoming the source of violence. If the medicine becomes poison, then there is no hope," the octogenarian leader said at the conference titled, 'The Relevance of Buddhism in the 21st Century'.
Emphasizing on the importance of concentrating on genuine long-term happiness, the Dalai Lama advised that any happiness based on sensorial level are short lived and for a long-lasting genuine happiness it must be developed on mental level.
The octogenarian spiritual leader who tops or features in various popularity lists around the world has always been very vocal about the need to incorporate 'secular ethics' in the existing modern education, which he feels is not adequate to bring peace with the focus primarily on material values. He suggested that curriculum on secular ethics, based on its academic merits, needs to be included in the existing modern education irrespective of its source.
At the conference aimed to address the unprecedented threats and challenges faced by the contemporary world and to develop a unified Buddhist response, the Dalai Lama suggested using the ancient Indian psychology to counter the emotional crisis.
"In today's world there is some crisis, crisis of emotion and the answer to it is not through drugs or tranquilizer or alcohol. For a solution, we must realize the crisis is on mental level and the countermeasure should come from within the mind. Therefore, I feel Indian psychology is very relevant in today's world," he said at the conference.
The President of India, Pranab Mukherjee is scheduled to attend on the last day of the conference on March 19.