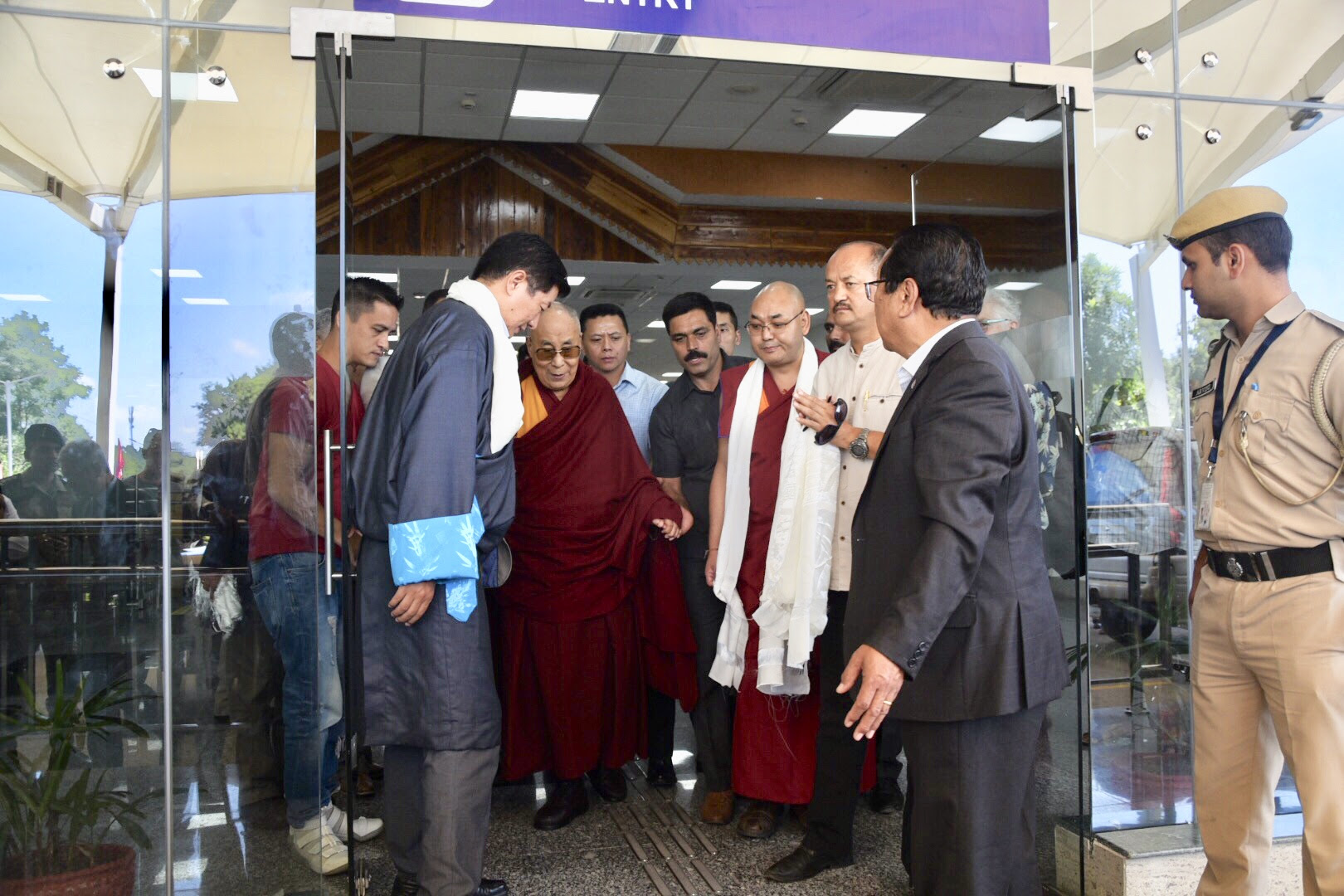 By  Shyamal Sinha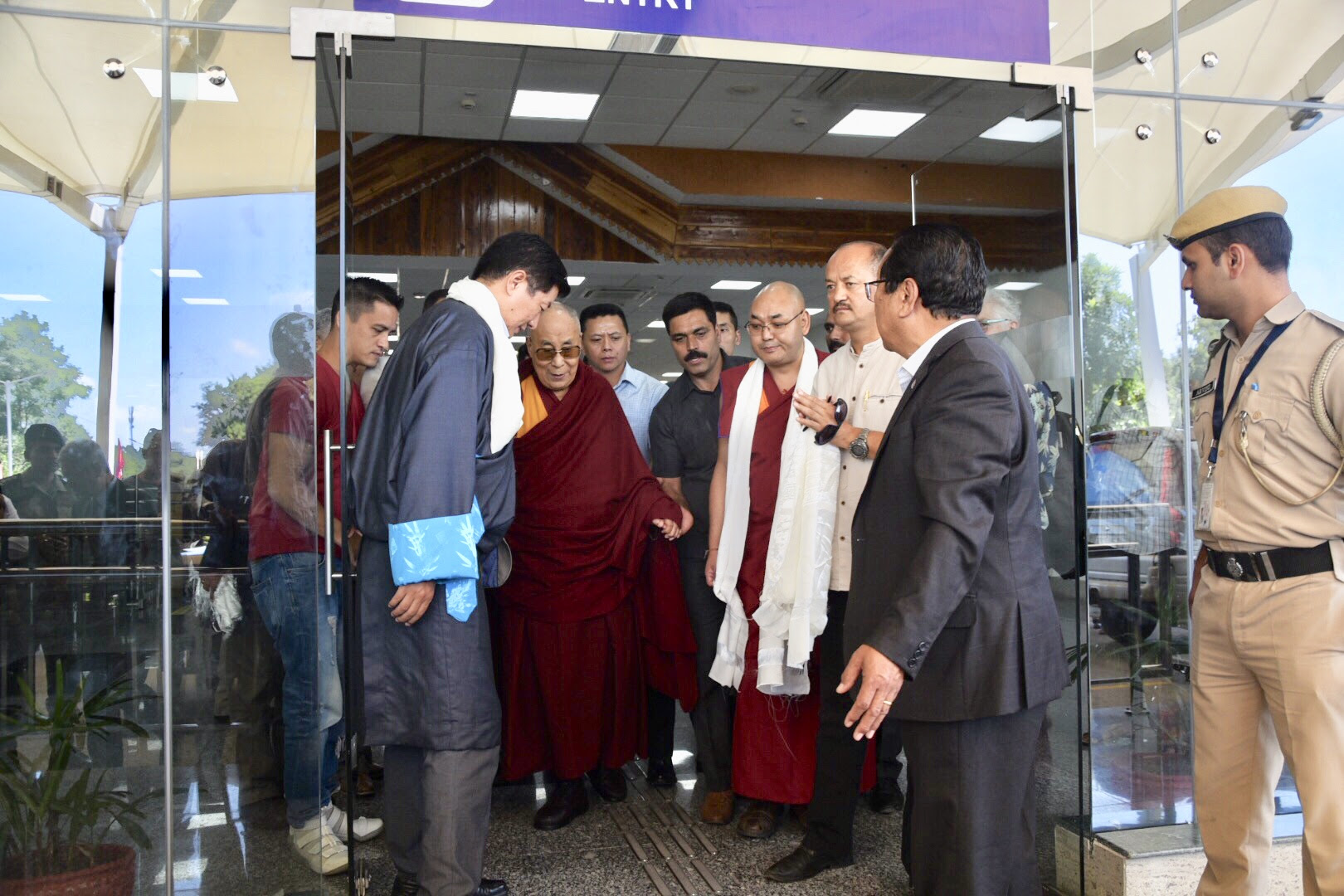 His Holiness the Dalai Lama  arrived  Gaggal airport this afternoon at 12:15 pm after successfully concluding his four-nation Europe visit.
His Holiness was received by CTA President Dr Lobsang Sangay accompanied by Speaker Ven. Khenpo Sonam Tenphel before His Holiness headed towards his residence at Mcleodganj.
His Holiness first visited Sweden on 11 September as part of his four nation Europe tour. On 12 September, His Holiness was invited to take part in the 80th anniversary of the Swedish aid organisation Individuell Manniskohjalp where His Holiness gave a talk on 'Art of Happiness and Peace'.
During his engagement, His Holiness demonstrated that Tibetans long to return to Tibet and are willing to remain within the People's Republic of China given that China respects Tibetan distinct culture and autonomy. His Holiness was optimistic about the reciprocal relationship between China and Tibet.
On his second day in Sweden, His Holiness gave an audience to Tibetan community in Sweden, Denmark and Norway along with the members of Tibet Support Group from Sweden. There His Holiness dealt with a discourse on Buddhism especially the Nalanda tradition.
Later that day, His Holiness visited Malmo University and presented a lecture on 'Secular Ethics' to the students and conveyed that the remedy to reduce conflict in the name of religion is to have convictions in basic human values and moral ethics without touching religion and further called on for modern education system to incorporate these values in their education.
After concluding his first leg of four-nation Europe tour in Sweden, His Holiness next visited the Netherlands where he gave a lecture on Buddhist teaching from 14 -17 September. Besides that, His Holiness inaugurated an exhibition on the Life of Buddha at De Nieuwe Kerk Amsterdam and also met with a group of Dutch members of parliament.
His Holiness visited Germany on 18 September where he addressed two symposiums on 'Non -Violence and Peace' and 'Happiness and Responsibility' organised by Tibet Initiative Deutschland (TID) in corporation with Gaden Phodrang Foundation of Dalai Lama and German -American Institute respectively.
His Holiness was joined by Nobel Peace Prize Laureate Lech Wales, Rebecca Johnson in a discussion on non-violence and peace. His Holiness commended the spirit of European Union for their collective interest and welfare of the whole of Europe while advocating the use of dialogue as solutions to violent conflicts facing 21 century.
At a symposium on non-violence and peace, the Tibetan spirit of resilience and nonviolence resistance was highly applauded. Each of the Noble laureates presented praised and idolised the non-violent action of Tibetan people.
Once again, His Holiness emphasised on the implementation of basic human values through education thereby concluding his third leg of Europe tour on 20 September
On his last leg of Europe tour, His Holiness visited Switzerland on 21 September where His Holiness took part in the celebration of the 50th anniversary of the Tibet Institute Rikon and various other events for the next four days.
Apart from presenting a lecture on Buddhist teachings, His Holiness preached on the training of mind for a focused and calm mind and advocated the importance of love, compassion and above all basic human values against the emotional crisis facing the world today.
On his last day in Switzerland, His Holiness addressed a symposium on 'Human values and Education' at Zurich University of Applied Science.
His Holiness condemned the futility of discriminating one's culture, religion and community that results in a classification of us and them. Such dividing factors undermine the inherent basic human nature which according to His Holiness is compassionate.
His Holiness earnestly urged for global responsibility to further human values thus concluding the last leg of his four-nation Europe tour of the year.