By – Shyamal Sinha
His Holiness the Dalai Lama's talk at the Indian Chamber of Commerce planted a seed of hope for millions of people, who aspire for peace and stability.
Addressing a packed crowd of Indian leaders, entrepreneurs and scholars here at Kalkata, His Holiness the Dalai Lama said that a future educational system nurturing both human intelligence and warmheartedness can serve to bring peace on earth.
He observed that the world is facing of an array of crisis, mainly due to a deficit of moral principles and failure of modern education. "The existing educational systems are oriented toward material values and materialistic achievements. So when we grow up with this learning, we go after power, money and fame."
There is a need for concerted action and India with its rich spiritual heritage can play a special role, he hinted. "I really see great hope and future on this country. India can make significant contribution."
As the world wrestles with instability and crises, India is the only country which has the ability to combine modern technology and science with ancient knowledge and train minds with more compassion and peace, the 82-year-old Buddhist scholar said.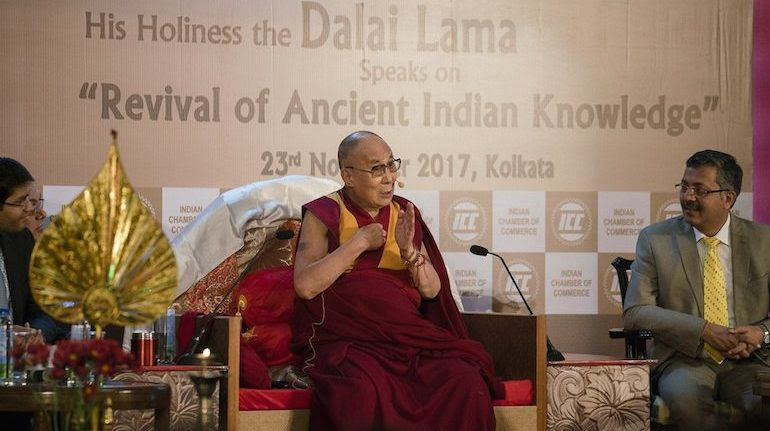 For this reason, he said he was committed to promote the revival of these thoughts. "One of my lifelong commitment is to introduce and revive ancient Indian knowledge in modern India through education and with secular approach."
"I am convinced that the Indian knowledge we Tibetans have kept alive remains highly relevant to the needs of today. The Indian masters of Nalanda were so accurate and explicit in the way they explained philosophical points of view belonging to the Mind Only and Middle Way schools of thought. The depth of their understanding of, for example, the workings of our minds and emotions," he said.
However he stressed that the promotion of these thoughts must strictly be done through education and not as religion. "Of the 7 billion human beings, 1 billion are non-believers. So, promoting inner values through education can best serve entire human population."
Noting China as a traditional Buddhist country with more than 400 million Buddhists, His Holiness said he was "really thinking to revive the ancient Buddhist value in the country given the opportunity.
Through this vision, His Holiness said a collaboration of the two great nations, India and China can be possible.