By Shyamal Sinha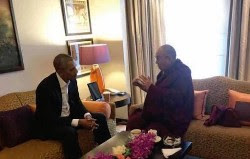 His Holiness the Dalai Lama met with his "trusted friend" and former United States President Barack Obama in a brief meeting in New Delhi where the two reportedly spoke on world peace and how the existing conflicts and its consequences can be undone for a more compassionate world.
The 82-year-old flew to the Indian capital early morning from Dharamshala and flew back here around noon having met Obama for about 45 minutes, sources said. After landing here at the Gaggal Airport, the Tibetan leader said his current physical fitness made it "impossible" for him to travel to United States so since Obama is here, he wanted to meet his old friend. Obama is in New Delhi on a global tour for his philanthropic initiative, the Obama Foundation.
The Tibetan leader told the media at the airport that he and the former President spoke on promotion of oneness between the people on the earth and how divisions between people resulting in man made conflicts and its consequences can be undone in order to create a more peaceful and compassionate world.
The Dalai Lama also remarked that like another US President George Bush, Barack Obama is also a straight shooting man with sincere approach. He said that his friend this time seemed physically thinner although he is significantly younger and still has a long way to go when it comes to working towards a better world and a more peaceful world.
The two Nobel Peace laureates have become close friends meeting four times during the former President's tenure in the White House and before that as a US Senator. During his Presidency, Obama has been a vocal supporter of the 'Middle Way Approach' and supporter of the octogenarian Tibetan leader.