By Shyamal Sinha
Bhikshu Morita has been the resident monk at Nipponzan Myohoji since 1976. From mid-day.comAmid the chaotic streets of Worli Naka stands a peaceful temple 'Nipponzan Myohoji' – a Japanese Buddhist Monastery founded by Nichidatsu Fujii Guruji, the first disciple to fulfill this Prophetic vision of Nichiren Diashonin as the only way to repay boundless debt of gratitude to the Buddha in his original land of dharma.
one of the busiest commercial districts of Mumbai, sits the almost forgotten Nipponzan Myohoji, the city's oldest Buddhist temple. Spread over an area of some 820 square meters, the temple offers a refuge of secluded peace from the outside world, a place where Buddhists and non-Buddhists alike can retreat and reflect.
Established in 1956, Nipponzan Myohoji's origins are directly linked to a more-than-700-year-old prophecy by the 13th century Japanese Buddhist monk Nichiren (1222–82), who said that the ultimate salvation of humanity, contaminated by all that was evil and impure, lay in the western haven of India, the country that was home to Buddhism. Centuries later, another Japanese monk, Nichidatsu Fujii (1885–1985), a fervent pacifist and founder of the Nipponzan-Myohoji-Daisanga order of Nichiren Buddhism, came to India in 1931 with a group of disciples, with the intention of fulfilling that prophecy by communicating the Lotus Sutra in India.
While in India, where he remained until 1938, Fujii built a small temple in Worli Naka. In 1956, the original structure was converted into a free resthouse (or dharamshala) for pilgrims and a nursery school for underprivileged children, and the existing temple was added to the site. During this period, Fujii became a close associate of Mahatma Gahdi and played an active role in India's independence movement. The renowned politician and social reformer Dr. B. R. Ambedkar (1891–1956), who inspired the Dalit Buddhist movement, also visited this temple during his lifetime.
The resident monk, Bhikshu Morita, who has tended the quiet temple and its grounds since 1976, continues to go about his business in a peaceful, unassuming manner, unperturbed by the noise and hustle of daily life that rushes about like an unceasing whirlwind outside the temple walls. "The aim behind building this temple was to establish peace and bring people of all religions and castes together," he says. "Peaceful well-being and integrity among humans is the main motive of Buddhism and we follow it." (DNA India)
The tranquility of the temple is only broken periodically by the soothing chant, "Namu Myoho Renge Kyo," (devotion to the mystic law of the Lotus Sutra) the central mantra of Nichiren Buddhism, accompanied by rhythmic drum beats, every morning from 6–7am and from 6–7:30pm.
"Our temple has visitors from all ethnicities," says Bhikshu Morita. "Hindus, including Dalits,* as well as Christians and Parsis. Buddhists and neo-Buddhists . . . Chinese, Japanese, and Tibetans come to meditate and take darshan. This is thus a liberal forum that bonds all religions." (The Times of India)
The temple's regular visitors are quick acknowledge the unique position the temple occupies in the local community, Manohar Lampite, a former government employee, converted to Buddhism in 1956, and first visited the temple in 1965. "The ambience is far removed from the surrounding environment and its heartening to see people from different backgrounds, and even nationalities, unify in peace." Another frequent devotee, Dr. Hu Si Lin, a dentist, observes: "I have been a personal friend to Morita for many years and I take hope from how Buddhists even from different sects gather together. There are no political or commercial overtures. This is spirituality at its most liberal and purest." (The Times of India)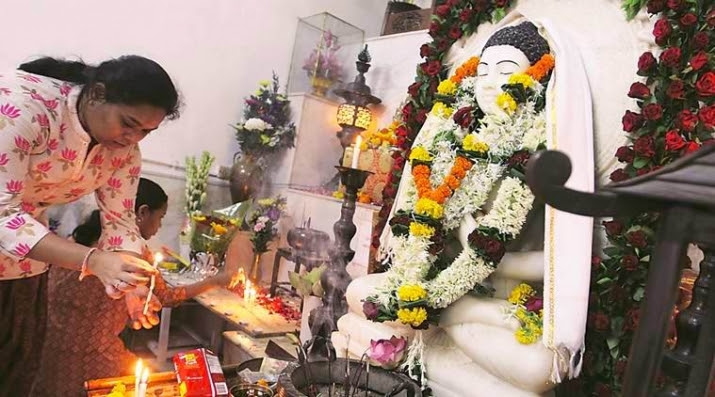 For Bhikshu Morita, Buddhism has a clear objective: "I think Buddhists have a crucial responsibility as agents of peace and congeniality. Being a liberal, all-embracing religion, Buddhism can, in that sense, help establish world peace." (The Times of India)
Nichidatsu Fujii Guruji lived in the first temple built in 1907 where Japanese warriors and women who were killed by the British were buried. It still exists within the Hindu cremation grounds. He himself was buried here. There is a prayer ceremony once a year here when the Japanese Committee from Japan comes down to India in November.