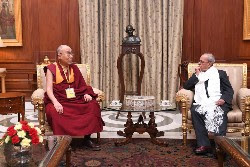 By – Shyamal Sinha,New Delhi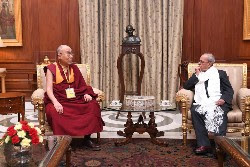 His Holiness the Dalai Lama and President of India Mr Pranab Mukherjee graced the inaugural session of the first ever Laureates and Leaders for Children Summit held  at the Rashtrapati Bhavan  in New Delhi.
His Holiness the Dalai Lama met the President of India, Pranab Mukherjee, on the latter's 81st birthday at the Rashtrapati Bhavan, the official residence of the Indian President
on Saturday
. The Tibetan leader presented a statue of Buddha to the veteran Indian leader and also took part in the 'Laureates and Leaders for Children Summit' organized by Kailash Satyarthi Foundation at the Rashtrapati Bhavan.
The list of guests included Nobel laureates including Jose Ramos Horta, the president of East Timor, Kailash Satyarthi and former Prime Minister of Australia Julia Gallard, among others.
His Holiness the Dalai Lama reiterated his hope that a compassionate world is possible through education based on moral values rather than materialistic one. "Scientists say that constant anger, fear and hatred consume our immune systems, so if we're looking for good health, we need to cultivate peace of mind. Education is a contributory factor, but our existing education system tends only towards materialistic goals. Those who have been through it have a materialistic outlook and a materialistic culture, with little regard for inner values. The source of trouble is within ourselves—our disturbing emotions. We have to learn how to tackle them.
"The President here and Kailash Satyarthi like me belong to the 20th century, a time that is gone. Those of you who belong to the 21st century, who are now 30, 20 or 15 years old, are our source of hope. If you make the effort, later in the century the world may be a happier, more peaceful place," said the Tibetan leader.
This marks the first ever meeting between a serving Indian president and His Holiness the Dalai Lama in 30 years. The Dalai Lama met the first President of India, Dr. Rajendra Prasad, in 1956. The last president to meet the Tibetan leader while in office was R. Venkataraman in 1987.
Nobel Laureate Kailash Satyarthi envisioned the Summit to harness the collective intellectual, moral and political will of the Laureates and Leaders for the benefit of the world's children. The summit will deliberate on issues such as child trafficking and child slavery. The inaugural ceremony the leaders called for urgent action for the world to allow children to enjoy their childhood years unhindered.