By Tenzin Dharpo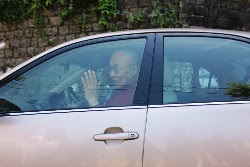 DHARAMSHALA, APR. 25: The Tibetan leader His Holiness the Dalai Lama this afternoon left for the Indian capital New Delhi where he is scheduled to give a public talk on 'Compassion and Global Responsibility'.
The octogenarian leader left his residence in McLeod-Ganj earlier today and flew from Gagal Airport nearby, to New Delhi. The Tibetan leader will give the public talk at India International Centre (IIC) in Delhi on 27 April at an event organized by The Professor M.L sondhi Memorial Trust and The M.L Sondhi Institute.
The development comes as a respite following the postponement of the Dalai Lama's scheduled itinerary in North India over a week ago, sparking speculations over the health and well being of the soon to be 82 year old after a hectic trip to the North-East India, most of which was commuted overland in rough terrain.
Earlier on April 13, the private office of the Dalai Lama announced that the "upcoming visit to Kullu-Manali, Lahaul, Spiti and Kinnaur scheduled from May 11 to 25, 2017 has been indefinitely postponed. We regret the inconvenience caused by this decision." The announcement did not give any reason for the postponement.
The Tibetan leader who has been at the centre of the ongoing diplomatic tussle between Beijing and New Delhi over his official visit to North-East India is making his first public appearance since then. He is expected to give out his views on the same although he has maintained, as has New Delhi, that his visit was purely a spiritual commitment.
According to his website, the Dalai Lama is scheduled to give a three-day teaching for Tibetan youth at Tsuglagkhang temple from 5 – 7 June following which, from 29 August to 1 September, His Holiness will give teachings on Buddhapalita's Commentary on the Fundamental Wisdom of the Middle Way (drel-pa Buddhapalita) at the same venue.