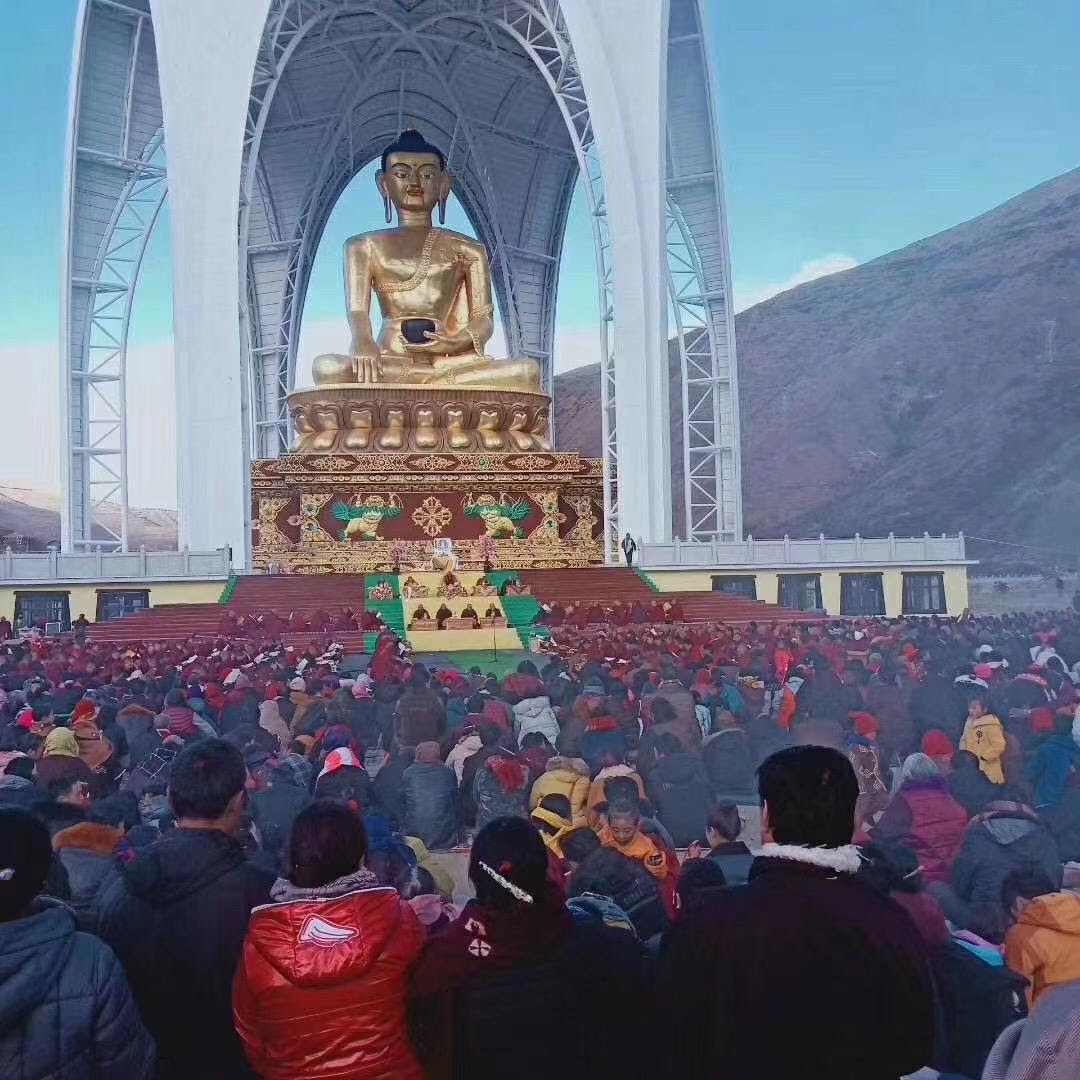 The Chinese government has demolished a 99-foot-tall Buddha statue in Kham Drakgo, incorporated into Sichuan Province, according to our sources. Additionally, 45 huge prayer wheels erected near Drakgo Monastery have also been removed and prayer flags burned down.
The bronze statue was built with great effort and with the generous contributions from the local Tibetans in Drakgo, at a crossroad, costing around 40,000,000 Yuan (around 6.3 million USD). In 1973, Drakgo suffered a massive earthquake that caused serious and widespread damage including the death of several thousand residents. The 99-foot-tall Buddha statue was built on 5 October 2015 to ward off natural disasters in the future.
According to our sources, the bronze statue was built after all permissions were sought from the district office and had even received praise from the local authorities at the time. However, in the last two-three years, higher officials who visited the area had criticised the large size of the statue. As recently as 12 December 2021, the county authorities ordered its demolition after invalidating the documents and claiming that the statue of such height is prohibited. Such a reason fails to justify the basis of destroying the 45 prayer wheels that costed around 1,800,000 Yuan (around 282,500 USD) to build, and the burning down of the prayer flags in the vicinity.
Tearing down Buddhist statues and structures is a direct attack on the centuries-long traditions of Tibetans including putting up prayer flags to lift one's luck, erecting religious structures to ward off misfortunes and spinning prayer wheels to accumulate mantras for the well-being of others. "These acts by the Chinese authorities are acute attacks on Tibetan religion, language and culture. The crackdown on Tibetan Buddhism and the situation now in Drakgo is like the Cultural Revolution times," said our sources. Due to the tight controls over information flows in the region, we are unable to obtain pictures and videos of the actual destruction at the moment.
Last month, Drakgo Monastery's Gaden Namgyal Monastic school was demolished on the false ground of not having proper documents and violating the land use law. The school was targeted because it served as an important hub of education in the area since its establishment, offering a range of classes including Tibetan Buddhism, Tibetan language, Chinese Mandarin, and English. After closure of the school, its 130 students were forced to return to their villages, without access or enrolment in other schools. The Chinese government completely violated the fundamental rights of the Tibetan people, including religious rights, language rights and rights to preserve and practice one's own culture and tradition.
– UN, EU and Human Rights Desk, Tibet Advocacy Section/DIIR