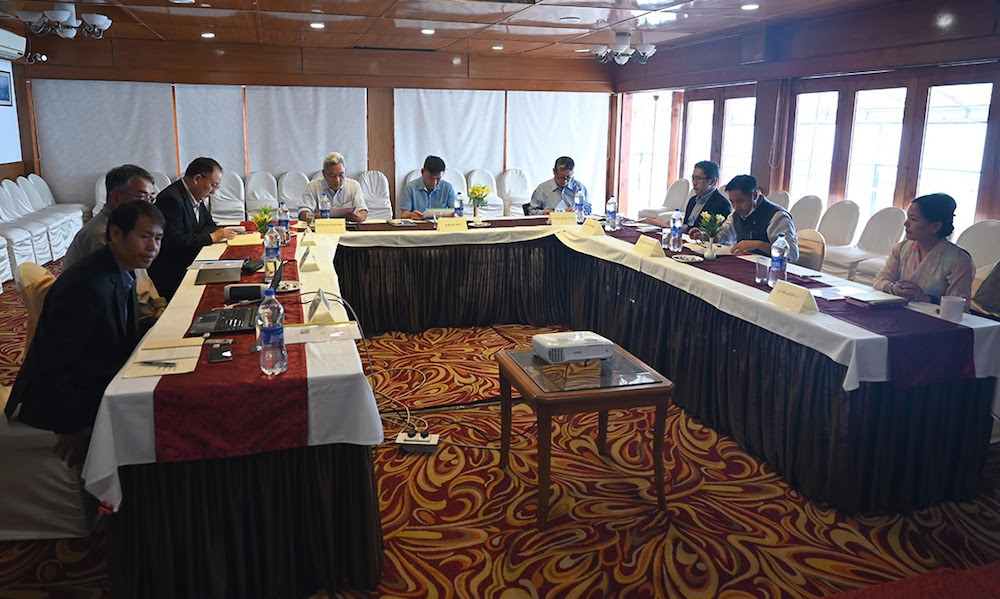 The second meeting of the Permanent Strategy Committee in progress in Dharamshala on Wednesday (Photo/CTA)
By Choekyi Lhamo
The 16th Kashag led 'Permanent Strategy Committee' conducted its second meeting in Dharamshala on Wednesday. The three-day meeting is being held at the Asia Health Resort with all committee members including advisors former Kalon Tempa Tsering who will virtually attend the meeting, Dongchung Ngodup who is currently the Representative of His Holiness at Tibet Bureau in New Delhi, and former special envoy Kelsang Gyaltsen. The meeting held from 27 to 29 July will review the CTA's progress in the last year and determine future prospects to build a stronger base for the Sino-Tibet dialogue to resume.
"This is the second meeting conducted by the Permanent Strategy Committee; we are going to deliberate on the Sino-Tibet dialogue. Since he took this responsibility, Sikyong Penpa Tsering has visited Europe, Canada and the US where he met with high-profile officials such as US Special coordinator on Tibetan Issues Uzra Zeya . These are some of the important steps that we will be reviewing in these three days," DIIR Secretary Karma Choeying told RFA service on Wednesday.
"Issues of international geopolitics, preparing for opportunities that might arise for dialogue, reviewing the Sikyong's interactions with world leaders during his visit are some of the crucial points we would be taking into consideration as we proceed with the meeting," Secretary Choeying further said.
Secretary Karma Rinchen of the Department of Security, Secretary Karma Choeying of Department of Information and International Relations (DIIR), Secretary Dawa Tsering of Tibet Policy Institute (TPI), and political secretary Tashi Gyatso of Kashag Secretariat were also in attendance at the first day meeting.
The committee held its first meeting in November last year. President Penpa Tsering dissolved the 'Task Force on Sino-Tibet Dialogue', an exclusive round table of the Central Tibetan Administration (CTA) on negotiations with Beijing and in in its place founded the Permanent Strategic Committee.