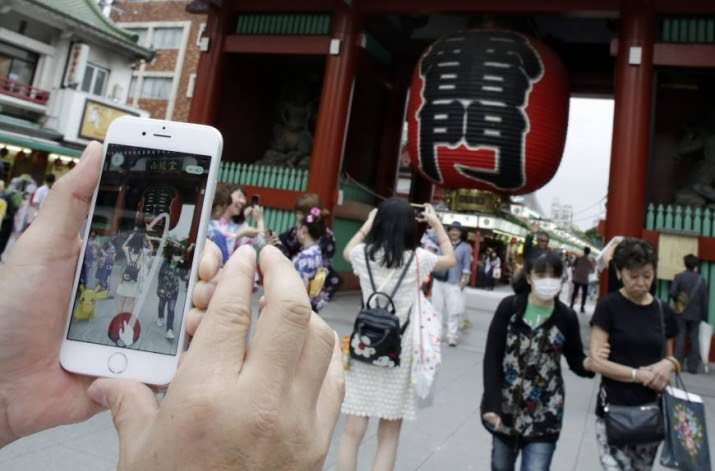 By  Shyamal Sinha,New Delhi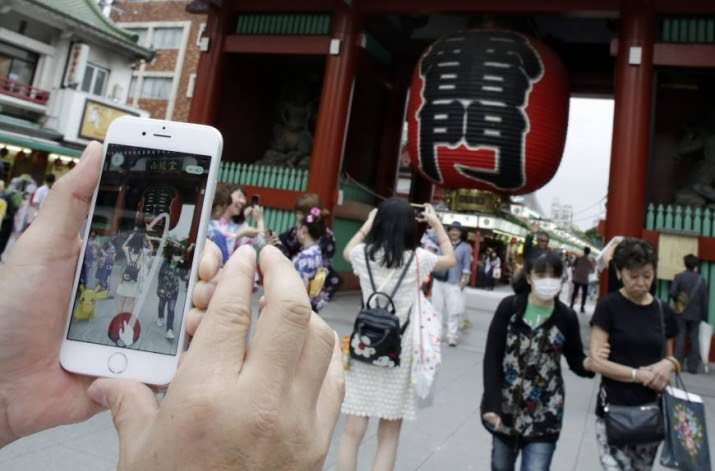 Since its launch in Japan on 22 July, the mobile game 
Pokémon Go
 has exploded in popularity. Here, a man plays in front of Kaminarimon Gate at the temple Senso-ji in Tokyo's Asakusa District. From
japantimes.co.jp
 A Buddhist Temple in the Japanese city of Kyoto has embraced the new craze, garnering headlines in the process, by announcing its status as a "gym" within the augmented reality of the Pokémon world.
Kaigen-ji, in Kyoto's Fukuchiyama District, has gone the extra mile for mobile users flocking to the virtual gathering point. The temple's kind monks have made washroom facilities and water fountains available to visiting players, as well as providing free use of mobile phone chargers, which have been placed on the temple's steps. And while the temple even offered free Wi-Fi at first, it has since been forced to withdraw this privilege.
The temple decided advertised its newfound status over social media a few days after the game was launched in Japan on 22 July, welcoming players to roam the temple grounds in search of monsters and to challenge one another to virtual battle. Grateful players have been vocal in their praise for the monks' generosity on Twitter:
"What a great idea! You can pray at the temple first for rare Pokémon to come before getting into the game!"
"This type of support really shows profound compassion."
"Thank you for such a beautiful show of tolerance."
(RocketNews24)
Kaigen-ji, in Kyoto's Fukuchiyama District, welcomed visiting players on Twitter,
offering washroom facilities, water fountains, and mobile phone chargers. FromKaigen-ji Twitter
And while flicking virtual balls at imaginary monsters may seem a slightly incongruous practice in the setting of a Buddhist temple, the resident monastics say they're more than happy to accommodate the new visitors, noting that the temple is designed to be used as a refuge in times of difficulty and disaster, so they are willing to test their resources in this unconventional manner.
Elsewhere in Japan, not everyone has welcomed Pokémon Go as warmly as the monks of Kaigen-ji. The Japan launch of the mobile game last Friday, two weeks after it debuted in the United States, has prompted many to expressing reservations about the phenomenon's potential consequences. Major shrine complexes—including Izumo Grand Shrine in Shimane Prefecture and Kotohira-gu in Kagawa Prefecture—have banned people from playing Pokémon Go within their compounds.
A 24-year-old man playing the game near a shrine in Japan's Mie Prefecture, said he agreed with the concerns. "Ise Grand Shrine isn't a playground in the first place," he said. "It's good that [the game] is banned inside the premises." (The Japan Times)
Japan's National Centre of Incident Readiness and Strategy for Cybersecurity has taken the precaution of issuing a nine-point safety guide, after weeks of reports of mishaps among gamers in other countries. "I want people to abide by the warnings so that people can play it on smartphones safely," Japanese chief cabinet secretary Yoshihide Suga urged last week. (BBC)
From ign.com
For our less tech-savvy readers, Pokémon Go is an augmented reality game played on mobile devices that places virtual monsters in the day-to-day world by combining GPS data with the real-time images captured through the device's camera, allowing users to roam the outside world collecting creatures and interacting with other players. While the game has garnered almost as many detractors as fans, its popularity only appears to be growing, so we invite mobile users who wish to indulge in Pokémon Go to remember to exercise mindfulness while hunting for Pikachu by respecting those around them and playing safely.