The word "Ramadan" comes from the Arabic root word for "parched thirst" and "sun-baked ground." It is expressive of the hunger and thirst felt by those who spend the month in fasting. As opposed to other holidays, when people often indulge, Ramadan is by nature a time of sacrifice.
A Buddhist monastery in the capital Dhaka has made it its mission to provide hundreds of underprivileged Muslim families with their iftar evening meal throughout the holy month of Ramadan.
Iftar (also known as fatoor) is the meal eaten at the end of the day during the month-long religious festival. Served at sunset to break the day's fast after the evening prayer, iftar is generally a social affair involving both family and members of the community.
Throughout Ramadan, hundreds of men, women, and children can be found queuing at Dharmarajika Buddhist Monastery in Dhaka's Basabo neighborhood to receive the free food boxes, which the monks have distributed every Ramadan for the past six years. Established in 1949, the monastery is also home to more than 700 orphans who study at the free school it operates.
"Buddhism taught us that serving humanity is the ultimate religion," said Suddhananda Mahathero, the monastery's head monk. "We are feeding the poor Muslims who cannot afford to buy proper meals to break their fast." (International Movement for a Just World)
Buddhapriya Mahathero, the second most senior monastic at the monastery, noted that at least 300 poor people were served daily. "The people start making queues from 3pm onwards inside the monastery," he said. (Al Jazeera)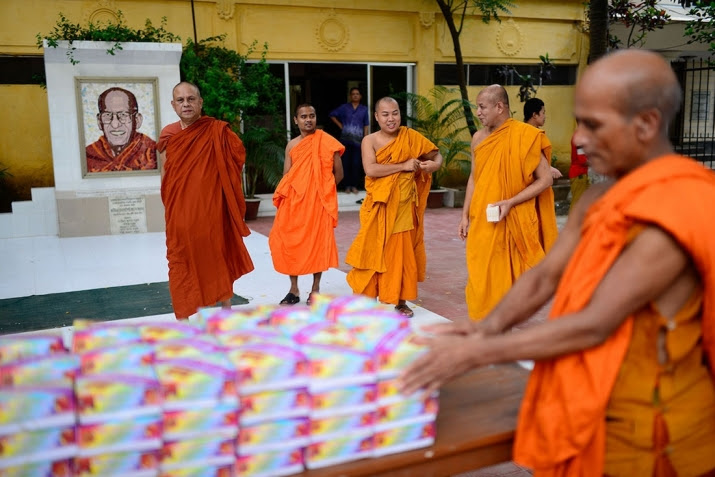 Suddhananda Mahathero, far left, the monastery's head monk, oversees the monks as they ready the food for distribution. Photo by Mahmud Hossain Opu. From
aljazeera.com
Since January last year, a tide of deadly violence directed at religious minorities and secular activists has killed more than 40 people. The Islamic State (IS) group, also known as Daesh, and a Bangladeshi militant group affiliated with al-Qaeda have claimed responsibility for some of the killings, although Bangladesh's government denies that either organization has a presence in the country, instead attributing the acts to homegrown extremists with political motives.
The local police made their presence known to ensure the donations were received in a peaceful manner. "This is such a wonderful example of religious harmony, said policeman Asad Uzzaman. "Showing respect and affection to the fasting neighbors without thinking of the difference of religions." (International Movement for a Just World)
The spate of attacks, which have also targeted Shia Muslims, has raised the specter of sectarian violence, once unheard of in the Muslim-majority country. Based on data for 2010, the Washington, DC-based Pew Research Center estimates that 90.4 per cent of Bangladesh's population of 148.7 million identifies as Muslim, with Hindus representing 8.5 per cent and Buddhists less than 1 per cent, numbering an estimated 920,000.
Uncowed, the monks of the monastery say they remain on good terms with the Muslim community and have no fears for their safety. Local shopkeeper Abul Basahr observed that the monks were engaged in a range of social welfare activities. "The best thing they are doing is the distribution ofiftar food to the poor people," he said. (Al Jazeera)
The 
iftar
 distribution program starts at 5.30 p.m. every day. Women and men have to queue separately. Photo by Mahmud Hossain Opu. From
aljazeera.com
Seventy-year-old Amena Khatun, who said she had walked several kilometers to reach the temple, expressed her gratitude for the monks' work. "I can eat some good food served with love and care," she said. (International Movement for a Just World)
Suddhananda Mahathero emphasized his commitment to interreligious harmony, saying, "Why should there be a conflict? We are all Bangladeshis. This land is for all of us. By helping each other, we can make this country great." (Al Jazeera)May Allah accept our fasting, forgive our sins, and guide us all to the Straight Path. May Allah bless us all during Ramadan, and throughout the year, with His forgiveness, mercy, and peace, and bring us all closer to Him and to each other.