By – C. Raja Mohan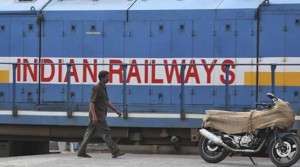 As a Chinese freight train fetches up in Iran, pessimists in New Delhi would see it as yet another line in China's "encirclement" of India. But the few optimists in here see every reason to seize the moment as India's long awaited opportunity to gain reliable access to inner Asia.
After a two-week journey from Yiwu, in Beijing's industrial heartland in the eastern Zhejiang province, the 32-container train that arrived in Tehran on Monday is the first ever to traverse the fabled silk road between China and Iran.
The journey, through Kazakhstan and Turkmenistan, cut nearly 30 days of travel time from Shanghai to Bandar Abbas in Iran. For now, the trains will run once a month. As trade picks up between the two countries, the frequency is expected to go up, and the network extended to Europe and the Arabian Sea.
For those in New Delhi viewing Beijing through a dark lens, the new rail link is one of a piece with its plans to build a rail corridor across the Karakoram mountains between western China and the Gwadar port on Pakistan's Makran coast.
It also complements China's plans to develop rail and road corridors across Myanmar between Yunnan province and the Bay of Bengal. China has already built an oil and gas pipeline system along the same route. Beijing has also been pressing Delhi to sign on to an industrial corridor between Kunming, capital of Yunnan, and Kolkata through Myanmar and Bangladesh.
Although India's response to the Chinese connectivity initiatives has tended to be negative, some officials in New Delhi are calling for a more sophisticated response to what Beijing calls the "One Belt One Road" (OBOR) initiative.
The OBOR project, which is taking shape rapidly, involves many transcontinental projects across Eurasia and between the Indian and Pacific Oceans.
For nearly two years, China has been sending goods by rail from Chongqing in southwestern China to Hamburg and Madrid. Years of Chinese investment in internal and trans-border connectivity has now begun to blossom into a massive rail network that connects China with different parts of Asia and Europe.
This network is reinforced by a massive effort to strengthen maritime connectivity between China's Pacific coast and the Indian Ocean. Beijing is developing a number of greenfield ports and special economic zones around them from Myanmar to Oman, and from Malaysia to Tanzania.
Pragmatists in New Delhi say India must develop a differentiated response to these projects rather than a blanket 'yes' or 'no'. They suggest New Delhi must have no truck with projects that run against Indian interests, and actively join China in developing corridors that benefit India.
China's Iran railway is one project that India would want to support. India has indeed opposed Beijing's plans to build a China-Pakistan Economic Corridor, or CPEC, from Kashgar to Karachi, expected to involve projects worth over $ 45 billion.
New Delhi may have no room for finesse here since the CPEC runs through PoK and challenges India's territorial sovereignty. But India should welcome the China-Iran Silk Road that has more chances of success than the CPEC.
While building a railway over the Karakorams is a major engineering challenge, China's Iran corridor only needs to modernise the existing road and rail links between China, Central Asia and Iran. It also faces fewer security threats than the Pakistan route.
With Pakistan refusing to give India access to Afghanistan and Central Asia, Delhi has long seen Iran as the gateway to these regions as well as to Russia and Europe. India had also been eager to develop the Chabahar port to develop commercial links to inner Asia.
Instead of seeing Chabahar as an Indian rival to China's Gwadar project in Pakistan, Delhi should offer to work with Tehran and Beijing to develop Iran's ports and enhance its road and rail connectivity.
As it comes out of economic isolation and draws massive Chinese investments, Iran inevitably becomes a credible alternative to Pakistan in connecting Eurasia to the Indian Ocean. If and when Pakistan does open its roads to India, Delhi will have the luxury of multiple routes into Eurasia.