By Shyamal Sinha
Panchen Lama was the head of Tashilhunpo Monastery, and held religious and secular power over the Tsang region centered in Shigatse, independent of the Ganden Podrang authority led by Dalai Lama. However, Dalai and Panchen Lamas are closely connected, and Panchen Lama is part of the process by which each new Dalai Lama is chosen.
Gyaltsen Norbu—known officially as Bainqen Erdini Qoigyijabu and appointed by Beijing as the 11th Panchen Lama—was elected president of the Tibet Autonomous Regional Branch of the Buddhist Association of China on 22 June, China's state-owned Xinhua News Agency reported.
Outgoing president Zhukang Tubdankezhub, who was elected to the post in 2003, was named as an executive vice president of the Buddhist Association of China's regional arm at a plenary session held last Saturday in the Tibetan capital Lhasa, along with Sonam Rinzin. Eighteen other officials were elected as vice presidents.
"Among the regional branch's leadership, 16 were re-elected and five were newly elected. The oldest is 78 years old. The leadership represents Buddhism sects of Gelug, Nyingma, Sakya, Kagyu, and Bon," Xinhua reported. Phagpalha Gelegnamgyal was again invited to hold the post of honorary president of the Tibet Autonomous Regional Branch.
Twenty-nine-year-old Gyaltsen Norbu also serves as the vice president of the Buddhist Association of China and is a member of the Standing Committee of the 13th National Committee of the Chinese People's Political Consultative Conference (CPPCC)—China's top political advisory body.
The Panchen Lama (a title meaning "great scholar") is the second-most senior figure in Tibetan Buddhism after the Dalai Lama. The successive incarnations of the Panchen Lama form atulku lineage dating to 1645 and believed to be incarnations of Amitabha Buddha.
The 10th Panchen Lama, Lobsang Trinley Lhündrub Chökyi Gyaltsen (1938–89), was imprisoned in 1962 after writing a report criticizing the starvation of Tibetans due to collectivization and disastrous crop policies during China's "Great Leap Forward." He was released in the 1980s and died in Tibet on 28 January 1989.
Gyaltsen Norbu was handpicked for the role by China's State Council in November 1995 over Gendun Choekyi Nyima, a six-year-old boy already recognized by His Holiness the Dalai Lama as the reincarnation of the 10th Panchen Lama on 14 May 1995. Just three days later, on 17 May, Nyima was taken into what the Chinese authorities describe as "protective custody," along with members of his family, and has not been seen in public since. April this year marked his 30th birthday.
Many Tibetans refuse to recognize Gyaltsen Norbu as the true reincarnation of the 10th Panchen Lama, believing Gendun Choekyi Nyima's abduction to be part of a plan by Beijing to dictate the choice of the next Dalai Lama, as the Panchen Lama traditionally plays a key role in recognizing the Dalai Lama's incarnations.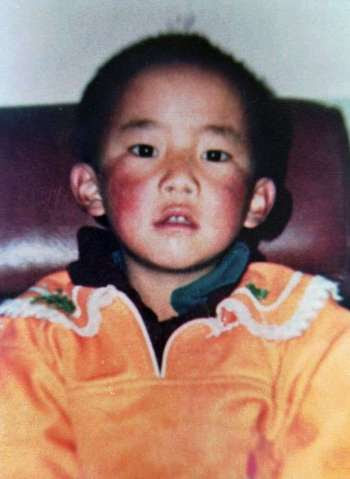 In September 2015, the Chinese government admitted for the first time in 20 years that Nyima was alive. Norbu Dunzhub, a member of the Tibet Autonomous Region's United Front Work Department, said at the time: "The reincarnated child Panchen Lama . . . is being educated, living a normal life, growing up healthily and does not wish to be disturbed." (Reuters)
The remark underlined Beijing's desire for strict controls over Tibetan Buddhism in China and its increasingly stringent management of Buddhist monks in ethnically Tibetan regions of the country—particularly difficult in the case of transient monks, who spend a significant amount of time away from monasteries. The authorities have introduced a raft of rules and policies in recent years to govern activities at Tibetan Buddhist monasteries, all of which now have a police presence.
Both the Dalai Lama and officials in Beijing have made pointed public statements on the divisive matter of reincarnation, which carries significant political implications for Beijing and the stability of its control of ethnically Tibetan areas of China. Although China's government is officially atheist, Beijing has repeatedly claimed the right and the final authority to recognize reincarnations of senior Tibetan lamas, including the Dalai Lama lineage.
"No matter what the Dalai Lama says or does, the central government's recognized rights toward reincarnation cannot be denied," Norbu Dunzhub asserted, repeating Beijing's long-held stance. (Reuters)
Gyaltsen Norbu, who was raised in Beijing, has gradually been making increasingly frequent public appearances. In 2009, he delivered a speech in English at a World Buddhist Conference in the eastern Chinese city of Wuxi. In 2012, in his first appearance outside of mainland China, Norbu read a prepared speech at a Buddhist conference in Hong Kong backed by the state-sanctioned Buddhist Association of China.
According to a brief report by the official China News Service earlier this month, Gyaltsen Norbu traveled to Thailand in mid-May—the first time he has ever traveled internationally. He reportedly spoke at a Buddhist university in Bangkok and attended a number of other Buddhist events and religious exchanges.
Gyaltsen Norbu is reported to have said the trip had made him even more aware of the "greatness of the motherland and the Chinese Communist Party," according to the China News Service. "We thank the Chinese Communist Party for leading the Chinese people to stand up and become rich and strong." (Reuters)
Chinese authorities announced Gyancain Norbu as the search committee's choice on 11 November 1995. It has been claimed that Gedhun had been taken into protective custody from those that would spirit him into exile and is now "in captivity against the wishes of the Tibetan people", whereas the Chinese government states that he is living a "normal private life"] Tibetans and human rights groups continue to campaign for his release .
source – Buddhistdoor Global