AUNESCO preliminary review panel has recommended four Buddhist temples in South Korea for inclusion on the UN agency's list of protected World Heritage Sites, Korea's Cultural Heritage Administration (CHA) announced on Friday.
Unesco sites are designated as having "outstanding universal value" under the Convention Concerning the Protection of the World Cultural and Natural Heritage
The four mountain temples officially endorsed by the International Council on Monuments and Sites (ICOMOS) are Beopjusa in North Chungcheong Province, Buseoksa in North Gyeongsang, Daeheungsa in South Jeolla, and Tongdosa in South Gyeongsangnam. The UNESCO World Heritage Committee will make a final decision when it meets in Bahrain for its 42nd annual session from 24 June–4 July.
ICOMOS recognized the four temples as possessing "outstanding universal value" in reflecting Korea's Buddhist tradition since the 7th century, noting that each is an example of a "comprehensive monastery." (Korea JoongAng Daily)
The CHA, the government agency charged with preserving and promoting South Korea's cultural heritage, last year applied to have seven Buddhist temples recognized by UNESCO as World Heritage Sites.* The seven historic temples—all located on mountains—are Beopjusa on Mount Songni, Bongjeongsa on Mount Cheondeung, Buseoksa on Mount Bonghwang, Daeheungsa on Mount Duryun, Magoksa on Mount Taehwa, Seonamsa on Mount Jogye, and Tongdosa on Mount Yeongchuk.
According to media reports, two of the three proposed temples that were not endorsed—Magoksa and Seonamsa—failed to pass muster with site inspectors because they lacked historical authenticity, while Bongjeongsa was found to be too small. The CHA added that it would forward additional information on the three excluded temples to the review panel in a final bid to have all seven temples listed as World Heritage Sites.
The CHA's preparations for USECO recognition, which have included organizing seminars and drawing up conservation plans for the sites, have been carried out in cooperation with the Jogye Order of Korean Buddhism, a school of Seon (Zen) Buddhism and South Korea's largest Buddhist tradition, which traces its roots back 1,200 years to the Unified Silla (also known as the Later Silla) kingdom (668–935).
"These mountain temples truly embody the essence of Korean Buddhism, which includes elements of Indian, Chinese and Southeast Asian Buddhism, yet represent characteristics of uniquely Korean philosophies," Ven. Hye-il, director of the Jogye Order's Cultural Affairs Department, said last year of the World Heritage listing bid. (The Korea Herald)
Receiving World Heritage status will necessitate detailed preservation and management programs that meet UNESCO requirements, the CHA noted. ICOMOS has recommended that the temples draw up comprehensive maintenance plans for the sites, as well as measures for accommodating increased visitor numbers that listing would bring.
Beopjusa, a major Jogye Order temple, was initially constructed in 553 by the Silla monk Uisin and has been historically associated with Maitreya Buddha. Buseoksa, also known as "The Temple of the Floating Stone," was founded by the scholar-monk Uisang in 676. Daeheungs, a major temple affiliated with the Jogye Order, is dated to the 4th–9th centuries. Although no records of its founding are extant, some researchers believe it was established by the monk Adohwasang in 514. Tongdosa, another Jogye Order temple, is  recognized as one of the Three Jewels—the three principal Buddhist temples in South Korea—and was established by the monk Jajang in 646.
South Korea currently has 12 listed World Heritage sites, many of which stand in testament to the country's long and influential Buddhist heritage, including Seokguram Grotto and Bulguksa Temple in North Gyeongsang Province, the Baekje Historic Areas in South Chungcheong and North Jeolla, the Gyeongju Historic Areas in North Gyeongsang, and the mountain fortress city of Namhansanseong in Gyeonggi.
A majority of South Korean's population—46.4 per cent—holds no religious affiliation, according to data for 2010 from the Washington, DC-based Pew Research Center. Christians make up the largest religious segment of the population at 29.4 per cent, while Buddhists account for 22.9 per cent.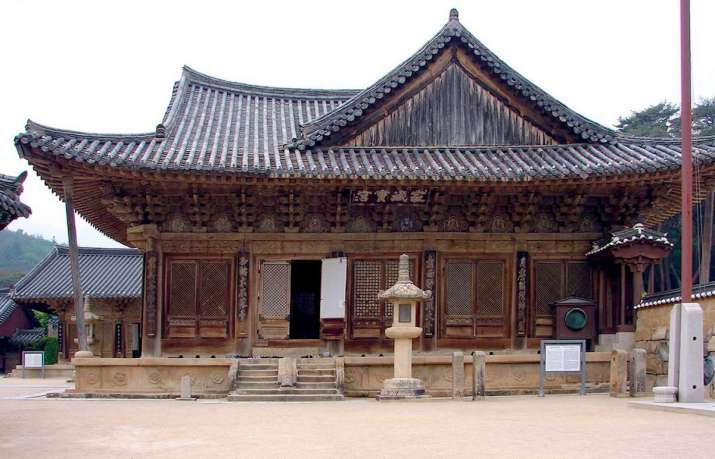 World Heritage designations often boost local economies by encouraging tourism. In addition, UNESCO funds and supervises numerous efforts to preserve and restore sites around the world. Its commitment to conservation and site management for Venice and its lagoon continued well into the 21st century. Sites subject to unusual levels of pollution, natural hazards, or other problems may be placed on the associated List of World Heritage in Danger until improvements are made.