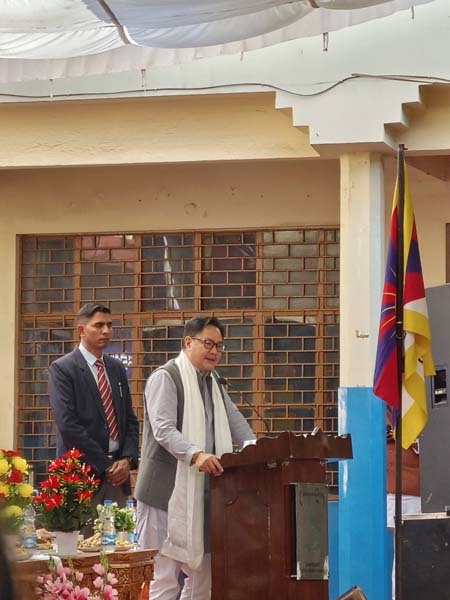 By   —  Shyamal Sinha
Losar is a celebration of the Tibetan New Year. Celebrated on different dates according to the location, it is also known as the "Festival of Swords" in some places. Losar Festival is set according to the lunisolar Tibetan calendar. It usually falls in February and lasts around 15 days.
The Samyeling Tibetan Settlement in Delhi's famous Majnu ka Tilla neighbourhood celebrated the much-awaited annual festival of Losar with great enthusiasm and joy on 23rd February 2023.
According to the Tibetan Buddhist Calendar, this year celebrates the Water Rabbit Year 2150. The dignitaries invited to the programme were the Guest of Honour, Venerable Kyabje Ling Choktrul Rinpoche; the Chief Guest, Shri Kiren Rijiju, Honorable Union Minister of Law & Justice, Government of India; Shri Parlad Singh Sawhney, MLA, Chandni Chowk Constituency; Mrs Gyari Dolma, Kalon, Department of Security, CTA; Shri Indresh Kumar, Patron, Bharat Tibet Sahyog Manch; Mr Lobsang Shastri, Representative of Bureau of HH the Dalai Lama, New Delhi; Mrs Rinchen Lhamo, Member-Buddhist, National Commission for Minorities, Government of India and Mr Abhijit Halder, Director General, International Buddhist Confederation.
Addressing the event, Union Minister Kiren Rijiju said that the Dalai Lama is an apostle of peace and the Tibetans are a very peace-loving people too. He is the most loved and respected person in the world."
Wherever the Tibetan people are settled, in various parts of the world or have gone from India overseas, they always carry the Tibetan legacy and never forget their roots, he added.
Mrs Gyari Dolma, Kalon, Department of Security, CTA appreciated the support given to the Tibetan community in India.
The venue was decorated with colourful flags and flowers. The programme started with the Tibetan and Indian National Anthems. The large community gathered at the programme made religious offerings and enjoyed a traditional cultural programme of music and dance, and feasted on traditional foods.
The Losar (meaning-Lo- Sar, New Year) festival signifies mainly two aspects: they are religious and cultural. Spiritually, this month is very auspicious for Buddhists as it is believed that the Shakyamuni performed several miracles. Though the celebrations go on for 15 days, traditionally, the first four days are the most important. The day-one is dedicated to the Gurus, Rinpoches and the elderly in the family. On day-two members of the community visit and pay their respects to the village head and leaders of the Community. The day-three is for seeking blessings from Dharmapals, deities by hosting religious flags atop their homes and on hill-tops, and village common areas. From the fourth-day visits start with family/relatives and friends for exchanging greetings and gifts.