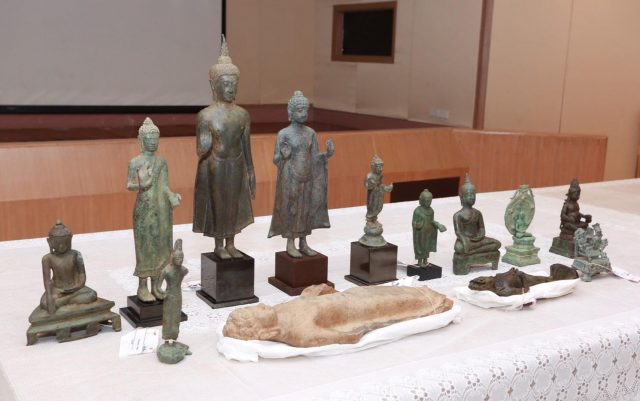 (Photos courtesy of The Fine Arts Department)
Thirteen ancient Buddha artefacts valued at about 16.5 million baht have recently returned from the United States to Thailand. The Fine Arts Department of (FAD) plans to host an exhibition to showcase the treasures in the future.
According to FAD director-general Prateep Pengtako, the antiquities were stolen by Subhash Kapoor, a former Manhattan art dealer who founded Art Of The Past gallery in New York in 1974. He operated a multinational trafficking ring with seven co-conspirators that smuggled more than 2,500 art objects, valued at about 4.7 billion baht, over 30 years. Known as the world's largest smuggler of antiquities, he stole artefacts from Thailand, Cambodia, Myanmar, Indonesia, Afghanistan, Sri Lanka, India, Pakistan, Nepal and other countries.
Kapoor, 72, was arrested by Interpol in Frankfurt, Germany, in 2011. He is currently in prison in India, pending the completion of his ongoing trial in Tamil Nadu. The US Department of Homeland Security charged Kapoor with 86 felonies including grand larceny and criminal possession of stolen propert.
From 2011-2020, the Manhattan District Attorney's Antiquities Trafficking Unit and the United States Homeland Security Investigations recovered 2,500 items, including some from Thailand.
FAD director-general Prateep Pengtako, right, inspects the antiquities in Bangkok.
The artefacts include a bronze standing Buddha in Abhaya Mudra (14th century CE) and the finely carved Ayutthaya Buddha shakyamuni bronze (16th century CE).
The Thai Ambassador to the United States Manasvi Srisodapoleize thanked US authorities for their effort to seize and return the cultural artefacts to Thailand.
"These antiquities represent national treasures rooted in the unique history and cultural expressions of a nation and its people that cannot be quantified in monetary terms," said Ambassador Srisodapol.
The artefacts returned to Bangkok in mid-July. The FAD plans to exhibit the national treasures in the future for people to see.