By  Shyamal Sinha
Ani Choying Dolma(born June 4, 1971), in Kathmandu, Nepal,, is a Nepalese Buddhist nun and musician from the Nagi Gompa nunnery in Nepal. She is known in Nepal and throughout the world for bringing many Tibetan Buddhist chants and feast songs to mainstream audiences. She has been recently appointed as the UNICEF Goodwill Ambassador to Nepal.
Ani Choying Drolma, sometimes dubbed Nepal's rock star nun in the media as a result of her successful career singing Buddhist chants and songs, has donated 10 million Nepalese rupees (more than US$90,000) to the government of Nepal to help fund the construction of suspension bridges in remote parts of the Himalayan nation that are currently only accessible by dangerous pulley crossings.
Straddling the imposing Himalaya mountain range, Nepal is home to some of the world's highest peaks, and constructing roads and bridges across its perilous terrain to link its remote communities is often extremely expensive and challenging. As a result, many villages rely on innovative but dangerous systems of ropes and pulleys, known locally as tuins, that, in many cases, are the only transport links that prevent them from being completely isolated. Ani Choying expressed hope that her donation could be used to fund at least one suspension bridge, adding momentum to a flagging government program.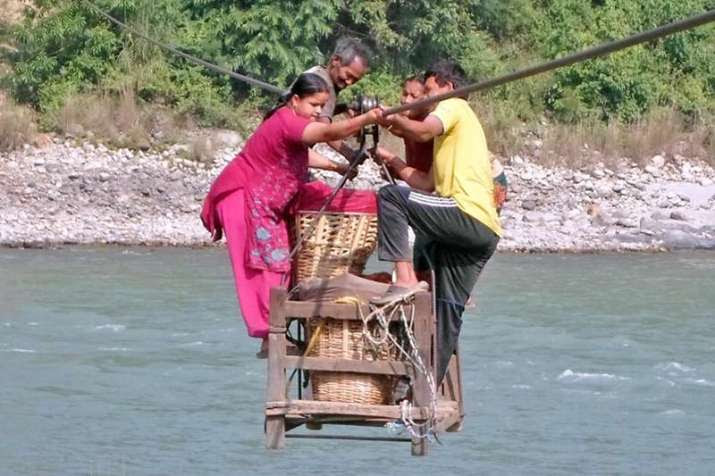 Ordained in the Tibetan Vajrayana tradition and renowned for her numerous humanitarian activities, which include the education of young girls, care for the elderly, and medical services for the underprivileged and dispossessed, her haunting, Dharma-inspired musical performances of Tibetan Buddhist chants and songs have made Ani Choying one of the biggest pop stars in her native Nepal—a talent that is also garnering her a fast-growing international following. Her fans include such global music icons as Tina Turner, Tracey Chapman, and blues singer-songwriter and guitarist Bonnie Raitt, who, by coincidence Ani Choying cites as one of her own musical influences growing up.
Ani Choying presented her funding pledge to Nepalese prime minister Khadga Prasad Oli during the first episode of the television show Prime Minister with the People, which broadcast last Wednesday, expressing a wish that the government live up to the aspirations of the people of Nepal in a meaningful way.
Oli, meanwhile, promised to add one month of his own salary to Ani Choying's donation by Drolma to establish a "Tuin Displacement Fund" during the show, while program presenter Manoj Pandey pledged Rs50,000 (roughly US$450).
During his previous tenure in office from October 2015–August 2016, Oli announced a two-year program to replace all of Nepal's rope bridges with suspension bridges. According to the Rising Nepal newspaper, to date only about 41 per cent of the work has been completed. Government data for 2016 indicated there were some 6,477 permanent bridges in the Nepal's 75 districts, and a projected need for another 6,000, which would also replace 237 temporary bridges, including 155tuins.
While an essential lifeline for many remote villages to allow access to schools, medical attention, and markets for agricultural produce, tuins are a hazardous mode of transportation. Incidents in which people have died or been seriously injured in falls, or lost fingers while operating the cables, have increased pressure for access to footbridges.
Born in 1971 in a poverty-stricken refugee neighborhood of Kathmandu that she describes as "a mini-Tibet in exile," Ani Choying's early life was a far cry from that of the celebrated singer and revered monastic she has become. From the age of five, she recalls, life was a struggle, with daily beatings from an abusive father, who "was someone who exhibited some unpleasant qualities of men. . . . Somehow he was able to . . . develop a lot of my negative qualities, which led to a lot of anger, frustration, and bitterness." She still carries the scars, both mental and physical, from that chapter of her life. "My back was always covered in bruises, I was always bent over, but he seldom drew blood," she writes in her autobiography Singing for Freedom (Pier 9, 2009). (BBC, Post Magazine)
Buddhism is the second-most widespread religion in Nepal, which lays claim to being the birthplace of the historical Buddha, Shayamuni in what is new Lumbini in Rupandehi District. Buddhism is mainly practiced among the Newar and Tibeto-Nepalese communities, representing 9 per cent of the overall population, according to government census data for 2011. Hindus make up the majority at 81.3 per cent.