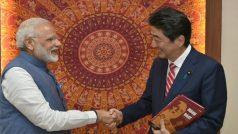 By – Shyamal Sinha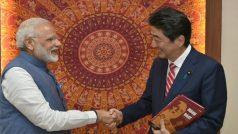 Narendra Modi congratulated Japan Prime Minister Shinzo Abe for sweeping general elections. Modi, in a tweet, said that he looked forward to the strengthening of relations between India and Japan after Abe's victory. He tweeted, "Heartiest greetings to my dear friend Abe Shinzo on his big election win. Look forward to further strengthen India-Japan relations with him."
Abe's Liberal Democratic Party-led (LDP) coalition won a huge two-thirds majority bagging 312 seats in the 465-member lower house in a snap election on Sunday. The final results are expected by Monday. The return of Abe to power is likely to ensure more business investments in India.
Recently, Abe visited India to lay the foundation stone of bullet train project from Mumbai to Ahmedabad. Similarly, the cooperation between two countries is likely to expand in other strategic fields too.
The comfortable election win is also likely to stiffen Abe's resolve to tackle North Korea's nuclear threat. Japan is seeking to exert maximum pressure on Pyongyang after it fired two missiles over Japan in the space of a month.
Abe's Liberal Democratic Party (LDP) benefited from a weak and splintered opposition, with the two main parties facing him created only a matter of weeks ago. A "supermajority" would also allow Abe to propose changes to pacifist Japan's US-imposed constitution.